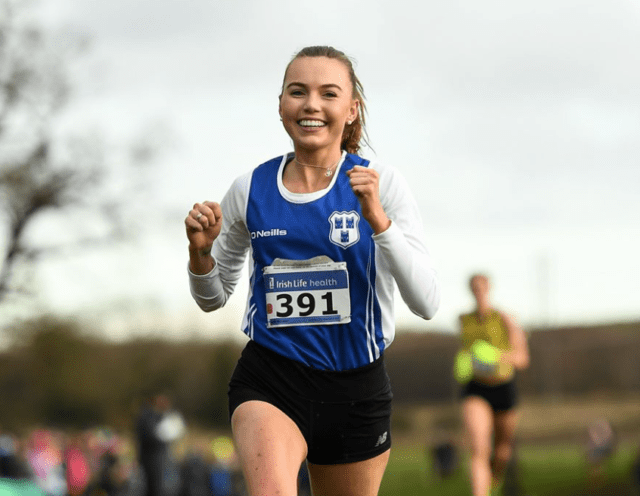 Ciara Mageean (UCD) and Kevin Dooney (Raheny Shamrock) capped a wonderful day of racing at the Irish Life Health National Cross Country Championships by capturing their first titles at the Sport Ireland National Sports Campus in Abbotstown yesterday. 
Mageean, more adept on the track, ran strongly over 8,000m to win in 28:02 and to hold off Annmarie McGlynn (Letterkenny) in second in 28:05 and Fionnuala Ross (Armagh) in third in 28:08. It was a good showing for Mageean and now sees her hold national titles on the track, outdoors and indoors, and cross country.
Leevale won the team race led home by Michelle Finn in fourth with Letterkenny second and North Down third. It was a thrilling day of racing with a carnival atmosphere with Kevin Dooney winning a classic battle with Clonmel's Sean Tobin and Kevin Maunsell.
Dooney won in 30:07 to hold off a fast finishing Sean Tobin 30:11 and Kevin Maunsell in third in 30:18. It was double delight for Dooney as he helped Raheny Shamrock to three national team titles in-a-row. Clonliffe Harriers were second with Clonmel third.
Sarah Healy (Blackrock) was supreme in the women's U18 and U20 4,000m winning in 13:28 ahead of Emma O'Brien (Sli Cualann) in 13:46 and Jodie McCann (Dublin City Harriers) in third in 13:53. West Waterford took a great team win to topple DSD.
There were plenty of nerves on display throughout the day and Darragh McElhinney (Bantry) said he was a relieved winner of the combined U18 and U20 men's 6,000m race in 18:21. Sean O'Leary (Clonliffe Hariers) was a strong second in 18:27 with Jamie Battle (Mullingar Harriers) third in 18:33. Clonliffe Harriers took the team honours.
The juvenile races provided plenty of excitement too with Saoirse Fitzgerald (Lucan Harriers) and Fionn McNamara (Annalee) the first winners' of the day in respective U12 girls and boys 2,000m races.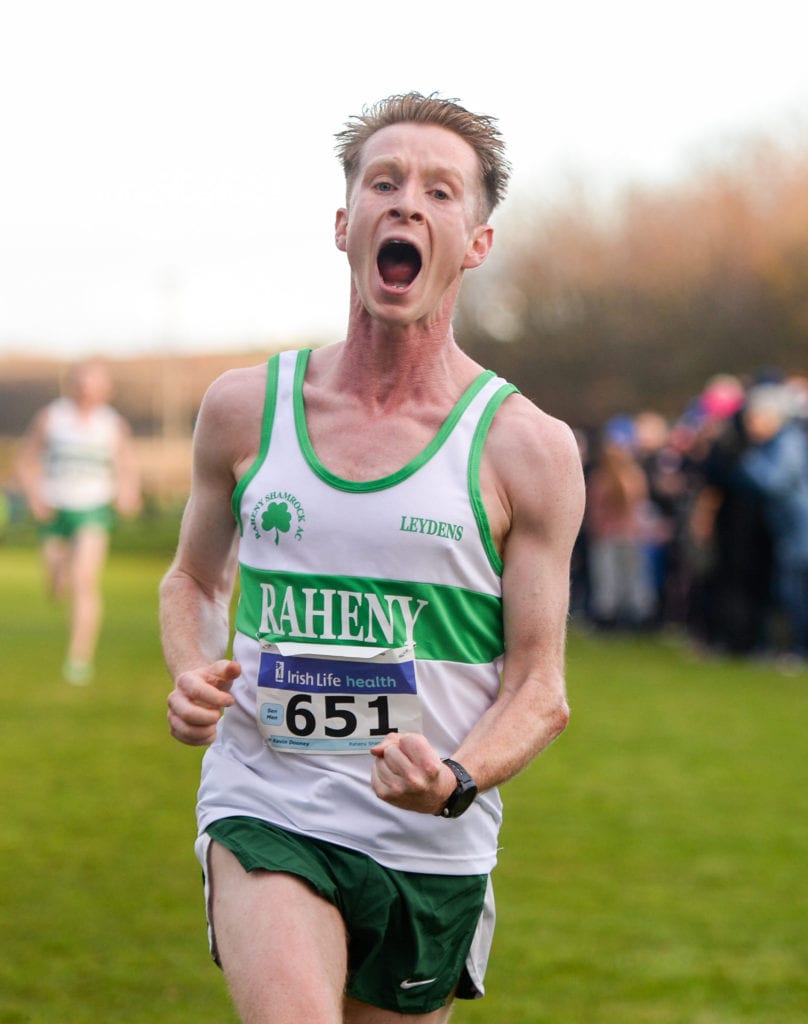 Leading results below.
Irish Life Health National Senior, U20 and Juvenile Even Age Cross Country Championships, Sport Ireland National Sports Campus
Results
Individual
U12
2,000m
Saoirse Fitzgerald (Lucan Harriers) 6:40, 2. Emily Bolton 6:46, 3. Gemma O'Callaghan (North Sligo) 6:55
U14
3,000m
Nicole Dinan (Leevale) 10:55, 2. Sophie Quinn (Ratoath) 11:00, 3. Louise O'Mahony (BMOH) 11:03
U16
4,000m
Aimee Hayde (Newport) 14:13, 2. Cara Laverty (City of Derry) 14:37, 3. Hannah Kehoe (Gowran) 14:41
U18
4,000m
Maeve Gallagher (Swindord) 14:26, 2. Aoife O'Cuill (St Coca's) 14:37, 3. Lucy Holmes (West Waterford) 14:37
U20
4,000m
Sarah Healy (Blackrock) 13:28, 2. Emma O'Brien (Sli Cualann) 13:46, 3. Jodie McCann (Dublin City Harriers) 13:53
U23
8,000m
Fian McSweeney (Dublin City Harriers) 29:13, 2. Sorcha McAlister (Westport) 29:18, Cliona Murphy (Dublin City Harriers) 30:05
Senior
8,000m
Ciara Mageean (UCD) 28:02, 2. Annmarie McGlynn (Letterkenny) 28:05, 3. Fionnuala Ross (Armagh) 28:08
Team
Leevale, 2. Letterkenny, 3. North Down
U12
2,000m
Fionn McNamara (Annalee) 6:31, 2. Declan Kennedy (Carrick on Shannon) 6:35, 3. Eoin Sheridan (Monaghan Phoenix) 6:37
U14
3,000m
Jack McCausland (City of Lisburn) 9:52, 2. Myles Hewlett (United Striders)9:59, 3. Diarmuid Fagan (Mullingar Harriers) 10:06
U16
4,000m
Dean Casey (Ennis Track) 12:38, 2. Dylan McBride (Willowfield)12:44, 3. Sean McGinley (Olympian Youth)12:45
U18
6,000m
Shay McEvoy (Kilkenny City Harriers) 18:51, 2. Conall McLean (St Malachy's) 19:13, 3. Shane Coffey (Naas) 19:21
U20
6,000m
Darragh McElhinney (Bantry) 18:21, 2. Sean O'Leary (Clonliffe Harriers) 18:27, 3. Jamie Battle (Mullingar Harriers) 18:33
U23
10,000m
Brian Fay (Raheny Shamrock) 30:56, 2. Paul O'Donnell (DSD) 31:18, 3. Cathal Doyle (Clonliffe Harriers) 31:21
Senior
10,000m
Kevin Dooney (Raheny Shamrock) 30:07, 2. Sean Tobin (Clonmel) 30:11, 3. Kevin Maunsell (Clonmel)
Team
Raheny Shamrock, 2. Clonliffe Harriers, 3. Clonmel
Photo Credit: Harry Murphy/ Sportsfile