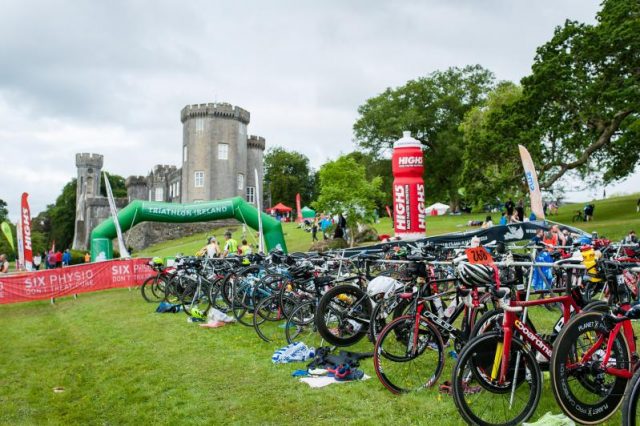 National Series, National Mixed Relay Championships & Super Series Races in 2018
On the back of successfully hosting both the draft legal Super Series Race and National Mixed Relay Club Championships in 2017, Lough Cutra Castle Triathlon in Galway on May 26th & 27th has now been awarded three races including the National Series Standard Distance race.
Athletes racing in the early season Lough Cutra Castle Triathlon will enjoy the fast and furious pace of these races with Club Championship glory up for grabs before the racing season gets into full swing.
In an exciting development for 2018, the Olympic distance race at Lough Cutra Castle will form part of the 2018 National Series making it a much sought after the race and the perfect way to kick start the chase for National Series points. Enjoy a 1.5km swim in the flat calm waters of the privately owned Lough Cutra Castle, cycle 40k through the Burren enjoying the gentle rolling hills and the natural beauty of the world famous heritage site. Finishing with a 10k off road run around the stunning grounds of the privately owned Castle estate, and crossing the line to the backdrop of the striking castle, with a €1,000 prize purse for the Olympic Race it is definitely one to consider for 2018.
Speaking about the developments for the 2018 events Brian Adcock Race Director said "We are excited to host the National Series Olympic race in Galway, our Gauntlet Half Iron distance race was on the National Series calendar in 2016 and proved to be very popular with athletes. The Olympic course at Lough Cutra Castle is super and an early season opportunity for athletes to get on the points ladder in a fun, friendly and festival racing environment. We thoroughly enjoyed hosting the Super Series and the Mixed Relay Club Championships in Galway in 2017, both events were exhilarating to watch, we very much look forward to welcoming athletes from all over Ireland to compete for glory across these races again this year".
If you needed an excuse to race in Galway, well you don't need one anymore there are races for everyone from beginners to those chasing podium places, championships titles and now National Series success. The two-day festival of triathlon in Galway voted 4.4/5 on www.racecheck.com is the perfect way to open your 2018 season in style. Pick from one of the many races on offer with short and long distances to whet all appetites and cater for all abilities.
In addition to all of this you can take advantage of 25% discount on all races, so don't delay, book your race in Galway today HERE.