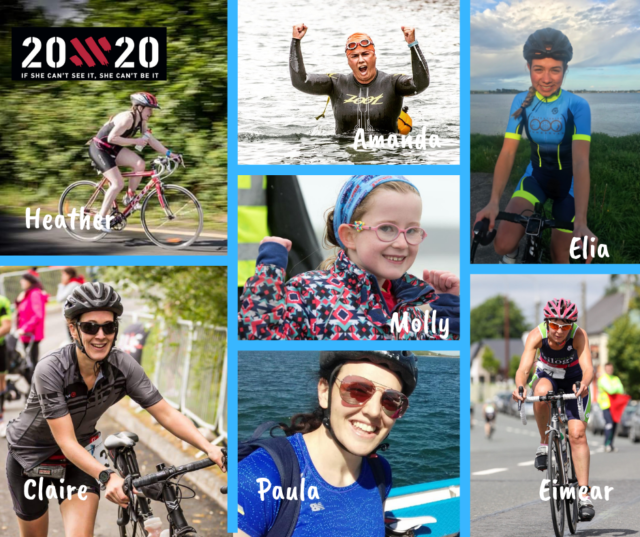 Six senior and one junior athlete selected to help encourage and empower more females to the sport of triathlon at the Lough Cutra triathlon and multisport festival in Galway.
With the first race of the Castle Triathlon Series just around the corner, Lough Cutra Castle Triathlon last week announced their 20×20 ambassadors as part of their commitment to encourage more females to race with them in Galway and to empower more women to participate in triathlon. The female ambassadors represent a wide range of ages, abilities and aspirations with some long-standing triathletes and some athletes very new to the sport.
Meet the ambassadors below
Eimear Matthews
Eimear is a 55 year old mum of 5 and has been participating in triathlon for 12 years. A member of Trilogy Triathlon Club she is planning on racing the BMW Ireland Triathlon Ireland NS Standard Distance race. By her own admission she says 'I love this sport so much, I have met so many fantastic people, all sports nuts like me, we have so much fun, I am totally committed to getting as many people into the sport as possible'.
Heather O'Brien
Heather O'Brien from Cork is a member of Mallow Triathlon Club, she is embarking on her 2nd season of triathlon. The 34 year old former International rugby player took up triathlon as a means of keeping fit and healthy whilst working full time and studying an MSc in Sports and Exercise Medicine.
New to the sport of triathlon, swimming was her biggest challenge and the open water terrified her. Speaking about her first experience 'I was never a fan of the cold so feared that a few millimeters of neoprene were no match for the Irish Sea. I went to my local lake not holding out much hope, I dipped my toe and it was surprisingly pleasant. Heather believes 'there is a place in triathlon for the beginner, the competitive athlete, the avid swimmer, the run loather and all those in between, finish times may be hours apart, but the distance covered is the same.'
Claire McGonagle
Claire McGonagle from 3D Triathlon is embarking on her third season of triathlon, she went from barely able to run 5k or swim any distance, to triathlete in 6 months and is looking forward to taking on the Gauntlet Middle Distance Race as part of her preparation for going long later in the season.
Claire said 'Finishing my first sprint triathlon was the most unbelievable experience it made me feel like I could anything I set my mind to. Triathlon is a sport that nurtures everyone regardless or your age, gender, shape or size. My journey so far has been so much fun, filled with laughter and I have made so many amazing friends along the way. '
Elia Tutty 
Elia Tutty is 16 years of age, a member of Tried & Tested Triathlon Club, Dungarvan, TC Racing – Cycling Team and Dolphin Swimming Club. The young athlete is making waves across all three disciplines of triathlon as a successful member of Triathlon Ireland's Emerging Talent Programme. Elia has been participating in triathlon for the past 6 years and says 'Triathlon allows me to be myself, helps with my confidence and has given me so many friends for life. I love the feeling after finishing a triathlon, you feel like you are on top of the world! It is such a unique sport so it is a wonderful thing to be able to say that you do it, the energy I get from triathlon is brilliant. Above all I participate in the sport because I love it, it is such a positive, friendly and encouraging environment to participate in.'
Amanda Witherow
Amanda Witherow from Tri 247 Letterkenny is relatively new to the sport of triathlon, 2019 is only her second year in the sport.  Having neglected her work-life balance for the past number of years she enjoys the multi-discipline aspect of training for three sports and the social side of it. She says, 'If I can do triathlon anyone can, I love the sport and use it to spread a positive message about keeping healthy, self care and challenging yourself everyday' Amanda will take part in the Sprint Race on May 25th
Paula Fitzpatrick
Paula Fitzpatrick based in Dublin is a former International Rugby Player, the 33 year old retired from professional rugby last year and took up triathlon by way of staying in touch with her former fellow rubgy players. They collectively decided to take up the sport and pick races in beautiful locations in Ireland as a way of staying fit, active and healthy but also a chance for a rugby reunion at each event. Stepping outside her comfort zone and finding a sport after rugby with new friends and new challenges has been a highlight of her triathlon journey.
Molly Marshall
Molly Marshall is 9 years of age and is starting her second season of triathlon after completing her first ever triathlon last year at her club race in Youghal. She will take part in The Widgeon junior race at Lough Cutra completing a 100m swim, 4km bike and 800m run, her favourite discipline is the run 'as you know you are close to the finish line'. Molly is an inspiration to us all and takes part in triathlon so she can inspire other women in sport, she wants to complete another triathlon to encourage people with disabilities like cerebral palsy to take part in triathlon.
Showing Their Stripes
Speaking about the ambassadors Brian Adcock, Race Director said, "We were overwhelmed by the number of applications and the calibre of applicants for our 20×20 ambassadors, we already have a focus on Women in Triathlon with a women only wave in our Super Sprint Race but we hope that this initiative will help to encourage and empower more females, young and old to take part in the sport of triathlon.
Lough Cutra Castle Triathlon will kick-start the triathlon season in the West of Ireland.  With a whole host of triathlon race distances for first timers to seasoned athletes, this event delivers a variety of senior and junior races over the two-day multisport festival in South Galway suitable for all athletes.  Sign up to your choice of race today on www.loughcutratri.ie