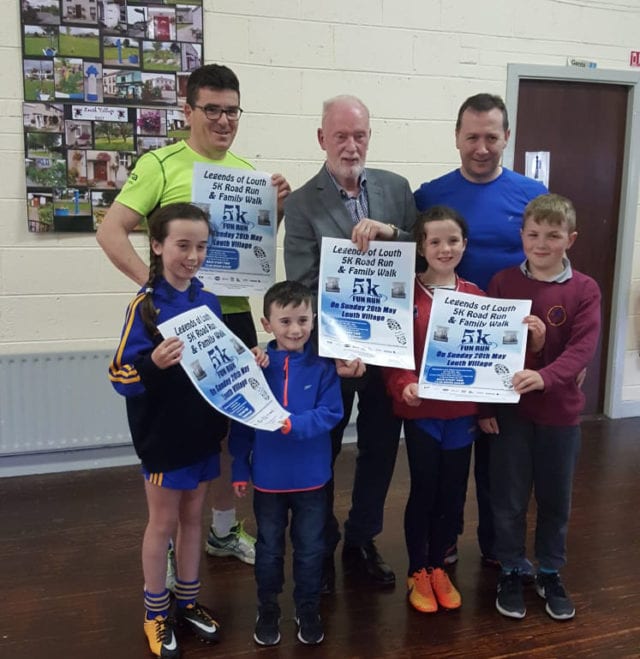 Monday, the 23rd of April saw the official launch of the Legends of Louth 5K run and family walk in Louth Village.
The Athletics Ireland sanctioned 5K run will take place on Sunday 20th of May in Louth Village at 12.00pm, Runners can enjoy the scenic track which loops 5K of beautiful countryside and back into the Village.
The inaugural year of the 5K has seen generous sponsorship support form some of the most prestigious companies, both local and national, including Lifestyle Sports, CX Sports, Crowne Plaza Hotels, Viatel Ireland, McArdle Doyle, BarOne Racing, Fyffes and Sarks Bar & Off License.
Online Registration
Online registrations have commenced with an early bird €10 registration offer for those who register before 6th May, all proceeds will raise vital funds for the redevelopment of Louth Village Community Centre.
Commenting on the launch of the 5K event, sectary Gerry Campbell said, "We are honoured to bring such a prestigious event to Louth Village. Already we have seen online registrations stream in from runners across the northeast region. It promises to be a great day for competitive runners and family walkers".
Commenting on sponsoring the event, Ronnie McArdle, MD of McArdle Doyle said, "Giving back is very important for our business, we are delighted to get on board with so many impressive companies supporting the Legends of Louth 5K. It is certainly a not to be missed event for any keen athlete".
Gerry Campbell went on to say "I would like to extend my sincere thanks to the team at St Peters Athletic Club who offered superb guidance and advise on the planning side of the Legends of Louth 5K".
For online registration, visit Primoevents.
To avail Early Bird registration price of €10, please use Discount Code "EarlyBird"