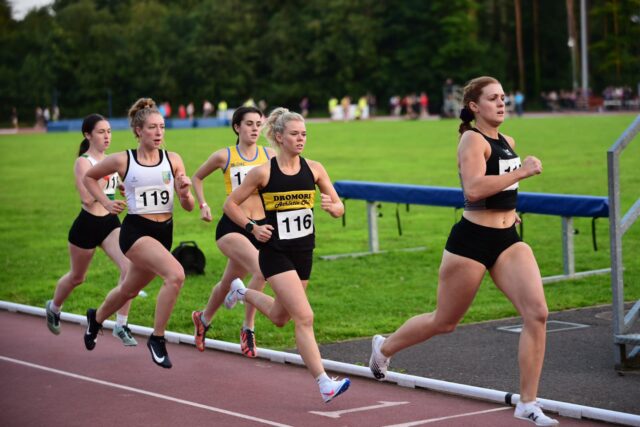 Robyn McKee is a popular figure in athletics. She races on all surfaces, over a variety of distances and when not racing she can be found cheering on her Dromore AC teammates. Many may not realise that this is her second lap, so to speak. She has played hockey at a high-level in between. I caught up with Robyn recently to ask her a few questions.
Enjoy her story.
When did it all begin?
My parents sent me to my local athletics club, Dromore AC, when I was 11 years old with coach Michael McGreevy. He realised my potential and has helped me become the runner that I am today.
Are you from a sporty family?
Extremely sporty! My dad has a competitive running background and ran some very fast times when he was younger. My mum also runs and competes competitively in duathlons and triathlons. They have both been an integral part in helping me transition back into the sport. My sister is also a member of Dromore Athletics Club. All of my family are extremely supportive and come to my races to cheer me on!
Are you a teacher?
I am a Primary 1 teacher. I absolutely love it! Although it can be mentally exhausting spending the majority of your days with thirty 4-year olds, it is also such a rewarding and fulfilling job. There isn't a day that goes by that they don't make me smile.
What are your best achievements to date?
I was really proud to win the NI & Ulster Novice Cross Country Championships last year at Greenmount. This was a goal I had set for myself so I was delighted to achieve it. Just this month, I finally entered the 17-minute club and ran a 17.35 5k at Down Royal Racecourse which was a confidence booster for me that I am moving in the right direction.
What is your favourite distance?
Since I am only really getting back into running over the past two years, I am still finding my best distance but I do love 800m and 1500m races. I never thought I would say this but I am starting to enjoy the 3K and 5K distances too. Cross country is also great fun! I love all races – I really can't choose!
What do you put your success down to?
Desire, dedication and discipline.
What are your ambitions and targets?
My aim is to continue to enjoy my running, keep smiling and have fun! I hope that when the races do come around again…I will be ready to smash some targets!
What are your PBs?
800m – 2.13
1,500m 4.47
3,000m 10.08
5K – 17.35
Have you improved all your times since returning to the sport?
Yes, I have actually improved most of my times in the last three months. I have managed to stay really motivated during the lockdown period and the hard work is starting to pay off a little. Long may the PBs continue!
What is your favourite training session?
My favourite session at the minute is with Paul Lawther chasing the Annadale Strider boys around the track for 15 x 200m. Tough but fun! I weirdly love that lactic acid feeling!
Training preference- group or solo?
I must admit, I find solo training pretty difficult. Coming from a hockey background, I am used to working in a team a lot and love the social aspect that team sports can bring. I like having people around me for support and the feeling of pushing one another to achieve goals.
What are your favourite foods?
My favourite food is pasta. My motto is "Eat pasta, run fasta." If only it was this easy!
Do you have any other interests/sports?
I love food! So I like going out for lunch and dinner, socialising with friends and family. I very recently became the proud owner of a German Shepherd puppy. So, outside of running and work, he takes up a lot of my spare time. He likes to take me for walks and to chew on my brand new Nikes!!
©2020, Lee Maginnis
Photos by Paul Lawther.