Hi guys,
So this entry will cover both May and June, apologies as I didn't get time to submit a May entry.
May
May went okay with training – I did 211.8 km overall with most of it running (178km), and I completed a hike to Carrauntoohil along with a bit of walking.
May Stats Summary

May Training
Great Limerick Run – May 6th
The race was a sell out yet again and was very well organised. Medal was quality. The sun was splitting the rocks – the temperature went to 24/26 degrees during the race, which was very warm conditions for running. As I mentioned last time, I was to complete this half marathon with a mate, Jason. Having discussed it the morning of, Jason preferred to run it alone, so we ran our own races. I had to dig deep for the final third of the race. The weather definitely affected me as I was not used to running in the heat, but I still managed to come in at 1.49.08 – much better than I had anticipated. Jason came in a very respectable 2.04 for his first half marathon. My brother John also ran his first half marathon that day, and what made it more remarkable was that he only decided to run it 6 days before. The longest run he had ever done previously was 11k. He came in at a respectable 2 hr 10 mins.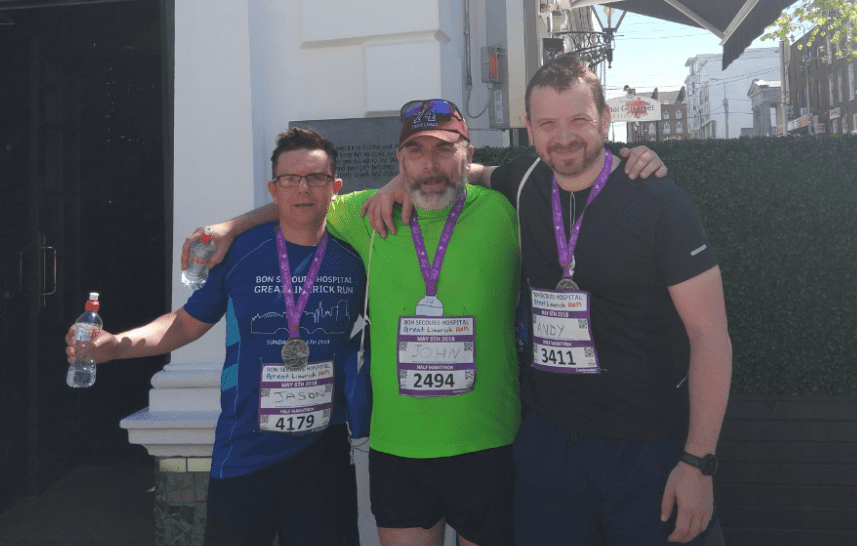 L to R – Jason, John & Myself

Carrauntoohil and Beenkeragh Ridge (highest & second highest peak in Ireland) – May 23rd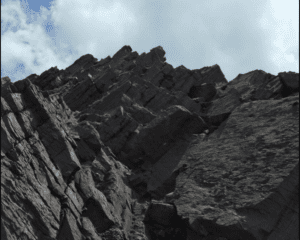 Took the Cronin's Yard route – some info here. Approx. 13.4k up and down, took about 4 hours 15 mins total. This would be considered a traditional route to Carrauntoohil. Large enough "rural" car park deep in the sticks of Kerry is the start point. This route is considered by many to be the gateway to the MacGillycuddy Reeks and is a very popular start point.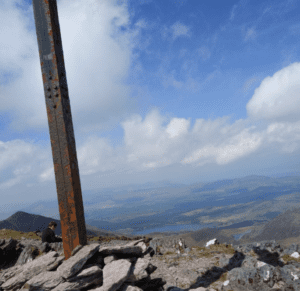 You know, Ireland really is a small country. If you recall back in the second entry of the blog, I met seasoned hikers Dave and Noreen by chance up Keeper on a very snowy day. When we reached the top of Carrauntoohil this time, we stopped for a sandwich. Just as we had finished the grub and were leaving the top of Carrauntoohil to go to Beenkeragh Ridge, I bumped in to Dave and Noreen again who had just made the top of Carrauntoohil. What are the odds, that at that exact time we were leaving the top of the mountain, that we would meet again!
There are toilet and shower facilities available near the Cronin's yard for the way back down, and you can rent a towel for a quid. There is a nice (but pricey) coffee shop in the same area, nice cup of cha and some apple tart with cream was had after. I would say this is the most direct and straight forward ascent to the top, having tried a couple of other routes previously. It would be difficult to get lost. Getting the 3km or so to the foot of the devil's ladder while it has gradient is pretty easy. Then the Devils ladder and the couple of kilometres post to the summit is the steepest. But the views on the way are out of this world! This time, after Carrauntoohil and a bite to eat, we took in Beenkeragh Ridge, which is the second highest peak on the range.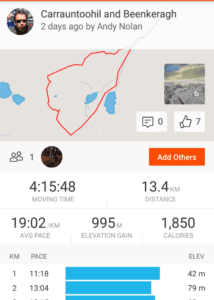 It was a little dodgy in places, and we had to use our hands/upper body strength to move up and down in between the rocks, with the general path not that well defined, making it very easy to get off track and end up in a difficult situation. There is also definitely more of a feeling of being exposed over this ridge. The weather was great with low wind but if there was bad weather and a bit of wind, then this has the potential to be a very difficult/dangerous climb. The views from the ridge to Carrauntoohil's north face and the Coomloughra Valley are spectacular. It's definitely not for the faint hearted methinks, but personally, I loved the challenge it presented. Details on the ridge are here.

June
June went a bit better, and consisted of 326km overall, again mostly running. 263km running, 20k walking, 9k hiking and a solitary 20km cycle half of the greenway route from Clonea beach near Dungarvan to Kilmacthomas – details on the route are here.
Absolutely unbelievable purpose-built route for cycling. It was my first cycle in a couple of decades and I really enjoyed it. Lots of points to nip off to go to some local pubs to quench the thirst, as we most definitely did.
June Stats Summary:

June Training: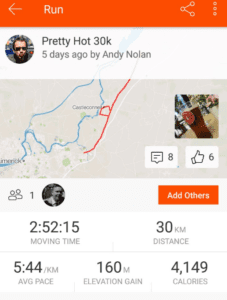 I kept the running up (have to realistically have an eye to the Dublin Marathon as well as hiking… cardio is still cardio!). Did a couple of long runs – did a 30km that had started out as a 21km run, but felt ok so kept tipping along, just 1km by 1km to see if I could reach 25km and then 30km markers (snapshot below), and also did a couple of 23kms mid-June.
Also, so as to test consecutive days endurance training, in a 1-week period over June, I ran 89.4km over the 7 day period. Other than being a bit tired, the body held up reasonable ok. I reckon I will have do more endurance training in the lead up to Kilimanjaro as to test the levels of endurance. I'm fairly stubborn anyway so, by hook or by crook, I will get up that mountain (and ideally survive it 😊).
For one of the 23km long runs in June, I kind of lost my train of thought/routine before leaving the house & left house without "vasing up" my nether regions. I can only describe the pain experienced in the shower after the run as someone setting off a firecracker internally in my anus – a Labrador may be a man's best friend, but Vaseline is definitely a runner's best friend. Another equally as awful pain that I've experienced this year is nipple chaffing/bleeding. I find using body glide on my "moob bumps"/"suckle stalks" keeps the pain away and is more effective than Vaseline on nipples – details here. It's applied like a roll on deodorant stick. Well worth the 12 or so bucks.
Going forward for July to Sept, I will have to concentrate more on hiking – building more thigh muscles specifically. I have also signed up to do the Dublin Marathon late October, also for the Irish Cancer Society – will just be back from Kilimanjaro approx. 1 week before the race, so in hindsight, may not have been the best idea in the world. F*&k it, what's the worst that can happen. Be grand!
Hiking Gear
Finally started to get some gear bought – some details below. I still have a good bit to get, but have made a start at least…
Berghaus 30L capacity day usage bag pack– online @Amazon – This is the bag I will use day to day, it will carry water, spare clothes, snacks, lunch, water bottles as well as water bladder, sun cream, bug repellent etc etc. Also bought a 2L water bladder also that fits snuggly in to the bag pack– All in approx. 65e delivered. It's not a top of the range make, but it's definitely mid-level and suitably fit for purpose.
Lowe Alpine 90 L Duffel bag –  Bought online (this is the bag the porters carry that carry's the sleeping bag and everything else not mentioned above for the day to day bag basically) – It cost approx. 120e delivered. Read below regarding the sleeping bag, it physically takes up about 35-40% of the internal space of the 90L bag, although its pretty light at 2.2kg!.
Helly Hansen rain jacket– online @ Amazon – approx. 130e delivered – went with a green one.
Merino material wool socks– generic brand purchased from great outdoors – half price sale on – approx. 8e a pair. Apparently excellent for hiking/anti sweat . Good write up here on the merits of Merino material.
Helly Hansen red (warm fleece)– approx. 50e – details here
Sleeping bag – Softie Expansion 5– VERY VERY Important to look at comfort rating here , min and max overall sleeping bag ratings that you see on the label while gives you info, does not give you the rating you need to be comfortable in extreme cold conditions (for example a min and max rating may be plus 2 degrees to minus 20 degrees but only have a comfort rating of minus 3 degrees …which would be useless for Kilimanjaro even though the low temperature rating is minus 20 degrees). For Kilimanjaro, you need a minus 15 degree comfort rating – This sleeping bag was approx. 136e in shop. It's approx. 2kg in weight and is fairly bulky, could not justify the extra 270 to upgrade to a down filling one which would be smaller (details of the alternative type are below).
The "down filled" material sleeping bag, This has a down fill, rather than synthetic and for that reason can be folded down smaller and weighs less. It's a fair bit more expensive – but has a smaller footprint so will take up less packing space – this would have been 410e. I went with the 136euro option purely out of common sense as I would not get the use from it to justify the price tag. See details here.
Walking poles – Rock River pair – 40e approx. Details here
Vaccinations:
It's important to get the recommended vaccinations before taking any trip. For Kilimanjaro, I needed multiple shots – outlined below. The last one to take is the Cholera one, which is taken orally a couple of weeks before the trip. This is currently in my fridge awaiting consumption.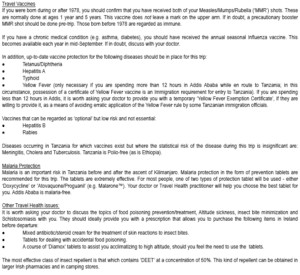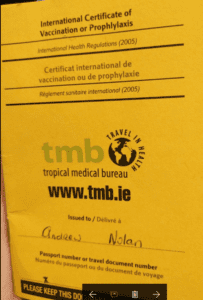 You are given a small yellow booklet (shown above) that carries all the information that you need to produce to the authorities to prove that you have had the relevant vaccinations (important document and you should treat like a passport). I also have a prescription for diomax which is a prescription medication that can be used to help with the sickness, very good write up here about altitude sickness in general and what to expect.
Ok that's it for this entry, I'll be back next month –
All the best
Andy
Now that I've added doing the Dublin Marathon about 8 days after Kilimanjaro, if anyone wants to donate to the Irish Cancer Society, if you can donate anything at all, that would be great – the link is here.