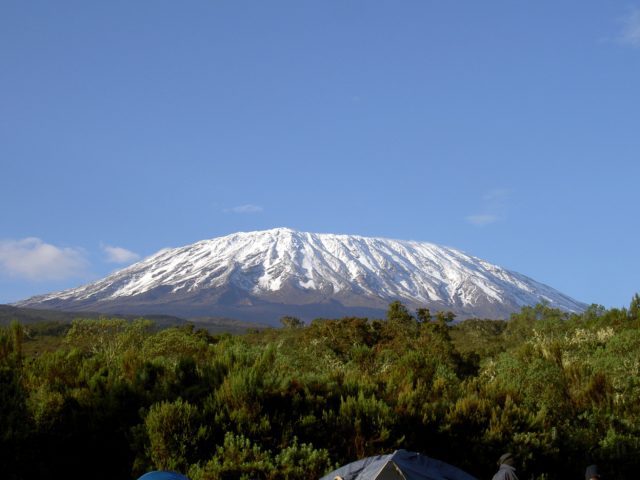 Welcome to Kilimanjaro, Blog entry 2. The month was mostly spent with a mix of a bit of running and hill walking and getting a protruding back disc manipulated back in!! Enough of the intro, have a read:
Feb 1st to Feb 28th
John Treacy 10 Miler
I've been struggling with a calf pain on my left leg for the last few weeks. It's one of those, is it or isn't it shin splints discussion rattling around in my brain. I was tentative over whether to do the John Treacy 10 mile at all but generally, once I set my mind to do a run, I generally do it. I'm not saying that I'm stubborn, but tell me not to do something (in this case myself telling myself not to run and rest instead due to a strain) and I'll probably end up doing it twice and take pictures, and maybe draw a still life composition, just for emphasis. I ultimately decided it wasn't shin splits, wore a calf support and long legging stockings and did the run on Feb 4th.
What a great turn out for numbers. Easily over 2k people were in attendance. While I do like this run, I can't figure out its immense popularity. I think it fully sold out in 4-5 hours once registration opened a few months ago. For me, the route itself, while very fair, isn't the most scenic one in the country but it has to be one of the most popular 10 milers in the country. Regardless, I'll probably do it again next year, and I've no doubt it will sell out again in record time.
My train of thought for this run (and for most runs I enter) is to break the distance in too little mini-phases: (I finished in about 82 mins by the way, which all in all wasn't a bad days work).
I start every race with the aim of winning it – fully convinced – you need to aim high – a big hairy audacious goal of sorts!
Generally about 3.4 seconds in, I get that niggling feeling that the win may be slightly out of my reach and start to dumb down my expectations
Next phase post evaluation, is set more in the realm of reality, I've set an 8 min mile pace in my mind and strive for it. But best intentions aside, there is a point in every race where it dawns on you, that your best intentions are not possible and that your attempt at a decent time or a PB just isn't on the cards. I think for mental balance and for the balance of enjoying the race, that it's important to make peace with that and just try to enjoy it and concentrate on finishing it.
For this run, I was going ok and on track for 8 min miles until about KM6, where I got a wicked stitch in my left-hand side – Instantly I knew then 8 min mile pace over the 10-mile distance was simply not possible, and I died a little inside….
Got over the stitch ok, and kept ploughing on, took a drink at the second water stop and somehow misjudged my mouth and gave myself a nasal enema – not at all pleasant!
Really struggled then at the later part of KM 14 and 15
Dragged my arse across the line at KM 16 – It took a massive dig into finish with a small bit of pace on the home stretch, last 400m or so
Finished 1077/2207 participants (Strava detail below, and a picture of a weary middle-aged man)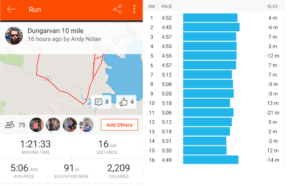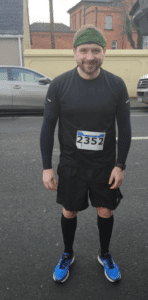 All in all, an ok race I thought. I had no particular form going into it and only had a few 9ish min mile training runs done in the lead up to it. T-shirt given out at the end was quality and the food spread in the local hall was excellent – one of the best spread's I've had post any sort of run.
I usually watch the odd Man V Food episode on the food network channel with my daughter (5 years old) and we try and decide can the guy finish the end of show food challenge. My daughter usually selects correctly. So in true Man V Food fashion, having been carb depleted during the 10 miler, I ran an internal competition on how many ham and cheese sandwiches I can consume before someone tells me to "P**S off, there are other people that want a sambo as we". . It turns out I can eat 14 quarter portions with ease, miscellaneous biscuits, pick and mix sweets, 2 slices of barn brack type cake and 2 iced queen cakes. Great fodder I thought as I rolled myself gingerly back to the car.
Limerick Climbing Club – Take 1:
Eoin and I, decided we need to get more hikes in this month, and while it's convenient, we can't keep climbing keeper repetitively and need to get some experience to different gradients and surfaces. A guy at work suggested joining a local climbing club, Limerick Climbing Club.
50 bucks for the season membership, so we have both joined up. Seems to be a really well run club, great website and variety, weekly treks and loads of relevant club related activities.
These weekly treks have a group leader and you give them a buzz if you are attending to make necessary arrangements. The walks are then broken up into difficulty rating, easy/moderate/difficult etc. which is a great reference when deciding which hike to attend. You meet up at a designated meeting point beforehand on the day of the trek and then you carpool to the mountain/trail in question. I rang the immensely helpful Jim to discuss a planned trek on the Comeragh mountain range for Sunday 11th Feb. General details of that trek are here.
So the date was set. We met at a meeting point in Limerick and then attempted to head on from there, with a dozen or more fellow hiking enthusiasts. I was introduced to them all, but my retention of new people's names is comparable with my old gran who in her final few years, called rather endearingly everyone Pat or Susan irrespective of their sex.
The morning of Sun 11th Feb was like a winter wonderland in Limerick, roads were dodgy enough, even driving in for the meet – usual county council craic, primary roads gritted, secondary and tertiary roads left for the locals to attempt drifting around the suburbs. Ultimately, we attempted to get on the road to Waterford to begin our journey to the Comeragh's, but safety was always the first concern of this club and unfortunately, the hike was called off – absolutely the right call by the trek leader, and great to know that personal safety is always first. My first impressions of this club are excellent.
A bit dejected, I left Limerick with my packed lunch (ham, cheese, turkey with salad cream on a slimster bun), a bag of barbeque hula hoops and a large flask of tea in my new flask that I bought in Guiney's the day before (filled with strong sweet tea). It's the first flask I've used since primary school by the way.
Rather than go home, and ignoring the weather, I got a mild rush of blood and decided to do Keeper Hill, again (I know, no originality, but to be honest I don't know any other local treks near me that I could attempt given the inclement weather conditions that morning). Keeper is certainly local enough to me and so as not waste the day (or the handcrafted sandwiches).
I drove carefully to Doonane car park at the foot of Keeper. Unlike the first blog entry detailing the first Keeper trek of 2018 where I wore an O' Neills tracksuit bottom on that visit to keeper and it p***ed rain, this time I had invested in a pair of actual real life, hiking water-resistant pants and a proper 30L backpack, so I felt ready for everything and anything that the weather conditions would muster upon me that crispy Sunday morning – bring it on Met Eireann!
It was snowing lightly for the first 3KM of the trek, and then the sun came out. The snow-covered trees and landscape really were really beautiful (no other way to describe it really – somewhat majestic!). About KM6, there was a couple of fellow trekkers ahead of me, I went to go past them and realized that they were 2 of the people were at the meeting point earlier in the day (their names being Pat and Susan I assumed naturally) and they were also due to do the Comeragh trek that had been cancelled. They had the same notion as me, to do some kind of a trek so as to save the day. Dave & Noreen, 2 very welcoming and nice people. It was clear they were experienced hikers and have been dedicated stalwarts of the Limerick climbing club for over 10 years. We completed the rest of the trek together, stopping for tea and sandwiches about 13k in on the way back down to chat & I genuinely learned a lot of tips with regard to general trekking from them.
Nearly forgot to add, that getting to the top portion of Keeper was Baltic (the final 1k each side of the summit) and once we turned to go back down, it was like a mini blizzard aggressively blowing in our faces, limited visibility. The wind chill felt like it was cutting my face with small razors, there was ice on my eyebrows and beard (or bum fluff as it's universally known at work). Good to experience discomfort I thought as it can't all be plain sailing in training preparation for Kilimanjaro.
All in all, a good trek and few hours exercise. 17.5 km took about 3 hours 10 mins. It was however so cold that I easily made Lord Varys look like Ron Jeremy (Relatively speaking). Below are a couple of snaps: (of Keeper Hill obviously and not my crotch).

Limerick Climbing Club – Take 2
As the Comeragh trek fell afoul of snowy conditions, I felt compelled to rectify the situation as soon as possible. Feb 18th was the next scheduled walk – Mullaghanattin, Co Kerry – rated as moderate/difficult trek level and estimated approx. 5/6 hours trekking time. Link to general trek details is here. There was a different leader for this trek. I rang him the Wednesday before the Sunday trek. I introduced myself etc. and unfortunately he said he "wouldn't take me up the mountain" (if you say it out of context then it could have an altogether different meaning!).
I explained my case and my general level of fitness but it was clear I wasn't getting anywhere. He said, "he needed to see me walk first". While I didn't agree with him necessarily if someone deems one to be fit enough, I reluctantly have to concede that I agree with him. The trek leader has responsibility for the overall safety of the trek and from his perspective, I could be as unfit as Jabba the Hut and make the planned trek difficult for all.
That being said, being told no, brought a flashback to being 15 years old again, bulgaden castle disco outside Charleville, anxiously waiting for the slow set, plucking up the courage and then getting told No….shot down in flames. (For any millennials reading, slow sets were slushy romantic slow-paced music, which culchies and townies alike used it to ask a bird to dance and get the shift….ideally)
Feb 21st
I had entered the Adare 10k Feb 25th but have had to cancel due to getting a disc in my back put back in.
I have had a slipped disc in L5/S1 the last few years. A girl at work recommended a "Bone Setter" in Newmarket, Co Cork, Victor Lane. I took a visit Feb 21st and so far so good! He placed the disc back in (sore!), I need to recover for the best part of 10 days, so will write a bit about that experience in March's blog entry….plus I'll have a better idea if it actually worked.
March's entry will also look at getting the gear we will require for Kilimanjaro and we will also look at the possibility of some altitude based training at a local Limerick facility which simulates higher altitude. Eoin will also look into providing some formulized Gym work specifically for cardio/leg strength.
Until next time,
All the Best,
Andy/Eoin
(F.Y.I – here is the link to the online donation platform, if anyone wants to donate to the ICS.)