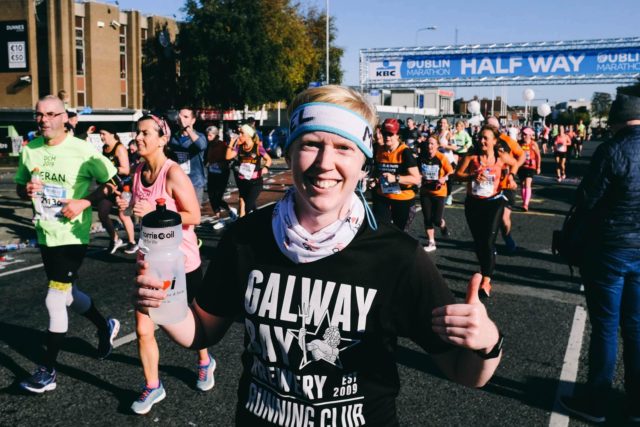 Dublin Marathon Race Report
It all started on Christmas Day 2018; my sister handed me a small gift-wrapped box with my name on it. I opened it quickly and laughed on finding a collection of running gels and protein bars. Having set up the Galway Bay Brewery Running Club (formerly the Mikkeller Running Club Galway) in September, and only gone and signed up for the Connemarathon Half (my first) in the upcoming April, I figured that was all there was to it…until she says, "Look at the bottom."  Uncertainly, I removed the gels and bars and spotted the KBC Dublin Marathon logo facing up at me.
Feck off.
"I got myself an entry too," she said half-laughing, trying to gauge my reaction (a potent mix of anxiety, uncertainty and excitement – this is at least a year sooner than I was planning to even attempt a marathon, if ever…). I can't remember what I said (thank you did feature), and from that point on running a marathon was the only thing I would think about until October, 27th 2019.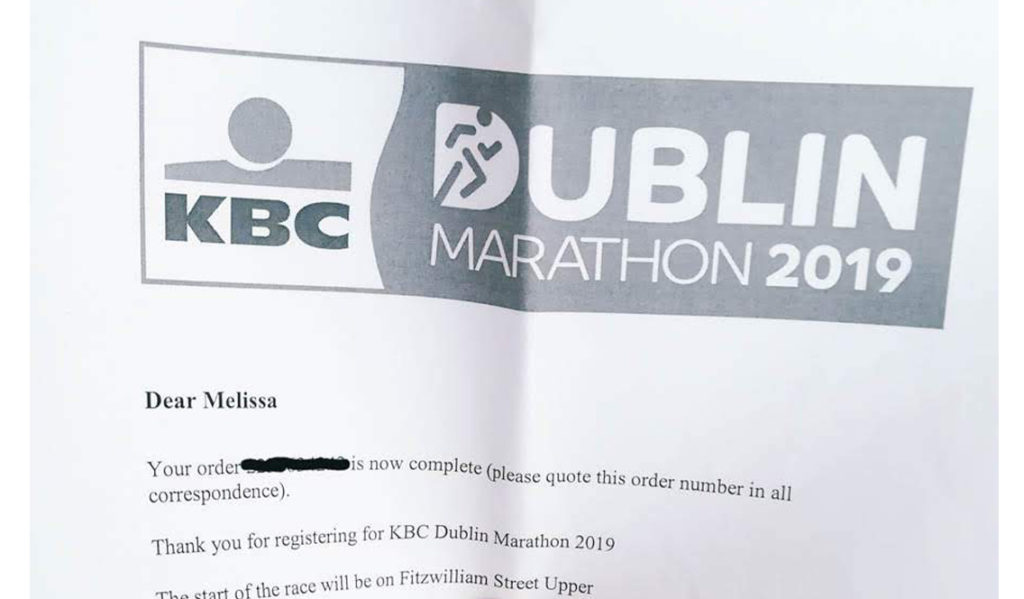 It's a long time to be thinking about marathons.
As you might gather from my inclination to set up a running club (beer-focused or not), I do like running. That wasn't always the case though. I ran my first 10K at the VHI Women's Mini Marathon in 2017 as part of the #Run4Repeal crew and it was a Big Deal. I hated running, it hated me. Everything was fine. Then, after about a year of a "lifting at the gym" buzz, I got bored and wanted something different. A Facebook ad for Mikkeller Running Club London (another beer running club, I was living in London at the time) delivered the answer. Dragged two friends of mine along to that and everything went from there (fun fact: two of the three of us ran our first marathons this year).
How do you train for a marathon 10 months away?
Dublin Marathon was in October. How do you even begin to train for something over 10 months away? In my case, I had the London Winter Run 10K, the Run Clare series and the Connemarathon Half lined up through to April, so I figured that was plenty to be getting on with. I found the longer distances (10 miles, lol) tough, but satisfying. I bought new shoes in honour of my serious running self (Asics, now into Brooks), went dry in the lead up to the half and essentially ruined my boyfriend's life with endless pasta dinners.
The half came and went (I loved it), and I went on holiday. Training officially halted. The marathon was still ages away. I had loads of time, sure couldn't I run a half now? The Galway Bay Brewery Running Club (GBBRC) crew were excellent support. A couple of members are serial marathon runners while others were also on track for their first this year. We exchanged tips, routes and grumbles as training set in. I was slow to get into a rhythm, but by the start of July, I settled on and painstakingly wrote out the Nike Running Club Marathon Training Plan.
Nike Running Club Marathon Training Plan
Adding everything, all the recommended workouts and distances, to my Google Calendar was the best thing I could've done for myself. It held me accountable. I kept an eye on the KBC Dublin City Marathon (DCM) official weekly plan they put out and amended accordingly depending on my mood. As the long runs got longer and the training grew tedious, injuries start appearing. Workouts were missed for rest. I was very strict about resting when there was pain that affected my walking. I started getting sports massages on my legs after races and when the aches and pains didn't go away. She, Regina Flanagan (highly recommend), had great advice and I have no doubt I wouldn't have made the start line without her. Between shin splints early on to IT Band issues, crunchy feet (I have no idea how better to describe this) and tight hammies in the six weeks leading up to it, it was an uphill battle. My long runs happened every two weeks coming up to the longest run – the rest was more important, but this felt like defeat. Sensible defeat, sure, but the anxiety of "Will I still be able to do it though?" was inescapable.
My sister and I did the Dublin City Half Marathon five weeks out from Marathon day and it was easily one of my worst races. Couldn't settle into it, uncomfortable for 90% of the time, my hydration/fuel plan didn't work out etc etc. It was a nightmare. Then, three weeks out, I did the Run Galway Bay Double Up in what was utterly miserable weather, and it went better than I could've imagined. Everything worked. I had been so anxious after the experience in Dublin, but this set me back into feeling confident – the training was working. It was paying off.
The Marathon was suddenly less than 48 hours away and the well wishes began. I was perfectly fine until the well wishes began. That's when the nerves started. A last-minute plan to stay in town rather than travel in from Greystones (thanks to engineering works on the DART – horrible timing for that considering half the city's roads were also shut down) was stressful but worked out in the end. Finding accommodation that close to race day was no easy feat, we only succeeded thanks to some excellent auntying. My sister and I explored the Expo on Saturday. Picked up some gels from the HighFive stand and I was good to go. Got back to the hotel that evening, went to lay everything out and found my Muller Rice had exploded all over the inside of my baggage drop bag. Brilliant. 
Race Day
Marathon morning went smoothly (the hotel did a great bowl of porridge), but as we were preparing to leave, I got a horrible nose bleed and spent a solid 30 seconds wondering what would happen if it just didn't stop bleeding (still don't have an answer to that). We walked up to Merrion Square, excited, anxious and generally looking forward to getting it over wit-…feck, I forgot my Tailwind-filled water bottle in the hotel. Back I went. Found it, back on track. The bag drop went smoothly, wandered over to the starting pen and queued for the portaloos. Twice. Then, we find ourselves between the 4:40 and 4:50 pacers. Ambitious? Yes. Too ambitious? …ultimately, yes. The gun fired and we've started. The start line shuffling lasted a solid kilometre, the crowd thinned out somewhere around Stonybatter. The support along this part of the route was super – the sun was out, everyone was getting warm and smiles are wide as we settled into the next few hours of our life.
The first water station was annihilated. There were (fully recyclable) plastic cups and bottles everywhere. There were bins, but very few runners appear to be using them – this was a common and embarrassing theme throughout. Runners, use the bins or carry your rubbish. We approached and entered Phoenix Park – the crowd thinned further as everyone found their pace. I found myself floating nearby the 4:40 pacers, feeling good but I absolutely need to stop at the next set of portaloos for yet another wee. Nerves, I guess. At this point, I'm disappointed to have to pull to the side and fall back from the 4:40 balloons. I'd catch up with them later, but the damage was done. I shouldn't have been catching up. I ran with my own water bottle so the stations weren't necessary for me until we get into Mile 20+. I was doing mental gymnastics about when to take my gels – I had three and the intention of adding one more at the Mile 16 station.
Supporters at Dublin City Marathon
Chants of OGI OGI OGI Oi! Oi! Oi! echo through the tunnels leading to Kilmainham (Mile 10/11, I think). Support at every cheering section continued to be a big lift. There was great energy as we came up the winding hills. My Galway Bay Brewery Running Club t-shirt is clear and legible and people shouted G'wan Galway as I ran past. The encouragement is appreciated, and I can't tell you how nice it is to feel like you represent your city and county whether you intended to or not! I pull up at the halfway point. My boyfriend is there – I rub my right thigh down with muscle rub gel and take a gel before leaving him to make his own way to the finish line. I was on track and felt pretty go-…feck. A gel leaked in my pocket with my phone. I fished it out, not touching my phone. I don't need to know if it's been affected. It won't matter until after the race. I ran with the semi-full gel in hand until we get to the next water station and bin it, it was replaced later.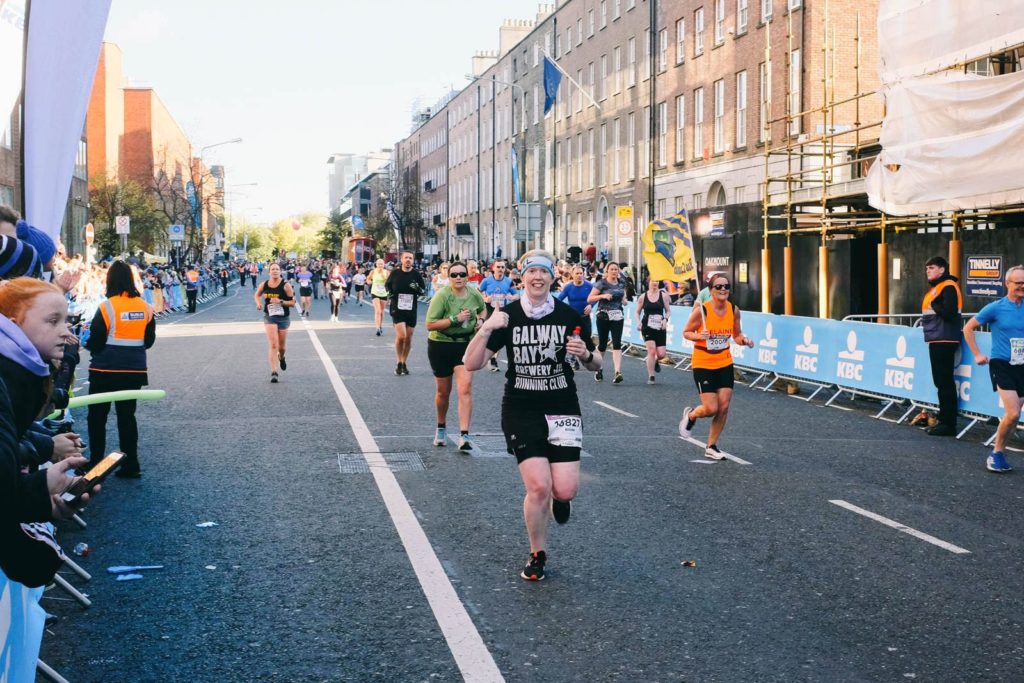 The next section of the race was unknown to me – very little of the surroundings were familiar, except the section of dual carriageway that I absolutely hate around Mile 22. I struggled through Mile 16 and 17. I wouldn't call it "the wall". I don't think I hit the wall. It just wasn't as pleasant as the rest of it. My family are at Mile 20 – a very welcome sight. I paused to chat for 30 seconds or so, left them my now empty water bottle and carried on hands-free. This was the unknown. My knees weren't happy, and weirdly my lower back was complaining too. Both new pains to distract from the old usual ones which I was very good at ignoring so far. I stopped at a portaloo again. 4:40 was long gone and I was perfectly happy. The decision to lean in and enjoy it was made early, and enjoy it I did. Being able to smile at supporters, high five costumed kids and hit the power up signs is all much more fun than chasing a balloon with my head down (which is what it would've taken me).
Mile 24 is a boost. This was more familiar territory. I knew, roughly, in practical and emotional terms, how far away the finish line is. And I knew, roughly, how long it was going to take to get there – even at my newly discovered 'last fifth of a marathon' pace. I started to pick up speed after spotting my family off the side in the last kilometer, then my boyfriend a little further on, then I could see the finish line and the 4:50 pacers are not that far ahead of me and sure why not chase them down? I could stop very soon. I caught the pacers on the line – 4:50:03. Delighted!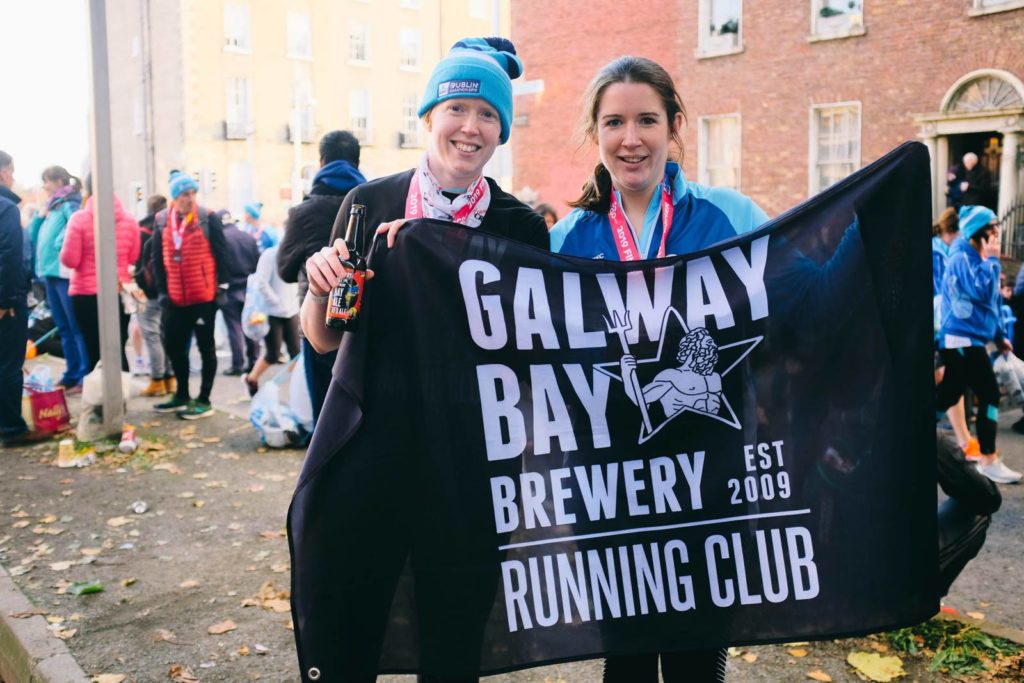 My sister and I collected our bags together. We put on some clothes and head to the exit to find family who have been incredibly patient and generous with their time throughout this whole thing (listening to people talk about marathons when you yourself have no interest in marathon running is an ask for sure). We approached the exit, crowds of supporters are pushed up against barriers keeping them out from Merrion Square. We and other runners around us hobbled toward the gap in the fence. My sister commented, "It's like we're coming home from war". She's not wrong; there are smiles, shrieks of joy, emotional tears, claps on the back all around us from different groups. Runners of all different shapes, sizes and abilities proudly welcomed back into the fold of friends and family. My boyfriend has a chicken fillet roll and a beer waiting for me. If it was war, then he's the real hero.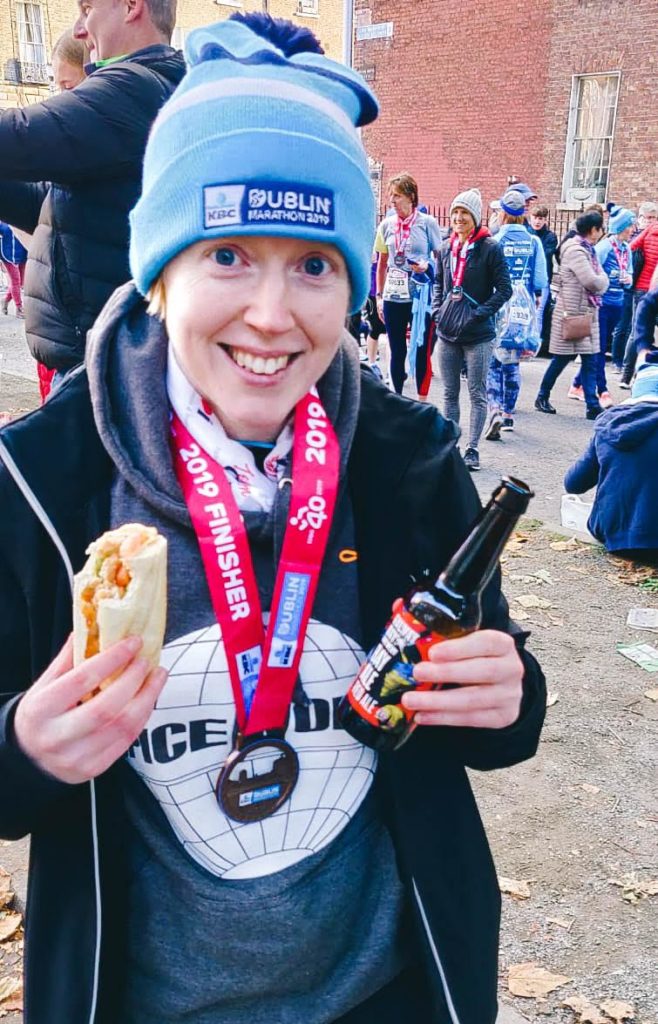 Dublin City Marathon was an excellent introduction to the imposing 26.2 mile distance. The support on the streets from well-wishers and volunteers was incredible throughout. The water stations were plentiful and three out of the four portaloos I experienced were in great shape all considered. The few examples of runners in trouble I saw along the way received attention very quickly and, aside from nearly missing the gels at Mile 16, everything was clearly signposted and accessible. I would recommend it to anyone for their first go (if you can get in). Or enter somebody else. They'll really appreciate it in the end.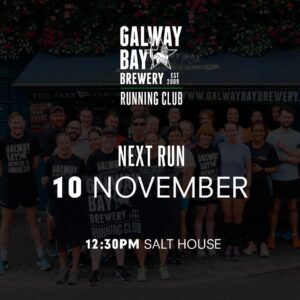 Join Galway Bay Brewery this Sunday, November 10th for a run on the prom and get a free beer after! All levels welcome and it's free to join, so grab a friend and come along.
Melissa Mannion.