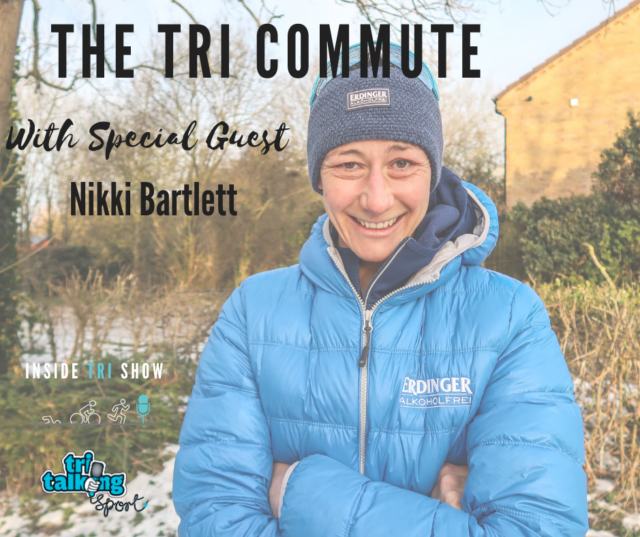 Tri Talking Sport and Inside Tri Show have teamed up again to bring you the second instalment of The Tri Commute this Friday morning 26th March at 07:30 GMT. Podcast hosts Joanne Murphy and Helen Murray aim to brighten up your breakfast in this light-hearted live interactive breakfast show.
There will be plenty of chat, laughter and gossip over breakfast for everyone to enjoy during the 45-minute show. The Tri Commute will be held over zoom, with the audience at the heart of the action. Guests will be able ask questions, be asked questions and enjoy the banter, as well as have the opportunity to chat with stars from the endurance sport and triathlon worlds. If the first episode of the show was anything to go by then this is going to be a cracking start to your Friday morning.
In the second episode of The Tri Commute, British triathlete Nikki Bartlett joins Joanne and Helen at the virtual breakfast table. Nikki has finished on the podium multiple times in her career as a pro athlete winning her first race as a professional at IRONMAN Lanzarote in May of 2019 backing up that win with the IRONMAN 70.3 Dun Laoghaire title a few weeks later. Nikki is also part of the British Para triathlete team as a guide hoping to make it to Tokyo 2021. Her bubbly personality, spirit of adventure and passion for triathlon make her the perfect guest for breakfast!
To join the live audience on zoom and enjoy some fun and frivolity this Friday register for free via https://bit.ly/TRICEP2.
In the meantime, check out Helen's Inside Tri Show and Joanne's Tri Talking Sport podcast across all podcast platforms.