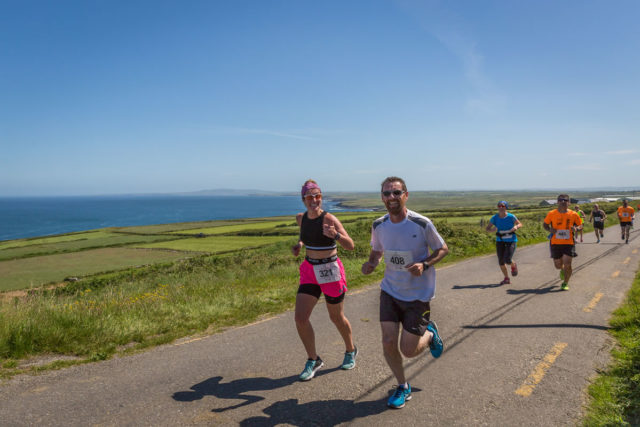 The Half on the Head (Kerryhead Half Marathon & 10k Run) takes place in Ballyheigue, County Kerry on Saturday June 16th.  This year representatives from Runners World Magazine will be taking part in the Half Marathon which will see participants enjoy one of the most breathtaking parts of the Wild Atlantic Way in Kerry.
The Route
The Half Marathon takes you around the rugged coast of Kerryhead Peninsula, one of the most westerly points in Europe. Starting in Ballyheigue village paticipants will make their way along country roads and lanes by the Shannon Estuary. The route then loops back to Tralee Bay with stunning views of Mount Brandon and Banna Strand to its finish at the gates of historic Ballyheigue Castle.
The first half of the course meanders gradually uphill before levelling out at the point of Kerryhead and then beginning a steeper decent back towards the village. Stunning views can be experienced the whole way around if you have the energy to enjoy them. If not you can expect a warm welcome at the finish and at the Race BBQ that evening.
The 10K route follows the first 5k of the Half Marathon route. It then makes its way back towards Kerryhead before a descent to the cliff road and a run alongside the sea to the finish.
While you're there…
Within an hours drive you can be coasteering on the Ring of Kerry, mountain biking in Killarney National Park or visiting Fungi the Dolphin in Dingle town. More locally there are superb mountain walks and trails, incredible cycling routes and water sports enthusiasts can enjoy open water swimming, surfing and sailing in some of the cleanest waters in the world.
For more information and to register for the events click
HERE