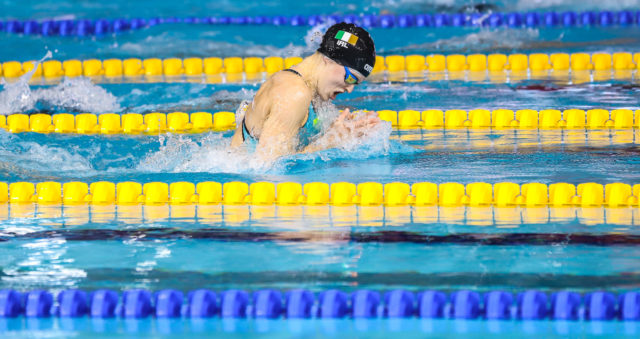 LEN European Short Course Championships
Nineteen Irish swimmers travel to Glasgow, Scotland this week to compete in the 2019 LEN European Short Course Championships (25m), Ireland's largest-ever squad to attend an International Meet.
Eleven senior and eight junior athletes were selected for the 5-day event, taking place at Tollcross International Swimming Centre from 4th – 8th December.
Shane Ryan will be looking to emulate his performances from 2018 where he collected a bronze medal at the World Short Course Championships in China, the 2016 Olympian has been in good form already this year, breaking the Irish Record in the 100m Backstroke twice in the past month. Swim Ireland 'Swimmer of the Year' Brendan Hyland also had a top 10 finish at those world championships in the 200m Butterfly. At the last edition of the European event in Copenhagen, Jordan Sloan and Mona McSharry were finalists with Conor Ferguson reaching a semi-final.
Eighteen Irish swimmers will be in action on the opening day of competition in Glasgow
Brendan Hyland, Cillian Melly and Paddy Johnston compete in the 100m Butterfly, whilst Niamh Coyne, Mona McSharry, Molly Mayne, Darragh Greene, Liam Doyle and Eoin Corby will all swim in the 50m Breaststroke. Amelia Kane will get her campaign underway in the 400m Individual Medley with Danielle Hill swimming the 100m Backstroke. Jack McMillan, Robbie Powell and Daniel Wiffen will swim in the 400m Freestyle while Conor Ferguson has his first taste of action in the 200m Backstroke. The opening morning will finish with an Ireland team looking to perform strongly in the Male 200m Freestyle Relay.
National Performance Director Jon Rudd, Team Leader for Ireland at the Championships said, "Short course swimming in the 25m pool is always exciting and this competition, along with our own National Championships in Dublin (12th – 15th December) brings the short course section of the season to an energetic close. With us going into Olympic year in only a matter of days' time, all of our athletes are aware that this meet will provide them with crucial information as to where they are in their preparations as we approach the Olympic Trials in April and Glasgow will provide them with first-class and highly valuable racing experience in advance of that".
National Senior Team Head Coach Ben Higson commented 'The team selected for the European Short Course is the largest ever Irish Team ever at a senior International with the make-up a blend of youth and experience. It is a fantastic opportunity for athletes to swim fast and hone in on crucial race skills that are going to be required in the long course season. With the Olympic Trials around the corner and Olympic Games in 8 months, the athletes must get comfortable with "performing when it matters".
Higson will be leading the Irish coaching team at the Championships, with John Szaranek (National Centre Limerick), Peter Hill (Larne), Cormac Powell (National Centre Dublin), Paul Dennis (Bangor) and Bethany Carson (National Centre Dublin) formulating the remainder of the coaching team for Glasgow.
2019 LEN European SC Swimming Championships (Glasgow)
Day 1 – Wednesday 4th December l Heats – 9.30am
Men 100m Butterfly Heats Brendan Hyland
Paddy Johnston
Cillian Melly
Women 50m Breaststroke Heats Niamh Coyne
Molly Mayne
Mona McSharry
Men 50m Breaststroke Heats Darragh Greene
Liam Doyle
Eoin Corby
Women 400m Individual Medley Heats Amelia Kane
Men 400m Freestyle Heats Jack McMillan
Robbie Powell
Daniel Wiffen
Women 100m Backstroke Heats Danielle Hill
Men 200m Backstroke Heats Conor Ferguson
Men 4 x 50m Freestyle Relay Heats Ireland
Notes:
Results & Schedule available HERE
Irish Athlete Schedule & Info available HERE
Daily Heats 9.30am – Finals 5pm
4th – 8th December LEN European Short Course Swimming Championships
Athletes: Niamh Coyne (National Centre Dublin/Tallaght), Curtis Coulter (Bangor), Liam Doyle (National Centre Limerick/Dolphin), Conor Ferguson (Larne), Darragh Greene (National Centre Dublin/Longford), Danielle Hill (Larne), Brendan Hyland (National Centre Dublin/Tallaght), Mona McSharry (Marlins), Cillian Melly (National Centre Limerick/Castlebar), Jordan Sloan (Bangor), Shane Ryan (National Centre Dublin/NAC), Eoin Corby (National Centre Limerick), Maria Godden (Kilkenny), Paddy Johnston (Ards), Ameila Kane (Ards), Molly Mayne (Hamilton Aquatics/Templeogue), Jack McMillan (Bangor), Robert Powell (National Centre Dublin/Athlone), Daniel Wiffen (Lisburn)