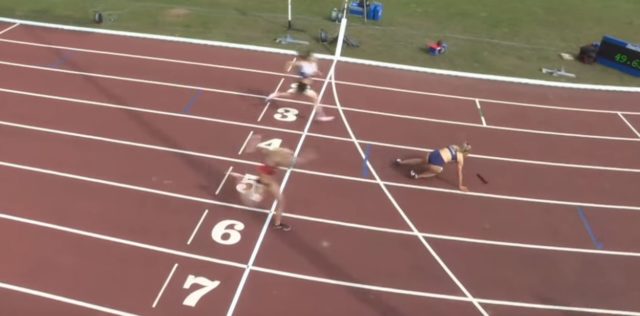 Last Saturday 6th April saw an impressive day of athletics, as The National Juvenile Indoor Championships 2019 and the University Outdoor Track and Field Championships took place in Athlone.
With many great performances, there was one in particular that had people talking, getting notice from popular online sites such as Joe.ie and Balls.ie, with a huge reaction on social media.
Forkan's 4×100 Relay Finish
NUI Galway were on track to receive Gold in the 4×100 relay, when disaster struck in the form of a torn hamstring in the final leg of the race.
In the video, the commentary can be heard saying: "They're well in control here, NUI Galway.. oh no they're not I don't believe it! Might just make the line, she's hobbling she's hobbling!"
Aisling Forkan was 15 metres in the clear lead, when her injury dramatically struck. With the finish line in sight, Forkan kept going, clearly in agony:
Forkan, who has 30 All-Ireland medals under her belt, didn't give in to the pain until she was sure she had crossed the line, in a great show of sportsmanship. Finishing in 49.85 with only a difference of 0.19 seconds, the NUI Galway team of Nicole Walsh, Sarah Quinn, Ciara Barry and Aisling Forkan took silver, behind Ulster University's 49.66.
Watch the full race here, starting from 4:34.
NUI Galway came home with 1 gold, 4 silver and 6 bronze medals, with 10 records also broken.