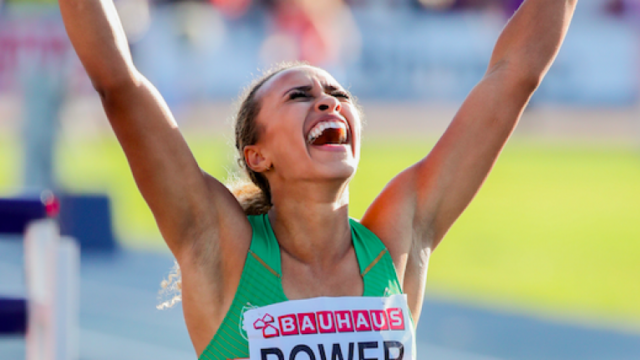 Nadia Power burst onto the International scene this summer with her superb bronze medal in the U23 European Championships in the 800m event. Until recently, she was better known as a 1,500m runner but now is excelling over two laps.
Her PB's include 800m – 2.02.39 and  1500m 4.13.93. Coached by Enda Fitzpatrick her sporting accolades also include National Senior Indoor & Outdoor bronze. University indoors gold 800m 2019 and gold in 1,500m indoor and outdoor 2018. Four Irish schools titles over 1,500m and one in Minor XC.
Q. Do you train with a squad? 
A. I  train with some others in DCU during the year but mostly on my own throughout the summer.
Q. Are you from a sporty family?
A. My parents never played much sport but my Mom is obsessed with all sport, watches it on TV and loves going to my races.
Q. When did you start running and realise you were good at it?
A. Aged 8 in primary school when I won the class race at school sports day. I then joined the local athletics club.
Q What is your favourite distance? 
A. 800m. I always raced mainly 1,500m when at school and up until this year, but since I focused on 800m I enjoy that distance a lot more.
Q. What do you put your recent improvement down to? 
A. It was a combination of a lot of things.
I trained a lot more at 800m pace and that really  improved my speed endurance.
I stepped it up last year in many other ways too in terms of recovering and fuelling properly before and after sessions and placed a lot of importance on my gym sessions too.
I also think a lot of it was my mentality. I decided last year that qualifying for European U23s wasn't enough and I wanted to medal. It took a big adjustment in my thinking to believe that I could do that and be competitive in big races. So I think last year  because of this switch in thinking, I entered every race with a much more relaxed but confident mindset than previous years where I would have focused on my competition or what I couldn't do.
Q. Do you race in the winter, cross country, road or indoors?
A. I have done cross country a lot  in the past but this year I'll just be focusing on indoors and outdoors.
Q. What do you study and with the intention of doing what? 
A. I study marketing so i'd love to ultimately work in advertising and marketing for a big sports company or for sporting/music events.
Q. Any favourite meets? 
A. I really like Cork City Sports. The atmosphere is great and the organisers are really welcoming!
Q. Have you you a favourite session? 
A. 10/12 x 300m hills.
Q. Favourite food? 
A. Pasta and chocolate.
Q. Hopes in athletics? 
A. To be an Olympic and World Medallist.
Interview by

Lee Maginnis 
Photo Credit: Athletics Ireland