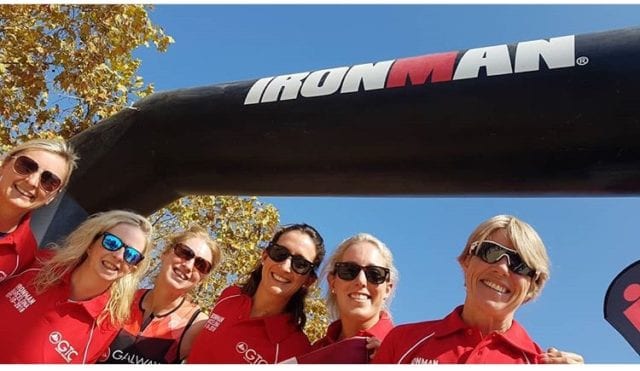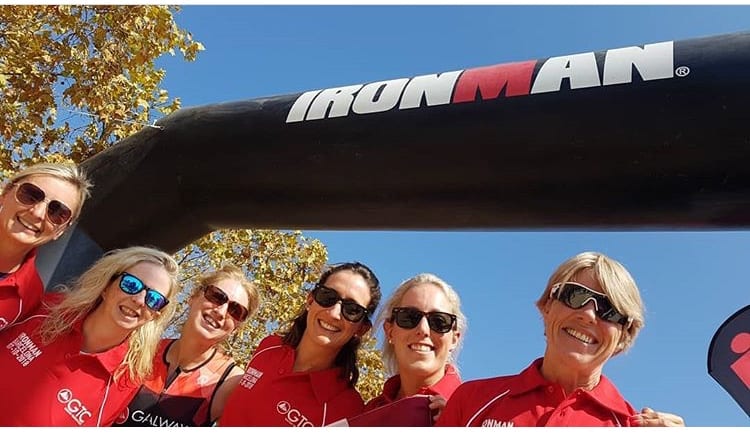 Valerie O'Gorman is an active member of Galway Triathlon Club who was one of a team of twenty-three who travelled from the club based in Galway City to take on the long-distance triathlon of IRONMAN Barcelona two weekends ago.
Enjoy her account of getting to the magic carpet and hearing those infamous four words 'You Are An IRONMAN' after completing 140.6 miles of racing in Calella, Spain.
– 'I promise, I'll never do a full IRONMAN' The promise I made to my mum after my first 70.3 in 2016. Famous last words!
My IRONMAN journey began exactly one year ago on a beautiful October morning while cheering on thousands of athletes on their quest to complete the Marathon at Run Galway Bay
Carmel, one of my closest training buddies has just returned from IRONMAN  Barcelona having had a DNF due to a mechanical on the bike. She too was cheering the marathoners as they trudged their way along the Salthill prom. 'I'm going back next year, unfinished business' she said, 'are you in?'
I looked at my best friend Rachel and likewise, we knew what the other was thinking. Oh God. The seed was planted. I covered my ears and shook my head in denial. My heart telling me one thing, my head another. How could I even think this was a good idea? I looked around and the struggle on people's faces was real. Pain was evident with each step. How could I even contemplate doing a marathon never mind after a 3.8km swim and 180km bike? Utter madness.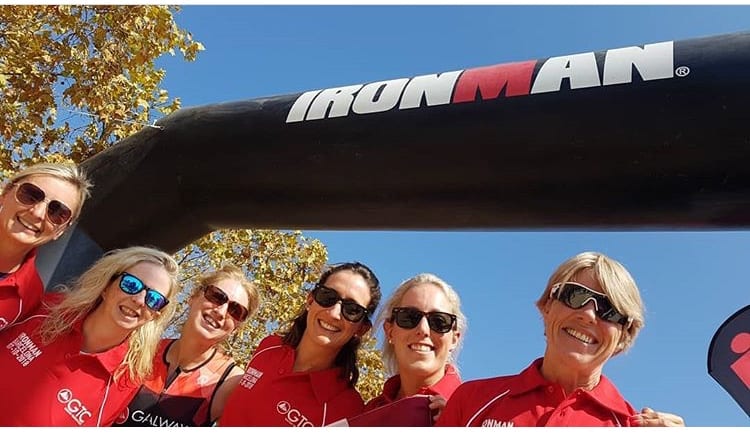 Girl Power
Sign me up! And just like that, teamed with Carmel's sheer determination to go back and finish the job (this time surrounded by her girl tribe) and fueled by the battle of endurance that surrounded me, I had committed to an epic IRONMAN journey. There was no going back now!
Fast forward one year to the day, October 7th 2018 and after months of dedication, determination, effective training and hard work, I am standing on Calella beach at Sunrise, surrounded by a mass of penguin suits, a sea of green hats and amongst them – a few bright pink ones. Girl power. Girl squad. Our squad.
We stood united, myself and four of my IRONMAN sisters from Galway Triathlon Club. The numerous punctures, the hard miles, the early mornings, the driving rain, the dedication, the self-doubt, the pain…all a distant memory.
Race Day 
Swim 3.8km
It was show time. Rolling waves. Rolling start. Conditions that reflected Salthill (on a good day!) Big swell. Our dream of 'going abroad for a sunny race' was most certainly not the case but if there's one thing we have learnt in the past year, it's that we cannot control the weather! The Europeans around us were freaking out. These conditions were not in the brief! But us Celtic warriors were ready! What's a bit of rain? No excuses.
I loved the swim. The first 300m was like a washing machine. We got churned in every direction. The lady beside me got pummeled out of the water before we even got in! Stroke for stroke, I felt at ease, my body was moving well and my headspace felt great. Mind over matter. Keep your head in the game. Out of the water and my watch tells me I'm four minutes faster than expected. I shouted for joy, I didn't care who saw me!
Glancing to my left I hear a group of GTC mates calling my name, the energy from the crowd was insane. My heart was dancing and I just knew that it was going to be a good day! Friends that had walked the plank before me had advised me to savor every minute. Game on.
I see Rachel has reached T1 before me and we shout random words of encouragement at each other. We are literally buzzing! We have taken each step of the journey together thus far. Now to get this party started on the bike.
Bike 180km 
Everyone had said 'don't go too hard on the bike, stick to the plan'. The course is flat and fast. It's a different world from the terrain of our training sessions on Seanafeistin and Corkscrew Hill! I sing a bar of Galway girl as I pass Rachel on the climb out of Calella. I am loving it but I know it's early days – keep to your numbers I tell myself. Although the surface is wet, it just lets you roll along. Magic. I'm going well and I'm feeling strong. In my mind believing I can sustain this for 180km.
And just then, reality check, I'm gifted a blue card for drafting and five minutes in the penalty box. I almost fall off the bike with shock! This was not in the plan! Afraid I'll miss the penalty box, the nerves get the better of me momentarily but then it's head back in the game. What's five minutes in the grand scheme of things? Right? I serve my time. In the bold corner and then I'm like a woman possessed. My second 90k is as steady as my first and I dismount the bike in just over six hours. Happy. But not satisfied. I want to get those five minutes back on the run!
Run 42.2km
Only 42.2km to go! I knew my legs would carry me through the distance, I had worked hard on my run all year. I just needed to control the controllables. A quick toilet stop in T2 and bandaging of my foot put me at ease and then it was time to literally put one step in front of the other and leave nothing behind on the course. Legs felt good, mind felt good. I've one loop done before I know it and my pace is steady.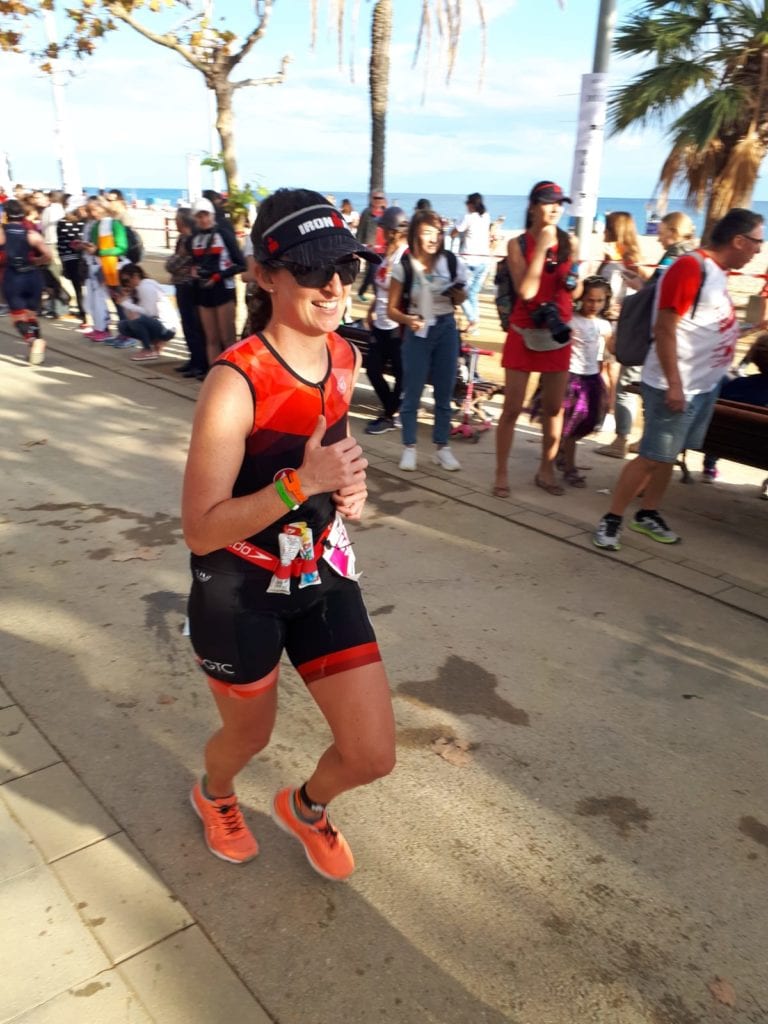 Some familiar faces in the crowd give me an extra pep in my step and I keep telling myself – legs strong, body strong. Passing club mates on the run, each of us a step closer to reaching our goal, is a very special feeling. An individual race but we are all very much in this together. Feeding off that support from the crowd, sticking to my plan, staying in the zone and telling myself that I was coming home with 'no excuses', before I know it I'm headed for the majestic red carpet. 11 hrs and 58 minutes after I started, I cross the finish line in Barcelona with one massive smile.
You Are An IRONMAN
I don't think I have ever felt pride like it. It's a nice feeling to feel proud of oneself. Proud that I had committed to the journey and that the sacrifices and dedication had paid off. Happy that I had the mental strength to carry me through the day and ecstatic that my body cooperated from start to finish.
But happiest of all that I got to share this amazing achievement and journey with so many other like-minded, crazy, endurance-junkies friends who had now too earned their rightful place in the elusive IRONMAN club. It's true that a journey shared is a journey halved. Twenty three members of Galway Triathlon club and twelve from TriLakes rose to the challenge of Ironman Barcelona 2018. Getting to the start line was an achievement in itself. Training in the Wild West can be quite the challenge! Everyone wants to hear those infamous words 'you are an IRONMAN '. And when you do, it really is the best feeling in the world.
'Mum, I promise, it's my last Full IRONMAN'……. Famous last words!'