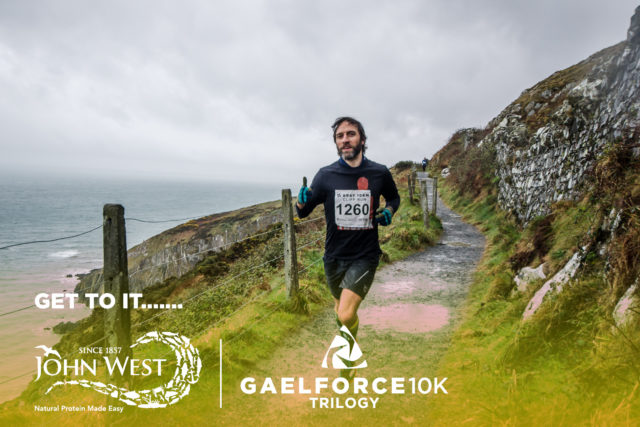 Trail running is the new buzz word amongst runners and it is well publicised that the benefits are huge. It can be difficult to find trails, especially if you are living in a city or a big town.
Gaelforce, in partnership with John West have now solved that problem!
2020 sees the second year of the John West Gaelforce 10k Trilogy. The trilogy consists of 3 epic trail runs around the Dublin area. Each event is uniquely different and with the events spaces out perfectly over the year you have the ideal series to keep your fitness levels on track all year round.
The series kicks off on April 4th with the Bray Cliff Run 
This race is now in its 9th year and up to 2000 runners will take to the stunning cliff path between Greystones and Bray. This is the perfect first timer race to give you a flavour of what is to come. Perfect for all levels of fitness.
Spaces are filling fast on this event so early sign up is advised.
Book your Bray Cliff Run HERE
This will be followed on August 8th by the Kippure event which begins in the grounds of the 240-acre scenic Kippure Estate, taking in the mountain and its glorious surrounds. This will be the 2nd year of this beautiful trail, a bus service is available!
Book your Kippure 10K HERE
The Howth Summit run on October 10th starts beside Howth Castle and moves to the summit of Howth Head, with amazing views of Dublin Bay along grassy tracks and rough trails.
Race to the Summit, book HERE
If you need a fitness goal that will keep you going all year long then these are the events for you. Make a promise to yourself and commit now.
Price increase on 28th February for Bray Cliff Run & Kippure 10k so get in early for the best prices. More details can be found on www.gaelforceevents.com