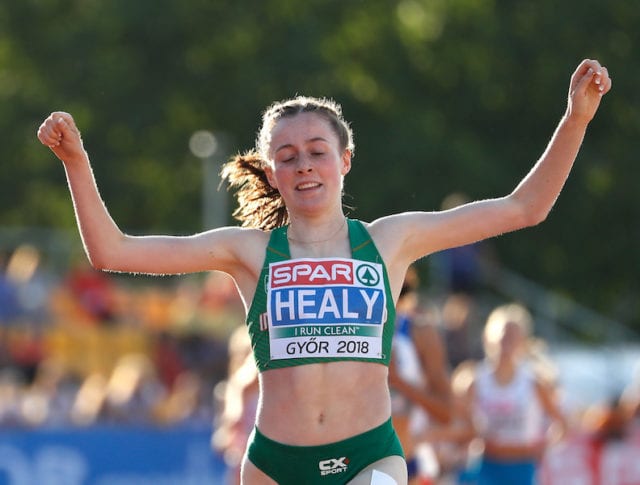 Sarah Healy (Blackrock) affirmed her status as the middle distance queen of the European U18 Athletics Championships with a dominant win in the girls' 1500m final in a new championship record of 4:18.71 in Gyor, Hungary yesterday. 
Healy blitzed the field on Friday to win the girls' 3,000m final in 9:18.05 which was also a championship record. So that made it two golds and two championship records on the bounce leaving no one in any doubt of the star quality on show. It may have looked easy but these were the best girls' in Europe in what was a truly incredible set of performances by Sarah Healy.
Girls on Fire
It was a night to savour on Friday for Irish athletics as Rhasidat Adeleke (Tallaght) stormed to gold in the 200m and Sophie O'Sullivan sped to silver over 800m at the European Athletics U18 Championships in Hungary.
Rhasidat Adeleke blitzed the bend and gave her rivals a clean pair of heels as she won the gold in 23.52 – a new personal best that sparked a tearful and jubilant celebration.
As if that wasn't enough for one night, Sophie O'Sullivan (Ballymore Cobh) was dancing on the line before the start of the 800m final and then pursued to battle for a brilliant silver medal in a new personal best of 2:06.05. Earlier in the evening Miriam Daly (Carrick on Suir) finished 6th in her 400m hurdles semi-final in 61.35, a personal best, and finished 10th overall.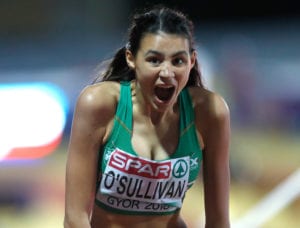 Boys Events
Louis O'Loughlin (Donore Harriers) finished 6th in his semi-final of the 800m in 1:55.22.
Brian Lynch (Old Abbey) finished 24th at the halfway stage in the boys' decathlon with a total of 3,338 points. His leading marks were: 100m 11.61, long jump 6.74m, shot put 12.84m, high jump 1.76m and 400m 53.12.
Irish Medal Haul
The Irish team won four medals in total with Rhasidat Adeleke (Tallaght) winning 200m gold in 23.5 and Sophie O'Sullivan (Ballymore Cobh) winning silver in the girls' 800m in 2:06.05.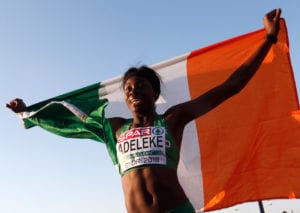 Photo Credit: European Athletics via Getty Images