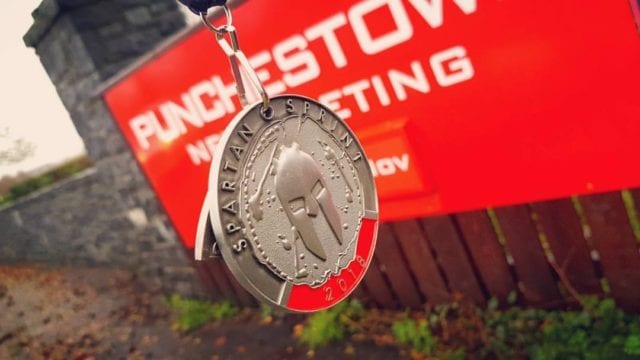 Ireland's 'Novice Hurdlers' to experience the Spartan Race in Punchestown.
One of world's biggest sporting series, Spartan Race, launches Irish debut
Dublin racecourse forecast: Going will be 'Soft to Very Muddy'
Spartan Sprint welcomes all newcomers: Sunday, 27 May 2018
Grandstand crowds at Punchestown Racecourse, the home of Irish National Hunt Racing, may rub their eyes in disbelief when 'novice hurdlers' romp home up the final furlong this spring.
Spartan Race Ireland 2018
Organisers announced today the famous Co. Kildare course, 18 miles south of Dublin, is to stage one extra thrilling day's racing in May – but cheering spectators won't spot a single horse or jockey in the parade ring.
Instead, only TWO-legged, human runners will feature on the race card, with the special day's adrenaline-fuelled sport being hosted by the world's leading Obstacle Course Racing company, Spartan Race. Now staging races in over 30 countries, the company is proudly making its debut in Ireland this year.
The use of riding crops will be strictly forbidden, and the going will officially be declared 'Soft to Very Muddy' as Punchestown's equestrian fences are swapped for even tougher cross-country challenges. Runners will have to wade through muddy bogs, scale slippery, 7-foot ramps, clamber up 25-foot-high cargo nets, lug 10kg sandbags up steep hills, climb 15-foot ropes, crawl under barbed wire on their tummies, then leap a 'fire jump' finale over blazing logs as their Grandstand finish.
Spartan Sprint
Nobody needs to be a thoroughbred to take part though, as the 'Spartan Sprint' on Sunday, May 27 is an 'entry-level' race suitable for beginners and all levels of fitness. The Sprint, Spartan Race's shortest event, 5km+ (3 miles) and 20+ obstacles, is a firm favourite with both new and experienced racers. Spartan hosts 250 races worldwide attracting more than 5 million runners in under 10 years, and the fixture at Punchestown, near the county town of Naas, is expected to draw participants and family spectators from across Ireland.
With Dublin now one of Europe's premier tourist destinations, organisers also expect the event to draw a wider international audience, with other sporting enthusiasts flying in from across Europe and the US.
Spartan Race Regional Director Sean Meehan,who lives in County Fermanagh and helped plan the Punchestown event, said:
"Like the horses before them, our racers will discover a fast, exciting racecourse that's both challenging and diverse – plus water, mud, forest and rolling hills. Runners will head off cross-country, then return to a rousing Grandstand finish up the famous Punchestown final furlong. 
Meehan, an endurance athlete who helps stage Spartan races across Europe, the Middle East, and Africa, added:
"We also attract elite athletes, but beginners receive lots of helping hands and assistance on the course. The atmosphere and camaraderie are awesome. Crossing the fire jump in front of the famous Punchestown Grandstand, receiving your Spartan medal around your neck, and enjoying the buzz from the festival, will create a very special day out for racers and spectators alike."
The Rising Popularity of Obstacle Courses
Obstacle course racing is now a worldwide craze, attracting millions of runners and keep-fit enthusiasts, including 5km and 10km racers, half marathoners and marathoners seeking a fresh challenge. Contrary to the misconception that the sport is dominated by testosterone-fuelled men, 40 percent of Spartan Race runners are women. Obstacles are always kept top secret on race day on purpose to surprise racers. Failure to complete an obstacle incurs a compulsory set of 30 'burpees', or squat-thrusts, meted out irrespective of gender.
A packed Spartan Race 2018 programme of 30 UK races will run until October – a fixture calendar increased by a record 50 percent from 2017, reflecting booming British interest in the sport (now one of the UK's fastest-growing). This year, around 30,000+ people are expected to run Spartan Races, which are named after the fearless Ancient Greek warriors.
Punchestown has hosted major music festivals in the past, welcoming bands such as Kings of Leon, R.E.M., The Killers and the Red Hot Chili Peppers, but has never before hosted a Spartan Race.
There are three main types of Spartan Races, a Sprint (5km+), a Super (12km+) and a Beast (22km+). An average racer takes around 2 hours 40 minutes to complete a Sprint. Some elite racers can manage it in 40 minutes.
Spartan Race will also be hosting a Spartan Kids race at Punchestown. One of a record 11 Spartan events scheduled for junior competitors this year, it is open to children aged 4-13. They run a 1.5km course and youngsters must be accompanied by a parent or legal guardian on site.
To register for the Dublin event visit here.
For full details of all UK Spartan Race events in 2018, visit the website.  Follow Spartan Race UK on Facebook, Instagram, and Twitter. and Spartan Race Ireland on Facebook.