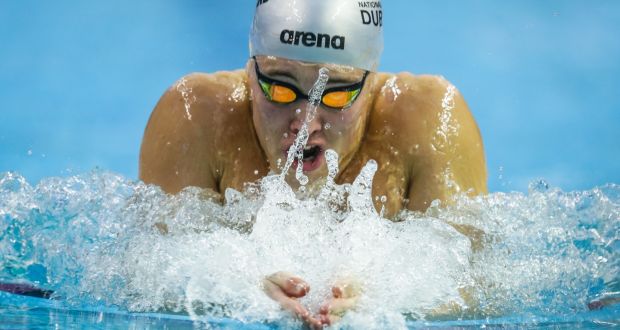 Three Irish swimmers progressing to semi-finals
Ireland had a successful start to the European Short Course Swimming Championships in Glasgow this morning with three swimmers progressing to semi-finals, an Irish Senior Record, and Irish Junior Record and ten personal best swims.
Darragh Greene and Mona McSharry both progress to the 50m Breaststrokes Semi-Finals, McSharry in eighth overall and Greene in fifteenth. McSharry clocked 30.51 in her heat while Greene swam a new personal best of 26.89. In the same event, Limerick's Eoin Corby set a new Irish Junior Record of 27.50, making him the holder of all three Irish Junior Breaststroke records. Niamh Coyne (31.10) and Liam Doyle (28.13) both swam best times in the event with 14-year-old Molly Mayne clocking 31.93 in her senior debut.
Irish Records set
Danielle Hill continued her impressive season form breaking the minute mark for the first time in the 100m Backstroke in 59.38. Hill, who set Irish Records in the 50m Freestyle and 50m Backstroke Records last month, will have her eyes set on Melanie Nocher's 100m Backstroke record when she goes in tonight's semi-final Hill was just eight-hundredths of a second off the 2011 record of 59.30. Ireland's Men's 4x50m Freestyle Relay of Shane Ryan, Curtis Coulter, Jack McMillan and Jordan Sloan broke the first Irish Senior Record of the meet knocking three seconds off the previous mark of 1:30.26 set in 2009. The quartet touched in 1:27.06 for 12th overall.
Ireland had a number of other impressive performances this morning from; Daniel Wiffen (3:50.91) and Robbie Powell (3:52.05) who cruised home to first and second in their 400m Freestyle heat in personal best times, Jack McMillan the fastest of the Irish in 3:46.23, Conor Ferguson was just .08 of a second shy of his 200m Backstroke Irish Record in 1:54.38, Amelia Kane swam a best time of 4:45.64 in the 400m IM. Finally, Paddy Johnston (54.62) and Cillian Melly (53.97) made senior debuts in best times in the 100m Butterfly and Brendan Hyland lead them in 52.00. Day one semi-finals start at 5pm and will be streamed live on RTE Player. A further press release will issue following this evening's events.
2019 LEN European SC Swimming Championships (Glasgow)
Day 1 – Wednesday 4th December l Heats Results
| | | |
| --- | --- | --- |
| Men 100m Butterfly Heats | Brendan Hyland | 52.00 |
| | Paddy Johnston | 54.62 |
| | Cillian Melly | 53.97 |
| Women 50m Breaststroke Heats | Niamh Coyne | 31.10 |
| | Molly Mayne | 31.93 |
| | Mona McSharry | 30.51 |
| Men 50m Breaststroke Heats | Darragh Greene | 26.89 |
| | Liam Doyle | 28.13 |
| | Eoin Corby | 27.50 IJR |
| Women 400m Individual Medley Heats | Amelia Kane | 4:45.64 |
| Men 400m Freestyle Heats | Jack McMillan | 3:46.23 |
| | Robbie Powell | 3:52.05 |
| | Daniel Wiffen | 3:50.91 |
| Women 100m Backstroke Heats | Danielle Hill | 59.38 |
| Men 200m Backstroke Heats | Conor Ferguson | 1:54.38 |
| Men 4 x 50m Freestyle Relay Heats | Ireland | 1:27.06 ISR |
Day 1 – Wednesday 4th December l Finals Schedule
| | | |
| --- | --- | --- |
| Men 50m Breaststroke SF | Darragh Greene | 5pm |
| Women 50m Breaststroke SF | Mona McSharry | 5.07pm |
| Women 100m Backstroke SF | Danielle Hill | 5.49pm |