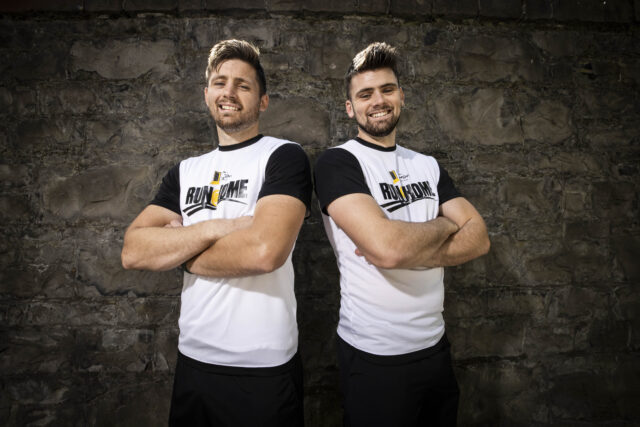 Last week Dublin Simon Community launched its [email protected] with Ross & Harry Byrne campaign in response to the continued cancellation & postponement of outdoor running fundraisers in Ireland. With the 38th annual Simon Home Run planned for this October looking increasingly unlikely, Leinster Rugby players, brothers and great competitors Ross & Harry Byrne have come on board to help give the charity's fundraising a boost.
[email protected] with Ross & Harry Byrne is a virtual race from the Aviva Stadium in Dublin to the Stadio de Olimpico in Rome and back, covering the host stadiums of the Six Nations Championship in Dublin, Edinburgh, Cardiff, London, Paris and Rome. The race will take place over two weeks between 2nd and 16th August, with participants automatically assigned to #TeamRoss or #TeamHarry on registration. Ross and Harry will act as team captains as both teams go head-to-head to clock up the most kms by August 16th.
Runners and walkers of all ages and abilities are invited to take part, with every km a participant walks or runs making a vital contribution to their team's overall performance. On registration, each participant will have a digital fundraising page created for them, which they can link with their Fitbit or Strava accounts and share with family and friends to make donations. Each individual's fundraising page will be linked with that of their team, where they can see on a digital map how far their team and the opposing team have come.
To spice things up, supporters can "buy" kilometres for the team of their choice by making a donation to either team. With each km costing €10, the race can be turned on its head at any moment, adding to the sense of competition and motivating participants to keep moving and keep fundraising.
Speaking at the launch of "[email protected] with Ross & Harry Byrne", Ross Byrne said:
"We are delighted to be helping out with the [email protected] campaign. It's a really great idea to harness the team dynamic you find between running and training groups and provide a sense of community for people while we are all still so separated. The bit of competition between myself and Harry on the pitch also adds to the fun for both us and our team members."
Harry Byrne said:
"We would encourage as many people to sign up as possible. The race lasts for just two weeks which is very doable, and the team format means that participants can run or walk at their own pace without any pressure on them individually. I think at a time when Covid-19 is still so present in our minds and day-to-day lives, getting involved in something like this provides a healthy sense of release and more importantly helps to raise vital funds for the victims of the homeless crisis, which has not gone away."
Head of Fundraising & Communications at Dublin Simon Community Emma Kilkenny said
"We are thrilled to have Ross and Harry on board to support our [email protected] campaign. With the Dublin Marathon already being cancelled for October, the chances of making our Simon Home Run in the Pheonix Park happen on the rescheduled date is looking less and less likely, which is a huge blow to our fundraising target.
"We hope that by setting a big running goal, it might provide an opportunity for those who have spent the year training to stretch themselves and get involved. On the other hand, by having two teams each striving towards a collective goal, we hope the campaign will encourage people of all ages and abilities to get involved. Some people might run more, others might fundraise more, but there's space for everyone to take part.
"Now 18 months into this pandemic, we have really had to put our thinking caps on to engage people and encourage them to raise funds for people who continue to remain trapped in the uncertainty of homelessness. The technology developed over this past year and a half has facilitated a very engaging interactive experience and having two brothers and great competitors on board as team captains has really helped to raise awareness of the campaign and add a fun and competitive element for participants. We are really grateful to them."
#TeamRoss or #TeamHarry? Register now for [email protected] with Ross and Harry Byrne at https://www.dubsimon.ie/runathome/