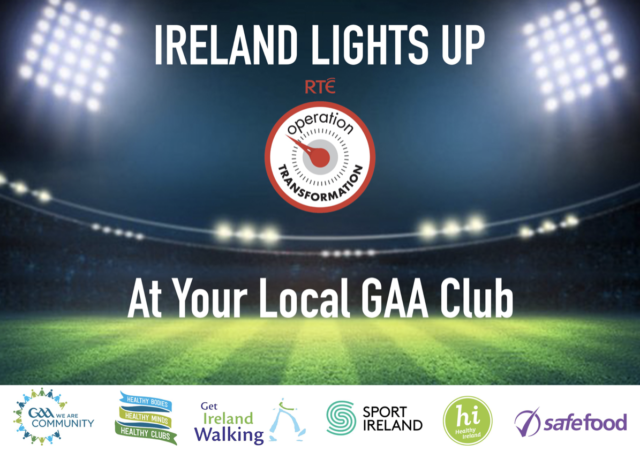 The hugely popular 'Ireland Lights Up' walking initiative returns this year in partnership with the GAA, Operation Transformation, and Get Ireland Walking.
GAA clubs across the 32 counties will once more ensure 'Ireland Lights Up' by turning on their floodlights and hosting community walking groups during the eight-week broadcast period of the hit RTÉ show (which returned to our screens last night. 
Over 270 clubs participated in Ireland Lights Up in 2019, with a total of 65,000 walkers getting out during the initiative.
The first date for clubs to host 'Ireland Lights Up' 2020 is ( tonight) Thursday, January 9th, but this year clubs are free to host their walking groups any, and as many, nights of the week as they want. The aim is to make exercise more accessible on the dark winter nights and to offer local communities an opportunity to get together and socialise in a healthy way. Walking is proven to benefit both our physical and mental health.
During the eight-week period, RTÉ's Operation Transformation cameras will visit a selection of participating clubs across the series, with all clubs encouraged to capture their stories via video and images for use on the show, GAA.ie and RTÉ's various platforms. 
To find out more and check the details of your local Ireland Lights Up event click HERE