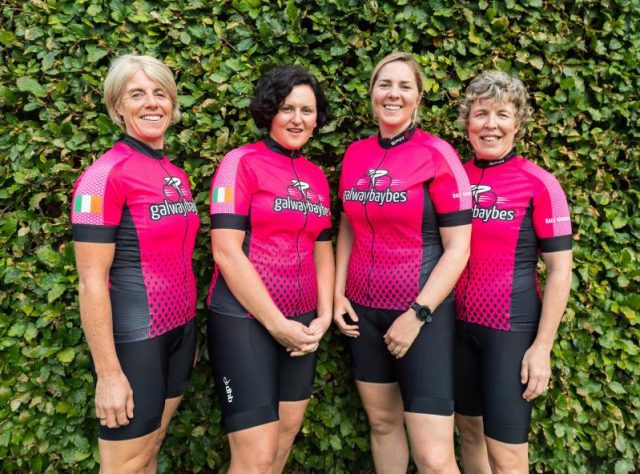 It's the final countdown for four Galway based female cyclists who for the past 9 months have been seen cycling their bikes on the Wild Atlantic Way and beyond in all kinds of weather conditions in their preparation for the cycling adventure of a lifetime in the Race Around Ireland. None
The Galway Baybes, female cycling team made up of Marie Boyle, Bríd Naughton, Karen Cassidy & our very own Joanne Murphy set off in the 2,150km ultra cycling marathon Race Around Ireland this Sunday August 27th from Trim in Co. Meath at 2:12pm
Supported by a crew of 11 including Run Ireland's Ray O' Connor is made up of drivers, navigators, chef, coach, mechanic and photographer, the 4 cyclists will cover 23,000m of climbing over their 2,150km race which will see them take in some of the most scenic parts of the country including; Newgrange, The Causeway Coast, Malin Head, The Cliffs of Moher, The Ring of Kerry, Mizen Head, the Garden County (Wicklow) to finish in Moynalty in County Meath.
Ireland Versus Australia
For the first time in the history of the event Galway will have an all female team taking part who will line out against a 4 person Australian female team The Veloroos who broke the Race Across America record in their category in 2015. Both teams are chasing the record in the Race Around Ireland 4 person female category which sits at 91 hours & 23 minutes. They will also battle it out against 9 mens teams in the 4 person category.
Speaking about the race, Rider Marie Boyle said 'We not only want to complete the Race Around Ireland, we have said from the start that we were going to chase the record, lots of factors can affect that, not least the weather, the road surfaces, fatigue and how we will function after 70 hours of racing, but we have trained hard in all conditions and have a super support crew, we know we will not take our feet off the pedals until we reach the finish line, there's nothing like some healthy competition to keep us all focused.'
To break the record the team will need to hold a minimum average pace of 25kph which includes many of the country's toughest climbs. Come hail, rain or shine the team will power through, with the clock starting on Sunday at 2:12pm for the Galway Baybes, it will not stop until they cross the finish line in Moynalty in Co. Meath.
Team Support
The logistics of bringing a team of 4 cyclists, 3 vehicles, 8 bikes and 11 crew on the road for the race has been an adventure in itself for the team fantastic support received from not only those who have joined the crew for the week but also the individuals and companies who have provided financial and product support to the team.
'We are very lucky to have secured some amazing support locally, nationally and Internationally from; The Athlete Clinic, Texaco Ireland, Supermac's, Ocean Fitness, Bradley Renault, Future Insurance, Galway Triathlon Club, Velocity Bikes, The Forge Moycullen, Cogaslann Agatha, Carraroe, Spar Merrion Row, Martin Divilly Butchers, Clada Group, Nourish Barna, Bons Secour Galway, Stapleton's Expert Electrical, Irish Biltong, RunIreland, Solution 2d, Tri Talking Sport, Skechers, Compressport, The Dew Drop, Kayanne Horgan Solicitors, Alcom & Clearskiesahead.com. Without them our participation in the Race would not be possible and for that we are very grateful' said Bríd.
To support the Baybes on their epic adventure in representing Galway, Connacht & Ireland you can log onto their Go Fund me page HERE
Follow their progress in the Race on Facebook & Twitter @galwaybaybes
#BackGalwayBaybes