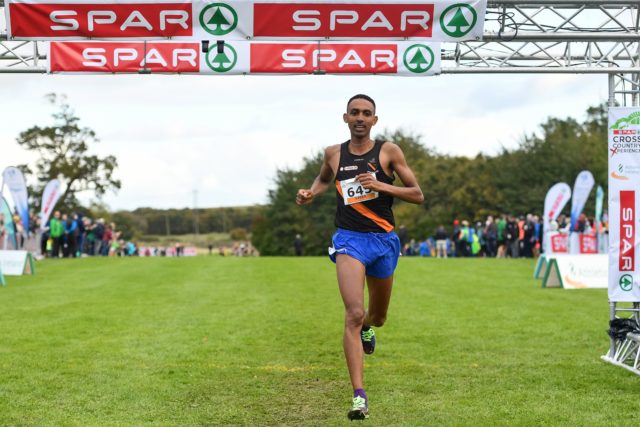 Efrem Gidey (Clonliffe Harriers) was the star turn at the SPAR Autumn Open Cross Country at a resplendent Sport Ireland National Sports Campus today (October 20).
The purpose-built cross-country course was picturesque and in magnificent condition considering all the heavy rain – there were some small muddy patches out the back section but in general, it was full of running.
With the main races combined over different distances, Gidey was to the fore throughout – the Clonliffe Harrier was in the U20 men's section covering 6,000m (over a 1500m loop) with the seniors running 7,500m.
Gidey galloped away towards the end covering 6,000m in a swift 18:20. The best of the rest was Conor Bradley (City of Derry Spartans) who continues his fine run of form to win the senior men's 7,500m in 22:55.
In the women's 6,000m race it was England's Abbie Donnelly who took home the honours in 20:52 with Mary Mulhare (Portlaoise) the first Irish runner home in third in 21:27.
The U20 women's 4,500m was won by Grace Carson (Mid Ulster) representing Northern Ireland in 15:55 with Jodie McCann (Dublin City Harriers) second in 16:20.
The masters' races proved competitive once more with Teresa Doherty (Finn Valley) F40 the first home over 6,000m in 21:48.
Colm Rooney (Clonliffe Harriers) M35 was the first men's master home over 7,500m in 23:31.
It was a hugely successful day with close to 1,000 runners taking part including the mass participation SPAR Cross Country Xperience over 4.1km – the runners got to experience the course that will be used for the European Cross Country Championships in Dublin in 2020.
Colin Donnelly, SPAR Sales Director said: "I would like to congratulate everyone who took part in the SPAR Autumn Open International Cross Country Festival and the SPAR Cross Country Xperience. It was a fabulous day and you should all be proud of your accomplishments and we really hope you had a great day with us."
Winners of all categories below
Full results of SPAR Cross Country Xperience
Full results of SPAR Autumn Open
It was a successful weekend for Mid Ulster AC's Grace Carson and @CityofDerryAC Conor Bradley, who won their respective events at the SPAR Autumn Open International Cross Country on Sunday 20th October 2019.

Read the full story here:https://t.co/p0tqtSI4fP pic.twitter.com/nufk223Ajy

— Athletics NI (@AthleticsNI) October 21, 2019
Women 6,000m
Senior
Abbie Donnelly (England) 20:52
F35
Fiona Kehoe (Kilmore) 22:18
F40
Teresa Doherty (Finn Valley) 21:48
F45
Breda Gaffney (Mallow) 24:06
F50
Mari Johnston (Sligo) 25:04
F55
Niamh O'Sullivan (An Riocht) 24:02
F60
Pauline Moran (Mayo) 26:29
F65 4,500m
Margaret Glavey (Mayo) 21:29
F70
Joan Coyle (DSD) 24:28
U20
Grace Carson (Mid Ulster) 15:55
Jodie McCann (Dublin City Harriers) 16:20
Men 7,500m
Conor Bradley (City of Derry) 22:55
M35
Colm Rooney (Clonliffe Harriers) 23:31
M40
Brian Maher (Kilkenny City Harriers) 23:42
M45
Brian Geraghty (Sli Cualann) 25:48
M50
Francis Marsh (North Down) 26:58
M55
Tommy Hughes (Rathfarnham WSAF) 26:55
M60
Martin McDonald (Ballyroan Abbeyleix & District) 29:11
M65 6,000m
Paul Elliot (Beechmount Harriers) 24:33
M70
Liam O'Hare (Barney & District) 29:03
M75
Joseph Stewart (Jog Lisburn Running Club) 31:15
U20 6,000m
Efrem Gidey (Clonliffe Harriers) 18:20
SPAR Cross Country Xperience 4.1km
Race 1
Women
Clodagh Kelly 15:50
Men
Stephen Butler 14:06
Race 2
Women
Sophie McDaid 19:12
Men
Darragh Fitzpatrick 16:47