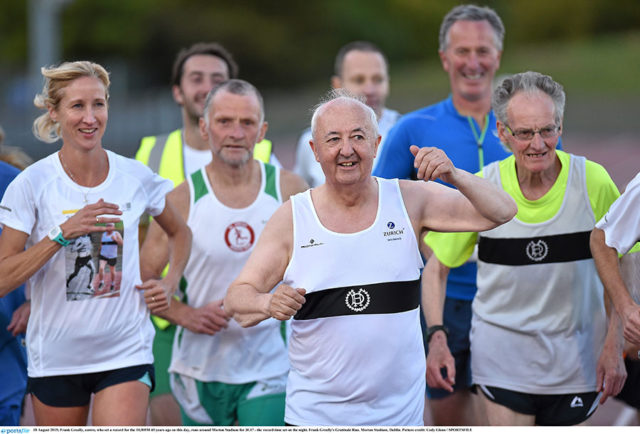 A familiar voice and face of running and athletics in Ireland, Frank Greally this week launched his new podcast 'Heroes and Friends'  A weekly series of podcasts available on Apple Podcasts and Spotify  
It's almost 50 years (it will be in 2020) since on an August evening Frank Greally set an Irish Junior Record for 10,000 meters in The Morton Stadium in Santry. His time of 30 minutes and 17 seconds still stands.
"People who have read my book, Running Full Circle, will know that there have been many twists and turns and stiff challenges in my life, " Frank said. "Through it all, I have been blessed to have made many great and lasting friendships and some of my heroes in sport, literature and music have ended up being life-long friends.
"I felt it would be a nice idea for me to share some of these friendships on a podcast platform -a series of recorded fireside- style chats with some of my Heroes & Friends. These will, I hope, be easy to listen to, informative and entertaining conversations with people whose friendship means a lot to me."
The first in this new series of Heroes and Friends Podcasts went live earlier this week featuring Frank in conversation with David Carrie, leader of Team Carrie-  the marathon training group from Dunleer in county Louth. The Podcast is recorded and produced by Nick Moloney
"David Carrie has been a source of great inspiration and good example to so many people in his local community of Dunleer, "Frank Greally said. "This is a lovely interview to kick off the Heroes & Friends Podcast Series- especially as this is the start of Dublin Marathon Month."
Frank is probably best known as founder of Irish Runner,  he was editor of the magazine for 37 years from 1981 to 2018, after this incredible role at the helm of the magazine, he found a new challenge as Athletics Ireland's Ambassador for The Daily Mile – an initiative that has already resulted in 845 Primary Schools all over the country making The Daily Mile part of their school day.
Frank is also founder of Remembrance Run 5k – the hugely popular Walk or Run event that takes place in the Phoenix Park in November (November 10th this year). He has also written two best selling books- Running Commentary and Running Full Circle.