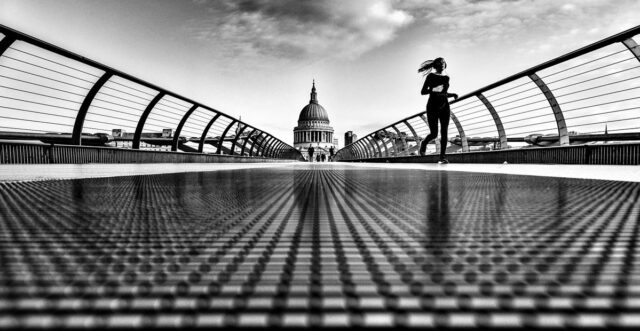 Many individuals are passionate about physical activities such as cycling and running. This
passion, which encompasses a strong drive towards an activity an individual enjoys and
invests time, comprises two types: harmonious passion and obsessive passion.
Harmonious passion describes a motivational tendency for individuals to freely engage in physical activity without any pressures. For example, a harmoniously passionate individual would not feel compelled to persist with their plan to run an intense 10 km if they were feeling unwell, recovering from an injury, or the timing clashed with an important family or work event. A harmonious passion for an activity should result in positive outcomes such as enhanced life satisfaction etc.
In contrast, obsessive passion reflects a lack of self-control towards engaging in the activity. The same individual would display an obsessive passion if they were consumed by a sense of having to persist with their planned 10 km run no matter what else might be going on in their life (e.g., feeling ill, recovering from injury, or a family or work event), and thus often leads to maladaptive outcomes. Although the obsessively passionate person still loves the activity, they feel bound to it or controlled by it and compelled to engage in the activity even when not appropriate to do so, as it goes beyond their self-control.
The research study, which is a collaborative effort between the Galway-Mayo Institute of
Technology, National University of Ireland Galway, and the University of Ulster provides
new insights on the relationships between passion (harmonious and obsessive) for physical activity, life satisfaction, and performance and innovativeness in the workplace.
The main findings include:
1. Not all forms of passion are positive. A harmonious passion for physical activity is
associated with enhanced life satisfaction, work performance, and work innovativeness,
whereas an obsessive passion is not.
2. These findings have implications for both individual employees and their managers.
Workers are advised that regular physical activity will help to cope with organisational
demands, whilst also providing the vigour and vitality needed to excel in one's career.
3. To extract the positive effects of physical activity for work outcomes and general life,
employees need to ensure their passion is at least moderately harmonious, and low in terms of obsession.
4. The individual should demonstrate a level of control to engage in the activity only when it is compatible with other life goals, and not consumed by a sense of "I must, I need to" engage with the activity.
5. For managers attempting to enhance performance and innovation among employees, the present research suggests that one way to accomplish this is to look beyond the formal work environment and instead toward extra-curricular physical activity. Many organisations already have such programmes in place, through free or discounted gym memberships, or by integrating fitness tracking technologies (such as the Fitbit) into employee wellness programmes.
6. However, there is a caveat. The promotion of physical activity by the organization may be well-intentioned, but as the present study shows, if workers gain an obsessive passion, at best there is no positive impact for the organization, and at worst, a reduction in work performance and work innovativeness will ensue.
7. Indeed, as 45% of the current sample (N=272) reported at least a moderate obsessive
passion for physical activity, this suggests education on passion for non-work-related
activities, and specifically, the differences between the harmonious and obsessive forms
should also be included in employee wellness programmes.
Possible Covid-19 Implications:
For workplaces attempting to enhance performance and innovation among employees who are now working remotely they should reinforce the need for employees to take care of their physical health. They could provide access to opportunities for their employees to enhance their physical health through virtual fitness classes/challenges, mindfulness exercises, digital apps (e.g. Fitbit) etc.
These could also be facilitated through new communication tools such as Microsoft Teams,
Zoom etc. These practices could be reinforced with forced downtime hours during the day.
Research Study Details:
Research Title: Does Passion for Physical Activity Spillover into Performance at Work?
Examining the Direct and Indirect Effects of Passion and Life Satisfaction on Organizational Performance and Innovativeness
Research Authors: Trevor Clohessy (GMIT), Eoin Whelan (NUIG) and Kyle Paradis
(University of Ulster)
Journal: International Journal of Sport and Exercise Psychology
Read the Study
Here: https://www.tandfonline.com/eprint/AXBUJNJNQCMIVMRIY5D3/full?target=10.108
0/1612197X.2020.1766537