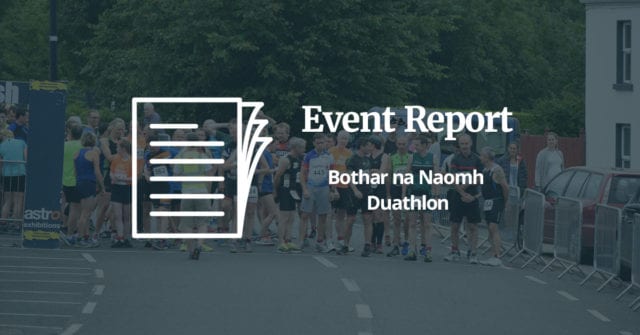 Wow, what a fantastic event. The warmest of welcomes greeted us upon arrival in Cloone. After arriving early to get the kids ready for the junior race I decided to relax in the hall and have a coffee (It'd be another hour before the seniors started). I wandered out just in time to see them run up the village from the start.
Right, my turn to get the bike out and get myself sorted, nah, time for a chat and another coffee. The juniors wouldn't be back for another 30 – 40 mins…. 25 mins later the PA breaks out with a cackle, calling out the winners names in the junior race.
Now I do get my gear ready and get back to the finish just in time to see my lot crossing the line. No winners medals here but plenty of broad smiles as with all the children.
A few minutes to congratulate the kids and sort out their boxty breakfast before the senior race.
Exactly on time, we're called to the start, a few quick instructions and we're off. I try to hang on to the leading group but they're out of sight by the top of the hill ( I'm not gettin' any younger). Through a winding 2.2k loop we end up back in the village. Think I'm in the top 25 or thereabouts, now for the changeover to the bike. I am always really slow here and today is no different. Lost about 5 places here but am confident that I can take a few back on the cycle. I get going, put the head down and go as hard as I can and sure enough, I pick up a few stragglers.
Not sure how far the cycle was but by the end of it I'm shagged. Oh no…. back to the changeover (really need to do some work at changeovers). Everyone from the cycle leaves me for dead at the changeover. I know that I won't see them again 'till the finish as they're clearly faster runners than me.
I get going and the legs are being pumped with treacle, not blood. Still, I keep going over the straw bales thinking the legs will get a break when I get to the kayak. Eventually, I arrive at the lake just as I'm being caught by another runner. We jump into a double and somehow manage to navigate our way around the lake. We exit and I get a couple of seconds on him but I know my lead won't last long. More bales, ditches, tyres and a 40m waterslide later and sure enough he's out of sight. Another 800m to go and it's over, no medals here either but a very large smile.