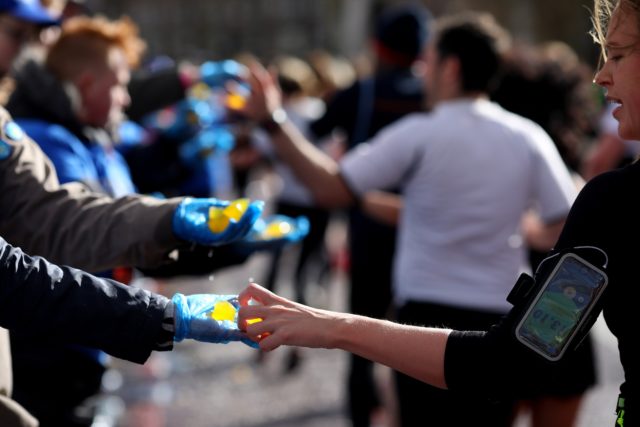 The London Marathon took a major step forward in sustainability as they replaced 200,000 plastic bottles with edible, biodegradable water pods called Ooho! pods.
Ooho! pods are made by Skipping Rocks Lab, a London based start up who are coming up with environmentally friendly alternatives to plastic with a mission to make plastic packaging disappear.
With over 40,000 participants, The London Marathon has previously seen hundreds of thousands of plastic bottles being used to hydrate the runners throughout their 26.2 miles.
What's wrong with plastic bottles?
Sky Ocean Rescue recently reported that each person typically buys six plastic bottles each week – stretching from Dublin to Boston if laid end to end. Plastic bottles take 450 years to decompose, having a huge negative impact on the environment.
Less than 1 in 10 people feel that they can avoid items packaged in plastics due to lack of alternatives, preventing them from living plastic-free lives.
View this post on Instagram
Events such as London Marathon create huge waste, with over one million bottles handed out in 2018.
However, this year, London Marathon embraced plastic alternatives, and on top of the 200,000 fewer bottles, also ensured that every plastic bottle handed out was made of 100% recyclable material.
What are the Ooho! pods made of?
View this post on Instagram
The pods are made from edible, biodegradable seaweed. All the green and strong smells that you would associate with seaweed are removed, and you're just left with the physical components. This is a gel-like membrane that feels like thick jelly.
How do they work?
Water was handed out in these pods, which can be bitten open to release the water. The seaweed pod can also be eaten, and are tasteless.
What happens if the pod is not eaten?
If the pod is not eaten and is thrown away once the water is ingested, it will break down and biodegrade in just a few weeks – a huge step forward from plastic bottles which take hundreds of years to decompose, wrecking havoc on the environment.
Were they a success?
The 2019 event had 19 water bottle stations on the route, which is seven fewer than 2018.
The Ooho! pods were also filled with Lucozade Sport as well as water, and received postive feedback online.
We need these for the Dublin Marathon! Seaweed pouches filled with water or sports drinks are used instead of single use water bottles at the London Marathon this year. Edible and dissolve in 6 weeks if not eaten. #climatechange #noplastic https://t.co/d5IpsIeo6K

— Rozanne Stevens (@RozanneStevens) April 28, 2019
If you were at London Marathon be sure to let us know what you thought of the Ooho! pods @teamrunireland on Twitter and Instagram. 
As well as reducing the plastic bottles, The London Marathon also digitalised instruction and registration materials, and recycled all abandoned clothes and plastic waste.
London Marathon has raised the standard, and it is expected that all major races will aim to follow suit in an attempt to hold more sustainable, environmentally friendly events.