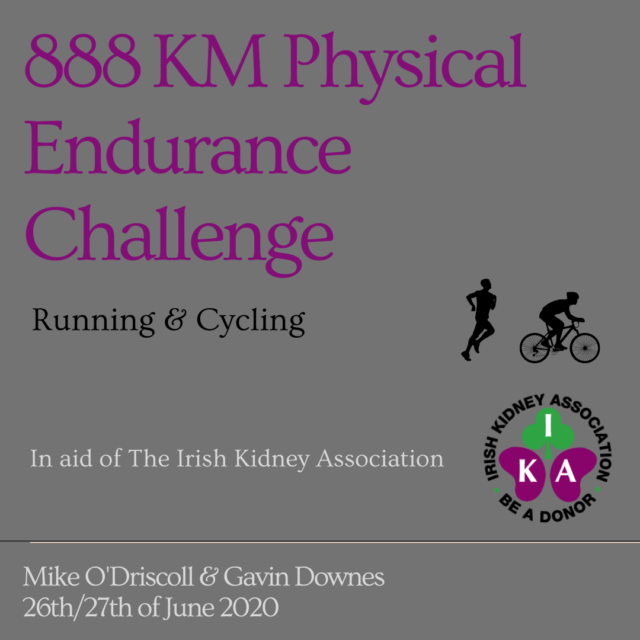 Dublin duo to undertake an 888km Cycling & Running Endurance Challenge in 24 hours for IKA and organ donor awareness
Inspired by a transplant surgeon and also a close friend who underwent a kidney transplant a number of years ago, two Dublin Northsiders have resolved to complete an 888 KM Physical Endurance Challenge within 24 hours this Friday and Saturday (26th/27th June). The challenge, in aid of the Irish Kidney Association, will involve running and cycling and will cover the three picturesque seaside locations of Clontarf, Howth and Sutton on Dublin's northside to raise awareness for organ donation.
Two old school friends and teammates, Michael O'Driscoll from Clontarf and Gavin Downes from Raheny, will set out on their endurance challenge at 6am on Friday morning from Michael's home in Clontarf, which will also be the final destination for their journey on Saturday.  Gavin, a national primary school teacher and Michael, a Strength, Conditioning & Fitness Coach at Gravity Fitness in Raheny, have been training hard over the few months for the challenge. They have set up a GoFundMe page and already are well on their way to meeting their fundraising target of €5,000 for the Irish Kidney Association.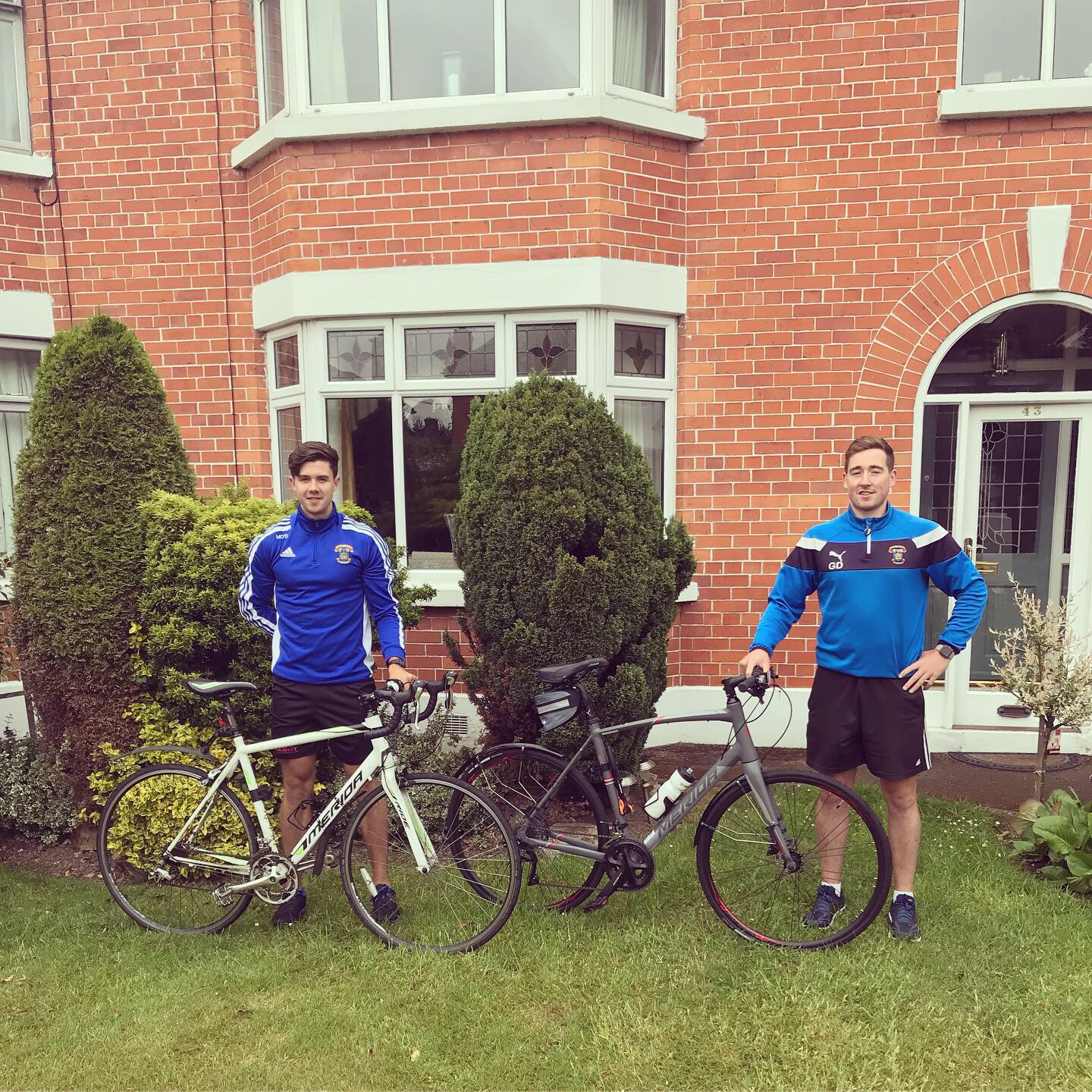 Showing up over the two days to support the lads will be family and friends as well as former Transplant Surgeon David Hickey who played football for Dublin in the '70s alongside Michael's uncle and godfather Gay O'Driscoll where they won three All Ireland titles together. Michael and Gavin have both played hurling and football competitively with St. Vincent's GAA Club since early childhood. Having attended the same secondary school, Ardscoil Rís on Griffith Avenue, Gavin went on to graduate from St. Patrick's College in Drumcondra in addition to completing a professional master degree in primary education through Hibernia College to become a Primary School Teacher. Michael, a qualified personal trainer and fitness coach, graduated from Dublin City University with a BA degree in Human Development before going on to complete a postgraduate degree in Psychology at Trinity College Dublin.
According to Michael,  "a close friend of ours underwent a kidney transplant a few years ago and having spoken with David Hickey who explained the impact of kidney disease on the lives of individuals and families and how their health can be transformed as a result of a life-changing kidney transplant, we decided we wanted to focus our passion for sport and fitness into supporting the Irish Kidney Association, which is obviously an extremely worthy charity which promotes organ donation. We were fortunate to meet David Hickey through my uncle Gay O'Driscoll, who was a previous teammate of his on the great Dublin football team of the '70s managed by the late Kevin Heffernan. David is obviously a highly respected former Gaelic Football player and medical professional. David pioneered medical transplant operations in Ireland therefore, it was incredibly insightful to get his perspective on the importance of raising funds and awareness for organ donation. It is fantastic to have his support for our event."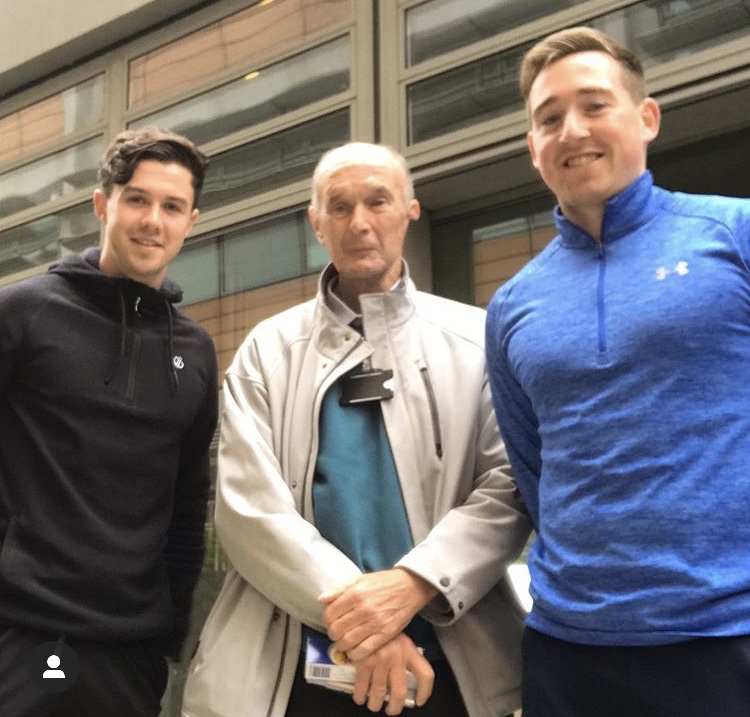 "We are very grateful to all who have kindly supported us with their generous donations. We are hoping for fine weather over the two-day event! Our challenge will see myself and Gavin each completing a 400km cycle and 44km run over four blocks of six within 24 hours. We hope that our Challenge will encourage others to open up conversations surrounding organ donation and the immeasurable gift it bestows to those in need. We also wish to convey a message which details the importance of engaging in physical exercise to maintain a healthy body and a healthy mind".
Show your support
Those wishing to make a donation to Michael and Gavin's 888km Physical Endurance Challenge can do so through the GoFundMe page.
Organ Donor Cards can be obtained by phoning the Irish Kidney Association on 01 6205306 or Free text the word DONOR to 50050. You can also visit the website www.ika.ie/get-a-donor-card or download a free 'digital organ donor card' APP to your phone.