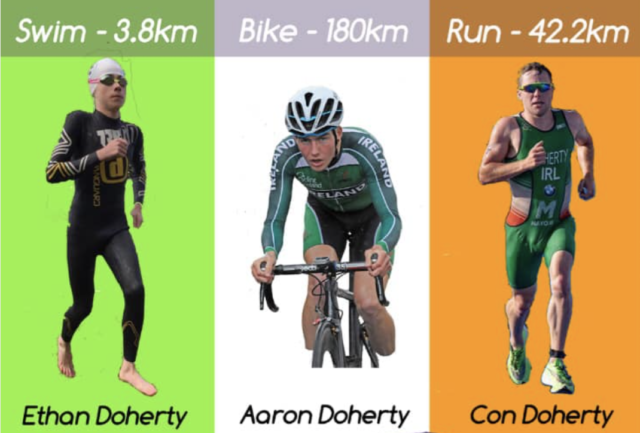 There have been lots of fundraising activities undertaken by a host of people across the country in recent weeks, putting their interest and talent in sport to great use.
This Sunday the Doherty Brothers from Westport: Con, Aaron and Ethan will attempt to complete an IRONMAN at home in support of Pieta House starting at 10am.
No strangers to podiums and racing both Con and Aaron are household names in triathlon in Ireland with Con, currently chasing a spot at the start line of the Tokyo Olympics.
The brothers backyard IRONMAN will see Ethan, the youngest brother start the 3.8km swim at 10am on Sunday in a blow-up pool,  he'll be attached by an elastic tether to the side of a pool and swim in place at the best effort he can maintain. Aaron will do the 180km cycle on a turbo trainer on the Zwift cycling app at 11am and finally, Con will run a marathon (42.2km) on a treadmill after Aaron has completed the bike segment.  To make the challenge even more difficult, they intend to maintain the current Ironman World Record pace of 7 hours 35 minutes (virtually of course!).
Speaking about the challenge Con Said " Triathlon Ireland are current supporters of Pieta House, and we're hoping to help the growth of this support. This period of time has proved difficult for some of us more than others, and although most of our attention is focused on the front lines, we believe that the work that Pieta House shouldn't be neglected, especially right now."
They will be streaming live on Con's Facebook page for those of you who want to follow it from 9:45am! If you'd like to know more about their challenge, or would like to donate, please follow this link HERE.