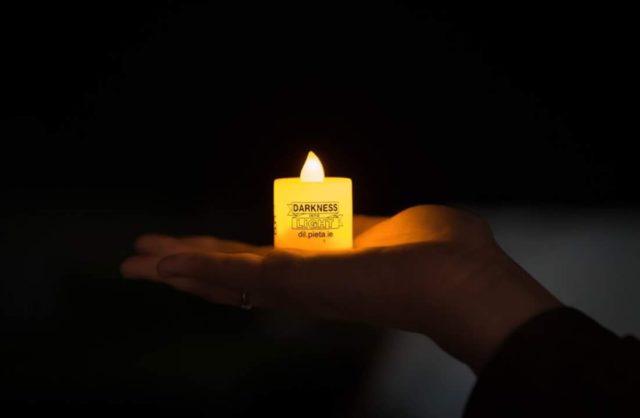 The countdown is on for Darkness Into Light which takes place this weekend in over 200 venues, in 19 countries across five continents.
The event is organised by Pieta House, and will see over almost 250,000 people in yellow t-shirts walking 5k as the sun rises on the morning of Saturday 11th May 2019.
Pieta House
Where do Darkness Into Light donations go? €31 covers the cost of three crisis calls to our qualified therapist helpline, open 24 hours 7 days a week. https://t.co/oinaSD1mMy #DIL2019 #Darknessintolight2019. Proudly supported by @ElectricIreland 💛 pic.twitter.com/BGbukfI3po

— Pieta House (@PietaHouse) April 14, 2019
Pieta House provides vital services such as free therapy, a 24/7 helpline, education, and bereavement counseling.
Their focus is on prevention, intervention and postvention.
In 2018, over 8,000 people availed of therapy provided by Pieta, and since 2006 over 40,000 people have received support from intervention and bereavement counselling services.
Pieta House also runs The Resilience Academy – a free programme for secondary schools which is designed to increase resilience, hope for the future and ability to cope with difficult feelings in young people.
Pieta House Darkness Into Light is the biggest fundraiser for Pieta House, with all proceeds going towards the charity.
Darkness Into Light – What does it represent?
Darkness Into Light sustains Pieta House services so that those just like Cliona can access help and feel hope. Register today on https://t.co/oinaSD1mMy Proudly supported by @ElectricIreland #DIL2019 #ThePowerOfHope 💛 pic.twitter.com/VjR5AnW9Vr

— Pieta House (@PietaHouse) May 7, 2019
Darkness Into Light is more than just a fundraiser. It raises awareness for the work that Pieta House does for those affected by mental health issues.
It also opens up the conversation of mental health and well-being, tackling the stigma against mental health, and showing just how much support is out there.
The walk is symbolic, representing the journey of life and the journey Pieta House provides people who are suffering – and that nobody is on the journey alone.
"Just the very act of walking together can be a very powerful thing," says Diarmuid O'Carroll, former Irish professional footballer. "There is a very real sense of hope when you walk in unison with others as part of a movement against something that affects so many lives."
How did it all start?
The walk started in 2009 in Phoenix Park, where 400 people walked 5km together.
In 2018, a mere nine years after the first Darkness Into Light, over 200,000 people took part across the globe.
The event is an opportunity for people to connect with their communities and show their support. Since 2009, Darkness Into Light has raised almost €20 million, which has allowed the Pieta House Services to remain free of charge.
Darkness Into Light 2019
"I feel Darkness into light is a unique experience, for whatever reason people attend; to support Pieta, the loss of someone close, feeling suicidal themselves." Linda Murray, Centre Manager.https://t.co/oinaSD1mMy #DIL2019 Supported by @ElectricIreland pic.twitter.com/2leDdjQ2tS

— Pieta House (@PietaHouse) May 5, 2019
The first walk starts in New Zealand who are 12 hours ahead, then Australia, across the Middle East and then into Europe. The last walks will take place in the US and Canada, where they are a few hours behind Irish time.
There is a registration fee of €25 per person. Student and OAP discounts available.
For more information and to find your nearest Darkness Into Light event, follow this link. 
24/7 Suicide Helpline (Ireland only): Call 1800 247 247 or text HELP 51444