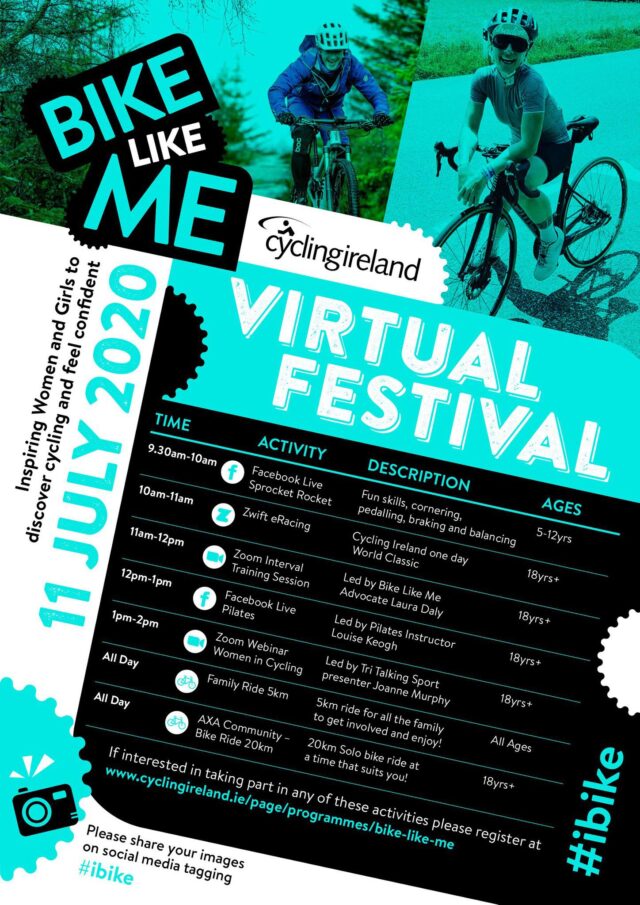 Cycling Ireland Bike Like Me Virtual Festival aims to inspire more women and girls to discover cycling and feel confident on their bikes. This all-day event taking place this Saturday 11th July brings women and girls together throughout the day to promote cycling and facilitate them to try different activities. The virtual celebration will bring females from across the island of Ireland together to share their experiences of cycling and inspire each other on their cycling journey!
Bike Like Me is Cycling Ireland's overarching campaign to inspire more women and girls to discover cycling and feel confident on their bikes. The Cycling Ireland led campaign aligns with Sport Ireland's Policy on Women in Sport which intends to address four target areas – Active Participation, Coaching and Officiating, Visibility and Leadership, and Governance.
Some highlights of the one day Bike Like Me Virtual festival day include:
9am – 10am Facebook Live – Sprocket Rocket.
This session is led by Cycling Ireland Coaches Roisin Hickey and Grainne Burke: Sprocket Rocket develops fun cycling skills which can be practiced at home, in the garden or at the park they include cornering, pedaling, braking and balancing. Sprocket Rocket aims to increase the competence and confidence of young riders (5-12yrs).
10am-11am – Zwift eRacing
Cycling Ireland one day World Classic on the popular online training platform Zwift. Test
yourself against other riders from across the world in some friendly racing rivalry with this fun way to keep active. A great introduction into racing if you have never tried it before
(18yrs+). Riders will have five categories to choose from meaning all levels are catered
for. To register please click HERE.
1-2pm – Women in Cycling Live Panel – Zoom Webinar
This informative and insightful panel features champion riders Eve McCrystal, Lara Gillespie and Katie-George Dunlevy who will be joined by Bike Like Me Advocate Ruth Nugent. The panel will be hosted by Joanne Murphy of Tri Talking Sport. The riders will be discussing their experiences from how they got into the sport, the journey it has taken them on, why they love it so much and wish to inspire other women and girls to take up cycling! To register for this webinar please click HERE.
Family Ride 5km – All Day
Fun for all the family to get involved and enjoy a 5km ride around their local community. Great opportunity for family members of all ages to get on their bikes and support each other to cycle safety and revel in the great outdoors. You can complete the ride at any time during the day that best suits your family. To register please click HERE.
With lots more on the schedule; from Interval training to pilates and much more be sure to check out the full day of activities on the link HERE.