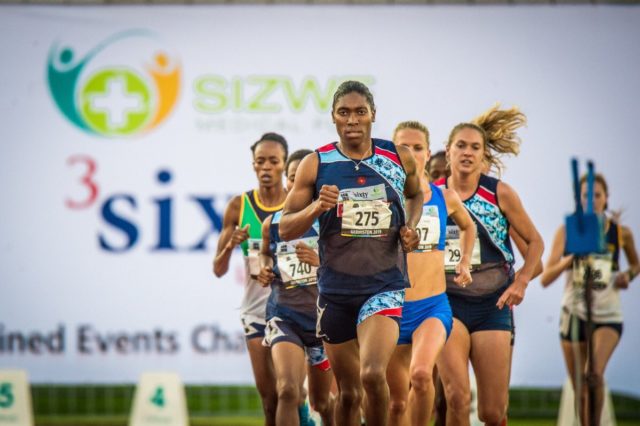 From May 8th, 2019, all participants in female international competitions between 400m and one mile will have to ensure that their blood testosterone level is within the limit of five nanomoles per litres for at least 6 months before any race.
The ruling drastically affects two-time Olympic 800m gold medalist Caster Semenya who has hyperandrogenism, meaning she produces more testosterone than other females, and other female athletes whose natural body chemistry is outside of the norm.
To take part in the World Championships to defend her title, or to go to the 2020 Olympic Games, Semenya will have to artificially lower her testosterone levels by engaging in hormone treatment.
How Does Testosterone Affect Sporting Performance?
Testosterone is a hormone that affects the body in many ways. Both men and women produce it, but women typically have much less than men.
Testosterone essentially builds muscle, and can make muscles and bones stronger. It also increases the levels of haemoglobin in the blood, which carries oxygen.
These physiological differences caused by naturally higher levels of testosterone in some females have been proven to give a competitive edge, in a study published by the British Journal of Sports Medicine.
Leveling the Playing Field
— Caster Semenya (@caster800m) April 11, 2019
Semenya has not been beaten in an 800m final since 2015. Some believe this should be celebrated, not regulated. However, others saw Semenya's high testosterone levels as an unfair advantage.
Sonia O'Sullivan has very publicly supported the decision in a bid to even the playing field, and has suggested in her Irish Times article that the ruling should count in all female events, not just the 400m to one mile distances.
In 2018, the Irish former athlete suggested a more 'sensitive solution: "it may be time to award more than three medals, to allow athletes with hyperandrogenism to compete in women's races. After all athletes cross the line the medals should be awarded by category, if the need be."
Scotland's Liz McColgan has also expressed her support of the decision, stating that it will "safeguard the future of women's sport." However, she also suggests that a more sensitive solution could be brought forward.
The right decision has been made we need to safeguard the future of women's sport it is not about anyone individual but the fact that women deserve the right to a level playing field a separate catagory needed not enforced drug taking though

— liz mccolgan (@Lizmccolgan) May 1, 2019
Is it fair?
The case has seen a huge response from athletes and the public alike. The opinion is entirely split between those that support the ruling, those that oppose it, and those that aren't sure what 'fairness' is in this situation.
Interesting that *everyone* I follow on here because of their interest in women's sport (hi all, there's loads of you 👋🏼), hates today's ruling. Yet, the main argument for it seems to be to 'protect women's sport'. 🤔

— Sinead O'Carroll (@SineadOCarroll) May 1, 2019
The IAAF 's first attempt at a testosterone limit was overturned by The Court of Arbitration for Sport (CAS) in 2015. CAS ordered that the IAAF had to present scientific evidence that testosterone affects performance in middle distance running events. Research commissioned by the IAAF found in 2017 that females with higher testosterone levels have a sporting advantage. They then introduced new restrictions on naturally high testosterone in 2018, which were delayed by Semenya and ASA's legal appeal that they lost this week.
Athletics South Africa has deemed the decision as 'disgraceful'. In a statement released by the IAAF it was admitted the rules are discriminatory, but that "such discrimination is a necessary, reasonable and proportionate means of achieving the IAAF's aim of preserving the integrity of female athletics in the Restricted Events."
The United Nations Human Rights Council, who have rarely intervened into sports, branded the IAAF rules "unnecessary, humiliating and harmful".
Olympic champion Caster Semenya lost an appeal against new IAAF rules that say women with naturally high levels of testosterone must take hormone-lowering medication to compete.

The UN says the rules potentially violate human rights laws, calling them "humiliating and harmful." pic.twitter.com/5tyTjnOEnk

— AJ+ (@ajplus) May 1, 2019
While O'Sullivan and the IAAF alike have made it clear that the ruling was not personal, Semenya is the most affected and has become the center of the debate.
In a statement, Semenya stated: "I know that the IAAF's regulations have always targeted me specifically. For a decade the IAAF has tried to slow me down, but this has actually made me stronger. The decision of the CAS will not hold me back. I will once again rise above and continue to inspire young women and athletes in South Africa and around the world."
Public Reaction to the Ruling
The ruling caused uproar on social media, with supporters of Semenya's appeal speaking out about the unfairness of punishing a natural condition.
We are standing with you #CasterSemenya. You may have lost the battle but you have not lost the war. ✊🏾✊🏾✊🏾🇿🇦@caster800m pic.twitter.com/3sY5Gkgh0S

— Masechaba Ndlovu (@MasechabaNdlovu) May 2, 2019
Supporters of the ruling are equally as passionate in their arguments.
I'm very happy if she wishes to identify as a woman & live that way, however doesn't change that her biology gives an unfair advantage in woman's sport. 2 wrongs don't make a right. Fairness 4 the others in the race too they have rights to fair competition, it's not their fault

— Sharron Davies MBE (@sharrond62) May 1, 2019
Others recognise how difficult the situation is, and express that there is no solution that will please everyone.
And finally, it's okay to hold seemingly opposing thoughts at once. That Semenya is an amazing athlete, a role model AND that there needs to be regulation for DSD athletes. And that none of that is fair.

— Steve Magness (@stevemagness) May 2, 2019
Treatment of Semenya has been compared to treatment of previous athletes who had abnormal biological traits that were celebrated, for example, American swimmer Michael Phelps who had Marfan Syndrome which results in a large arm span and big feet and Jamaican sprinter Usain Bolt who had a height advantage as well as fast-twitch muscle fibres.
Michael Phelps' biological quirks (including producing 50% lactic less acid) saw him revered as a champion while Caster Semenya's see her labelled a freak & she'll have to take performance decreasing drugs. Something doesn't feel right… pic.twitter.com/4JOkCbOUMY

— Simon London (@slondonuk) May 1, 2019
Marthe De Ferrer also has hyperandrogenism, and wrote a response to the ruling for Independent.co.uk where she stated that the ruling is sending a signal to people like her: "They tell us that we aren't normal. We aren't quite right. We need fixing."
— Caster Semenya (@caster800m) May 2, 2019
Semenya has responded with a vow to come back stronger, in what CAS has described as "one of the most pivotal" any sport has ever experienced.
— Caster Semenya (@caster800m) April 30, 2019