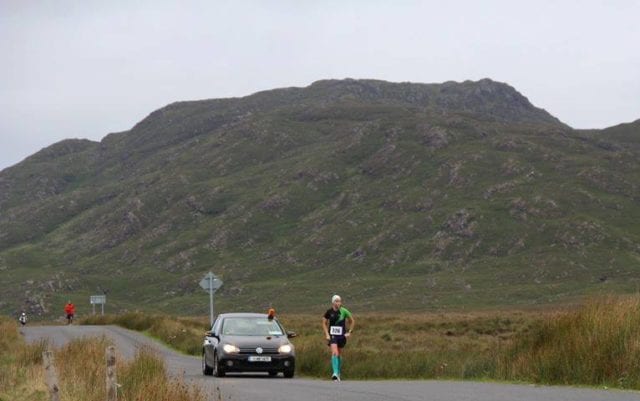 Ever wondered what it would be like to take on 100 miles of road running? What sort of things happens when you are at one with the road? The rugged landscape passing by slowly with every step you take effectively running almost 4 marathons back to back? 
The Connemara 100 mile is no ordinary 100 mile race, not only do you have to contend with the distance ahead but the hills are relentless, the only people you come into contact with are your support crew, the odd passer-by, a few sheep and maybe a runner or two, but aside from this, the weather can be brutal or beautiful and can make or break you on that course.
The Connemara 100 is on the bucket list for many a runner who relishes a challenge, wanting to test mind, body and spirit, pushing the boundaries of what can be achieved beyond any limit and expectation. Finishing in first or last place, anyone who conquers the Connemara 100 and comes across the finish line to tell the tale is a winner!
Read on to hear how this year's women's champion crossed the finish line after a tough day at the office, yet she recorded her fastest splits of the event in the final few miles of the race. #legend
Nichola Duffy – Connemara 100 Women's Champion 2018 
On Friday morning driving down to Clifden I had to pinch myself. This was it, the race I had been longing to do since I started my running journey in January 2016, and what I ultimately knew would be one of my greatest challenges to date.
Myself and my amazing crew arrived in Clifden in ample time to attend the pre-race briefing at 7 pm. After the briefing came to an end we had a quick bite to eat then headed to our beds for the night. By now the nerves had kicked in and I could not sleep. My training in the lead up to Connemara is best described as erratic. After sustaining a nasty calf tear at the EOI Longwood marathon in March which left me out of action for a couple of months and struggling to regain fitness I turned to my husband to ask him did he think I had any business going to the start line in the morning but he was already asleep…I think I got about 3-4 hours sleep in the end but woke up with a new perspective.
Game On
The plan was to run to how I felt and to run as far as I could, no pressure!!! 4:30 am and my breakfast of toast and cornflakes went down well then it was out the door to be at the start line for 5:30 am before the race kicked off at 600am. Suddenly all the nerves were gone and adrenaline kicked in. One loop of Clifden to get the legs ticking over then it was a left turn out the road to Letterfrack. At this early stage, I had a brief chat with the legendary Ger Copeland who said something to me that would stick with me throughout, it was game on!
The road to Letterfrack is a barrage of constant uphills but I settled into a comfortable rhythm and was able to maintain it only walking for the very steep hills. The scenery en route is spectacular and I tried to lap it up as I went along. Weather at this early stage was ideal but that would all change later. At this stage, I was taking on some gels and small bits of food at regular intervals given to me by my crew members Cáit & Brianan who were offering constant words of encouragement & support. I was feeling very comfortable managing to complete the first marathon in sub 4 hours then it was on to the first checkpoint at 28miles.
Back on the road after the first checkpoint, we hit a stretch of road which took us to Maam Cross. The less said about this road the better, a horrible stretch of busy road I was so glad that my support crew for this leg Michelle & Cathal were there to guide me through it. At 41 miles we hit Maam Cross and I am still feeling relatively well, however, I notice when I am eating I am starting to gag a little so I decide to take something to settle the stomach & off I go again on the road to Leenane around 15 miles away.
I hit the 50-mile mark and begin to wonder will the relentless hills ever end than on to the next checkpoint at 55 miles. Here I met Breda. A quick toilet stop then it was time to hit the road once again. By now the weather started to turn, the driving wind and rain was so intense I could barely see and I felt like I was going backwards down the hills. It was torturous. Listening to B talk about her Killary Gaelforce expeditions helped soften the blow & reminded me pain is transient. I had to stop to change my clothes at the side of the road between checkpoints at this stage as I was soaked to the bone and starting to shiver badly. My crew were amazing and helped me change as I was too cold I could not do it myself.
Running through Death Valley
Then it was on the road again one foot in front of the other. We finally reached the next checkpoint at mile 67 where I met James, Cait & my husband Rob. By the time I reached this checkpoint I was so cold and wet and couldn't bring myself to eat as I was shivering so much and the nausea was too bad. I sat down for a few minutes whilst my crew changed my clothes for me again and insisted I eat. Eating at this stage was very difficult with every bite I was gagging but I slowly managed to eat half a chicken wrap and some chocolate and all of a sudden I felt revived again and it was off out the road heading for the next checkpoint at 83 miles.
Unfortunately, this is where the wheels came off for me, heading out the road just after 67 miles going downhill I suddenly felt a sharp familiar pain in my calf and knew I was in severe trouble but the more I kept going the more used to the pain I got. I made a decision to keep moving as much as I possibly could. By now my pace had dropped dramatically but with James beside me uttering constant words of encouragement and Cait insisting I ate as I went along I started to believe I would finish. By the time we turned to head for what is affectionately known as Death Valley, I was in relatively good spirits all things considered. The sickness was still surfacing but I managed to block it out.
Bright Lights & Banshees
I was pre-warned that we would see the lights at mile 83 (Roundstone) well in advance and it would feel like we would never get there and that was extremely accurate!! Finally, we reached Roundstone where locals pints in hand, lined the streets shouting encouragement. A change of clothes yet again, something to eat and a toilet break and I was on my way reassured by the locals it was all downhill from there back home to Clifden.
Leaving Roundstone for Clifden I realised fairly quickly that the locals must have been playing a cruel joke as we were met by constant hill after hill. The rain had thankfully stopped at this stage but the temperature had dropped significantly. I found myself getting slightly disorientated in the pitch dark with only my small headlamp offering some respite and I was pleased to find that some Americans offering support at the side of the road were not a group of banshees as first thought!!
Digging Deep
My parents passed me by in their car at this stage on their way to the finish line and I was so happy to see them it made me more determined than ever I was going to finish. I thought Clifden would never come and when it did it was the standard uphill climb I had by now grown accustomed to. When you get to Clifden you have to do 3 loops of the town before you finish so you effectively run by the finish gantry a few times which plays tricks on the mind. By now I was dead on my feet reduced to a hobble my calf throbbing. I was told at this stage I needed to run the last few miles otherwise I would be caught for first female home. With the support of all my crew and my parents who had now gathered in the town, I dug as deep as I ever have in pain but with Ben's words to me resonating on my mind "when you think you have nothing left in the tank you always do". Somehow I managed to graft out my fastest miles of the day in those final miles crossing the line in a time of 22 hours and 28 minutes I was first female home.
Winner Winner
I collapsed into the arms of my crew and family when I crossed the line. I never felt raw emotion like it and that was that 100 miles in the bag & job done. Connemara 100 is really all you hear about it and more a beast of a course in brutal conditions with unrelenting hills. This makes it the holy grail of ultra running in Ireland. I learned so much about myself over the weekend, rookie mistakes made that I will learn from and hopefully will not make again. A huge thank you to Rob O'Brien for all his advice and guidance in the lead up to the event (hopefully next time I won't get injured mid-plan!!), to my Navan AC teammates for all the support I am so delighted to be part of such an amazing club. To Ray Cassin my main inspiration for taking this on in the first place you are a true warrior. To Gerry and Aidan in Dunshaughlin physio for getting me to the start line after my injury during the summer THANK YOU! Thanks also to everyone who donated to my charity
Finally last but by no means least to my wonderful support crew when you are at rock bottom and at your worst, exhausted, delirious and unable to understand why your mind and body are not working in sync you need a crew behind you who will not let you give in who will tell you to endure and persevere and this is exactly what you all did for me. You are a great group of people and that trophy belongs to you all too. Recovery time for me now gets the leg and body right again then on to the next challenge (have some interesting ideas in that respect!!
Race Report by 2018 Women's Winner Nichola Duffy