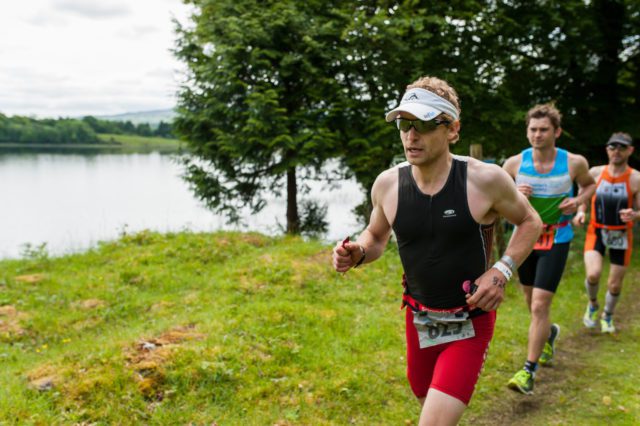 Lough Cutra Castle Triathlon in Galway have added a new off-road 10k race to their festival of triathlon and multisport on Sunday, May 27th.  This new race distance comes on the back of the addition of their off-road half marathon to the weekend of racing earlier this year.
These new running events give runners of all abilities the opportunity to enjoy the incredible off-road course on the privately owned castle grounds which have previously only been open to triathletes competing over the race weekend.
Majestic Running Route
The off-road Half Marathon & 10k will take place in and around the fabulous estate at Lough Cutra Castle. The first 3K of the 10k circuit heads north from the castle lawns hand railing the western shore of the luminescent Lough Cutra Lake, the largest privately owned lake in Europe.  Following a system of well-worn tracks and paths, the route passes through  Deer Park into the Carrowcarriff forestry block with its ancient pines and abundant wildlife.  At the northerly most point of the run, competitors will pass a well-stocked feed station before exiting the wood and hitting a narrow tarmac lane which they will follow for 800m.
A left takes competitors back onto the estate tracks and paths and after crossing a couple of well-worn fields runners will emerge onto Black Drive and head south back towards the formal gardens of the estate.  With 1K of the circuit to go, track turns to the tarmac at the internal estate drive, and finally runners pass through 2 iconic courtyards before arriving at the Castle forecourt to complete their 10k.
Runners in the Half Marathon complete 3 laps of the course to finish in front of the front of the castle to rapturous applause, well-deserved medal and the now famous finish line atmosphere and post-race treats.
Discounted Entry
Castle Triathlon Series is offering a 15% discount on race entry across all triathlon, running and swimming events until March 26th, 2018. The off-road half marathon & 10k form part of the 2018 two day festival of triathlon and multisport with a variety of triathlon races and swim only events to choose from over the weekend.
Find out more about the weekend festival on www.loughcutratri.ie