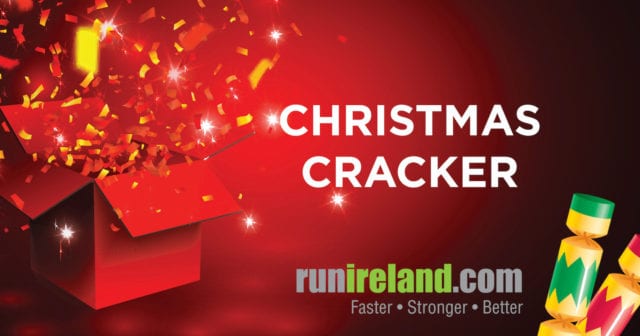 It feels like it's been long run into Christmas this year (pardon the pun) with the decorations in full display since the end of October.  But now that Christmas FM is blaring in the office and the Late Late Show is on our tellies tonight we can officially start talking about Christmas and get into the festive spirit!
The 1st of December brings with it the start of our annual Christmas Cracker, a month-long series of festive giveaways to fill up the stockings of even the pickiest of runner, triathlete or adventure race enthusiast in the house.
We have a sleigh full of prizes to be won throughout the month of December from a whole host of events across the country. In fact we have so many prizes we could fill two sleighs for Santa making it a bumper Christmas Cracker.
Prizes include entries for Run Galway Bay, Tough Mudder Ireland, The Fat Turkey Run, The Virtual Run, Run Stong Kilkenny, Clontarf Half Marathon, Wexford Half Marathon, Wicklow Half Marathon to name but a few.
Get Social To Win
To be in with the chance of winning a prize be sure to like our Facebook Page so you don't miss out on this cracking competition. We'll also have some prizes on our Twitter page so be sure to follow us HERE or maybe you are more of an Instagram Fan you can follow us @teamrunireland
Prizes and winners will up be updated on the page below as we go along.
Good Luck
Santa's Little Helper
#ChristmasCracker
WINNERS – Updated 12th December 
Clontarf Half Marathon & 5 Mile – Horace Bingham 
Two Entries for The Fat Turkey 10k – Orna Walsh
BackBaller – Ailbhe Mc Donnell
Run Galway Bay – Millie O'Connor
Run Galway Bay – Ciaran Stafford
Wexford Half Marathon & 10k – Robert Speer
Women Run Strong, Kilkenny – Amy Coffey
Momentum 2019 – Sara Gregson 
1000KMVirtual Challenge – Melissa Mannion
Lough Cutra Castle 10k/ Half Marathon – John Timothy
Lough Cutra Castle 10k/ Half Marathon – Cliona Kavanagh