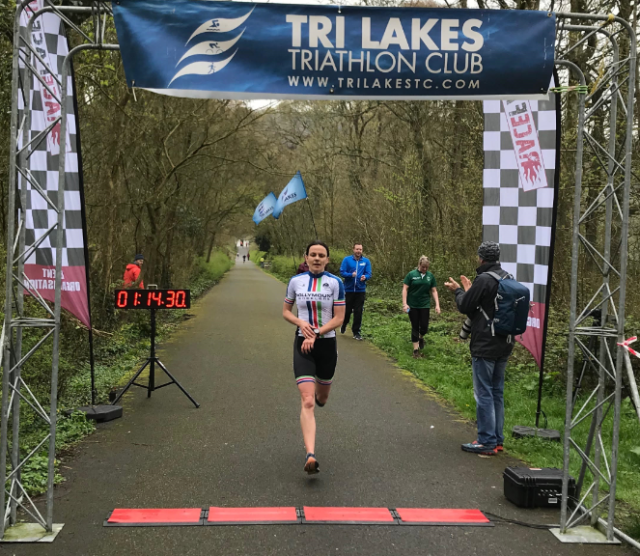 Participation and inter-club rivalry is the secret to The Bridge Signs Ireland West Duathlon series – more than 700 walkers, runners and cyclist of all abilities taking part in one or more events throughout a three month period, with events held in six key towns in Mayo (Claremorris, Hollymount, Ballinrobe and Westport, Sligo (Enniscrone) and Galway (Belclare) throughout the winter and spring months.
Why It Works
Now in its fourth year, the series which has been sponsored for the past three years by Bridge Signs the Ballinrobe based print and design company, has grown in strength year on year.
The format works well for everyone especially during the winter months as people aren't tied down to just training for one discipline they have the choice of either running or cycling. So if the weather is poor either a short run or an indoor spinning session works really well as the distances to complete are relatively short.
Everyone gets a split time for their first run, their first transition, their bike leg, their second transition, and their last run with a combined time for their overall. Every segment is seeded so it's very easy to see where one's progress or weakness lie.
Each event has its own prize fund and fanfare, friendships and rivalries build up from event to event.
The club/team and Corporate categories are well represented with squads from all over Connacht amassing at each event and great pride is shown by each when trying to defend their positions in the overall standing.
Age category prizes mean there are races within races with the over 40's been the most competitive age group by far.
Gender wise it's pretty equal with the males just about tipping the balance; this is brilliant for the future development of the sport of Duathlon as Mammies and Daddies will hopefully transfer their love of sport down to their siblings.
Ireland West Duathlon Series Bridge Signs of Ballinrobe
Brian Reilly director of Bridge Signs the Ballinrobe based print company; said "We are delighted to be involved with the Ireland West Duathlon series from its inception, seeing so many people take up the sport as a form of exercise and recreation firstly and then progressing on to be competitive in the various categories has been motivating and inspirational for us; showing with a bit of training and effort what one can achieve over a season or two."
Bridge Signs Ireland West Duathlon Series 2019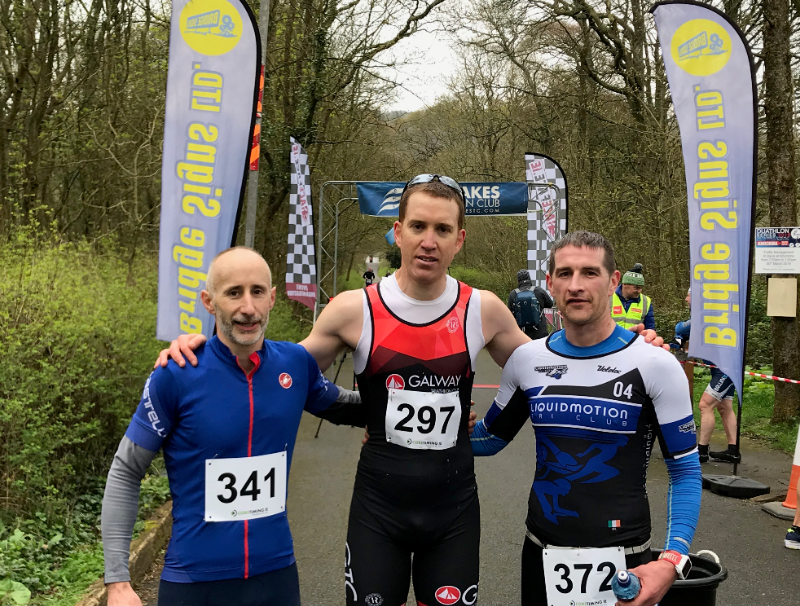 Aidan Kelly from Galway Triathlon club came under the radar to sneak off with the overall title of Bridge Signs Ireland West Duathlon Series champion 2019; missing out at the first round Aidan was always to the fore from round 2 on. Strong bike splits meant Aidan usually caught the fast runners and could hold on well to finish high up the ranks by the finish.
In the Ladies Edel Reilly Hollymount Wheelers proved strongest out of all the female competitors, her running was the key, even surprising some of the male competitors. She was ably motivated as her Hollymount Wheelers team were at every event in big numbers securing their second win in the Team title race.
Bridge Signs Overall Results 2019
1st Aidan Kelly Galway Triathlon club
2nd Jonathon Rowland Liquid Motion Triathlon club
3rd John Mullin Headford
4th Killian Dooley Galway City Harriers
5th Darren Quinn Grainne Uaile Tri club
Female
1st Edel O Reilly Hollymount Wheelers
2nd Laura O Connor Islandeady CC
3rd Maggie Vahey Galway Tri Club
4th Aoife O Connor Lough Key Tri club
5th Michelle Reynolds Liquid Motion Tri Club
Over 40
1st John Mullin Headford
2nd Killian Dooley Galway City Harriers
3rd Chris Troy Grainne Uaile Tri club
Female
1st Maggie Vahey Galway Tri Club
2nd Ann Mc Donnell Mayo AC
3rd Niamh  Donovan Westport Leisure park
Over 50
1st Jimmy Lawlor Multisport AM Westport
2nd Sean O Boyle Liquid Motion Tri club
3rd Brian Clarke Westport Leisure park
Female
1st Michelle Reynolds Liquid motion Tri club
2nd Breege Morrin Western Lakes CC
3rd Catherine Gibbons Westport Leisure park
O60 male
1st Mattie Donnellan Kilamine
U18
Joseph Walsh Hollymount Wheelers
Relay team
Hession Loughney Hollymount Wheelers
Mixed Relay team
Ann & Paddy Murray Mayo AC
Most Improved
Male David Keane Grainne Uaile Tri Club
Female Sara Creighton Swinford Tri club
Team/ Club Winners
1st Hollymount Wheelers
2nd Liquid Motion Tri club Ballina
3rd Westport Leisure Park
Corporate winners
1st Ballina Beverages Coke cola
2nd The HSE
3rd Allergan Westport
Photos attached
Edel Reilly Hollymount Wheelers Ladies Bridge Signs Ireland West Duathlon series Champion.
Team club winners Hollymount Wheelers
Mens Overall Podium of the Bridge Signs Ireland West Duathlon Series
Photos from the presentation to follow from Forde photography