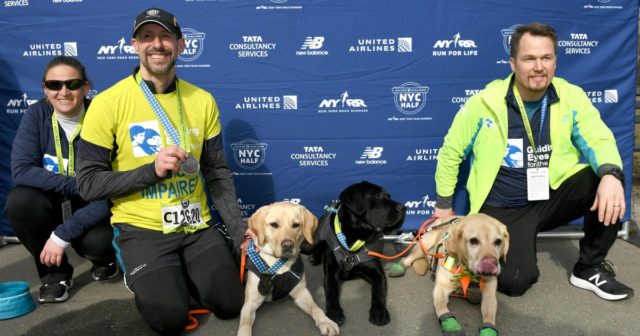 In March 2019, history was made as the first ever visually impaired runner completed the NYC Half Marathon with a team of guide dogs.
Thomas Panek has been a runner for his whole life – except for the time when he stopped running, too afraid to run without assistance after losing his sight from a genetic condition in his early 20s.
Visually impaired runners typically use human guides, which is what Panek did at first, completing the Boston Marathon with a human guide who connected themselves to him to show where to go and ensure he could run safely. He has completed 20 marathons in his life but he was missing the feeling of independence that runners can usually take for granted.
Panek also couldn't understand the logic behind having to leave his guide dog at home.
Using Guide Dogs For Running
"Dogs love to run and I love to run, so it sort of made sense."
View this post on Instagram
This was the simple logic that Panek told NBC News made him want to overcome the conventional way of running as a visually impaired person.
Panek established Guiding Eyes for the Blind in 2015, a non-profit organisation that matches guide dogs to people with impaired vision. The programme trains a guide dog to run, and to lead their runner safely helping them to avoid footpaths and other obstacles.
The dogs act as teammates for the runner – they train together and form a bond.
The NYC Half Marathon
Panek was accompanied by a three dog relay, starting with a black Labrador named Westley, changing to a yellow Labrador named Waffle and finishing with his own guide dog named Gus.
The dogs wear a specially designed harness for running and guide the runner around obstacles. Everything that the runner feels through the harness acts as a guide.
"It's almost like dancing together with somebody," said Panek. "You've got to follow their footwork."
Panek and his team completed the half marathon in a time of 2:20:51.
Panek described the moment as emotional, as his guide dog Gus made his retirement and hung up his harness at the finish line, after making history.
Panek wanted to show that even with a disability, there are no limits.
#GoodBoyGus earned his #UnitedNYCHalf medal and will now step into retirement. Congratulations Thomas and the entire Running Guides team!
Help fund the #GuidingEyes Running Guides Program and all our services that bring #GuideDogs to people in need: https://t.co/pG1OTq4gyw pic.twitter.com/npPJimQDRB

— Guiding Eyes (@GuidingEyes) March 17, 2019