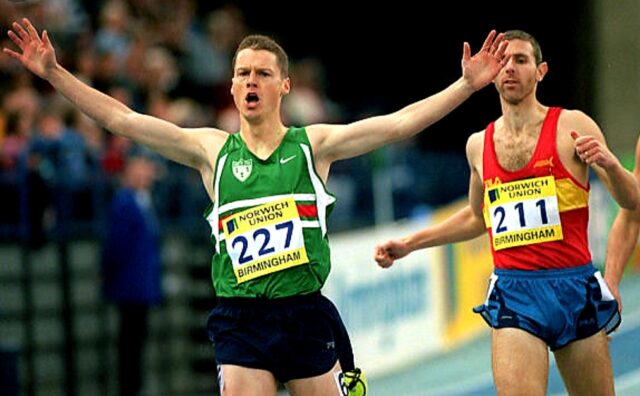 It is hard to believe it is over 20 years since Ballymena boy, Eddie King, fuelled on a diet of spuds from the home farm, set his 800m PB of 1:48.00.
It was a different athlete back then to the veteran Eddie who appeared out of retirement a few years ago to take part in numerous parkruns and make an appearance at the Queen's races in Belfast.
An achilles injury brought an end to his illustrious senior career in which he represented Sale Harriers and Ballymena & Antrim AC. We will take a look here at some of the highlights.
Most of the Northern Ireland Championships Eddie took part in, he chose to compete over 400m. His style was not unlike the great Michael Johnson, very upright, short swift strides. Eddie managed a time of 48.27 in 1996 for the quarter-mile.
In his student days, Eddie was pretty much unbeatable over 800m at his best. He amassed 5 Ulster Schools gold medals and won the Irish Schools titles in 1993 and 1994.
In 1998 he won the Northern Ireland 1,500m title.
His finest hour may well have come in 1999 when Eddie won the AAA 1,500m indoor gold in a championship record of 3:40.24. His fastest ever time. He also took the AAA 800m indoor title in 2001.
In 1999, he made the final in the 1,500m at the World Indoor Championships in Japan. He went on to compete in the European Indoor Championships in 2000.
Given his 1,500m time, he should have been in for a shout of a sub-4-minute mile, his PB, however, was 4:07.75, although he did 4:03 in a 2,000m race. His 5K PB stands at 15:09 and his 10K time of 32:10! He has a 5M time to his name of 26:25 and a 3,000m mark of 8:42.62.
While Eddie is unlikely to approach any of those times again, apart from in his car, there have been recent sightings of him at Mary Peters Track in Belfast, a couple of miniature versions in tow… So watch this space.
He keeps involved in the sport via his work in a local gym, sports massage business and also as a coach to Ricky Johnston.