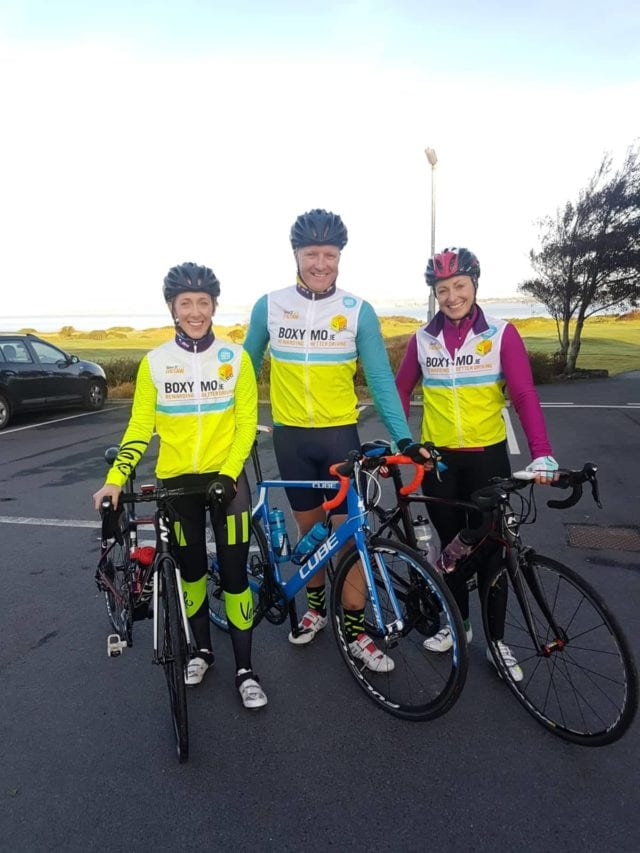 Elizabeth Kent recounts her journey to becoming a #GIROHero, completing her 480km Charity cycle for Jigsaw on September 28th – 30th 2018. 
I first heard about Jigsaw in 2016 when my sister Marie and friend Niall (cycle buddies) told me that they were going to be taking part in a 480km cycle to raise money for Mental Health for Young People. Of course they wanted me to take part but unfortunately, in 2017 I underwent my second spinal operation to remove a T6-T9 Fusion which has been installed in 2010 as a result of a horse riding accident. In the lead up to the 2017 Giro I noticed a lot more talk around our house about "one good adult" "#GIROHERO" and "its ok not to be ok". I remember thinking how great this was to speak openly about mental health as we all know growing up isn't easy.
The Giro Journey
After my surgery in 2017, I set the 2018 Giro D 'Jigsaw as a goal and I took to my bike as recovery. People say I turned into the Forest Gump of cycling but I knew fitness was the key to my recovery and cycle was a way of me getting there through low impact exercise.
January 2018 – I joined my local cycling club, Marble City Cyclers in Kilkenny. I knew my body was ready to ramp up my cycling efforts, keeping my goal in mind (480km- 3-day cycle). I was aware that I had a weakness but from my previous experiences I knew I was lucky to have a strong mind which could overcome/achieve anything I put my mind too.
With massive support from the cycling club I continued my training, I even braved a summer spin of 180km with the stronger groups as part of my preparation (did I die, no!). Cycling become so important to me, a horse rider no longer, I had found another passion, one that was very social and the fact there was nearly always cake involved, who wouldn't love it.
With my Giro D'Jigsaw space reserved the fundraising kicked off. I remember being a bit nervous of having to raise a set amount but through the power of social media and some generous friends, in no time, I had exceeded the prescribed amount to take part and the donations kept rolling in.
Through my Sister, it became apparent the bonds that were formed amongst the previous year's Giro Hero's,  I even got to meet and cycle with some of these awesome people ahead of the Giro at different sportive's around Ireland in the Summer of 2018.
Let's Do This
Rolling on to the week of the Giro D'Jigsaw – weather forecast – cold, dry and crisp, perfect cycling conditions. Excitement was bubbling!
Thursday 27th September – Training done, bikes loaded, bags packed and ready for road trip to Galway. As with most of cycle road trips tunes were pumping, food was being munched down and water of course, don't forget to load up on the water!! Off to Galway we went.
First stop was registration and 3 point bike check – we were met with friendly smiles and donuts, the weekend was off to a good start already.
Day 1 – Galway to Navan
Cold crisp morning, we all met at the stunning Galway Bay Golf Club and after our safety briefing we were on our way. Marie and I led out our group while the cycle Marshalls worked with the group to ensure everyone was comfortable with group riding.  There were lots of introductions and chats along the route, with stops every 50-60km, before we knew it we were in Navan and our longest cycle 198km was complete.
The route was fab for cycling – I found it exciting going through all the villages where people would clap and wave. Once we got to Navan, Jigsaw had organised a Fitness Trainer to take us in a stretching session, a stretching session for people full of the joys (and maybe slightly delirious from our cycle). Dinner was had along with a drink or two for those feeling up to it,  then it was off to bed.
Day 2 – Navan to Tullamore
With an early start we left Navan, I have to mention we even managed to get in a warm-up lap of the town before leaving, thanks to the help of Navan Man, we got out and stayed well away from the roads which would have led to Slane (I hear there are big hills up around there).
Spirits were still high on day 2, the chats continued along with the slagging and general banter. More food stops to keep us fuelled and the addiction to the caramel filled waffles was starting to emerge! Personally, I found day two a little tough, my legs were strong but my back felt the brunt of the 198km previous day's cycle. I wasn't going to let that stop me. Everyone had their own little struggles at times over the weekend but there was a great group to offer support and encouragement when times got tough, along with 32 people to hide behind in our group when you needed a break.
We did it, Day 2 complete, shower, dinner and a moving talk from the Youth Advisory Board in Jigsaw giving us feedback from the Youth in their programs. This was exactly what we needed to give us the motivation to move into Day three.
Day 3 – Tullamore to Galway
Excitement was evident in the breakfast room on Day 3, we were going home or it could have been the wine from the night before still in our systems. The chat was less on today's cycle as bodies were getting tired and we were heading into a headwind back to Galway. It was time for the hard work to commence. Those strongest took the lead and we all encouraged each other along the way. Then we saw it "WELCOME TO GALWAY", we were nearly home. We met with the second Giro group and all the cyclists returned to the Galway Bay Golf Club together, the same spot where we had set out from three days previous.
One Good Adult
Getting off the bike, now officially a Giro Hero, seeing families waiting to meet loved ones, I realised this was more than just a cycle. We were all so proud to be part of Jigsaw and advocates for Youth Mental Health in Ireland.
I am excited about the 2019 Giro D'Jigsaw and meeting up with the old and new Giro Hero's again. Also the theme of "One Good Adult" stays in my mind and the difference that one good adult can make in a young person's life, I promise to be "One good Adult".