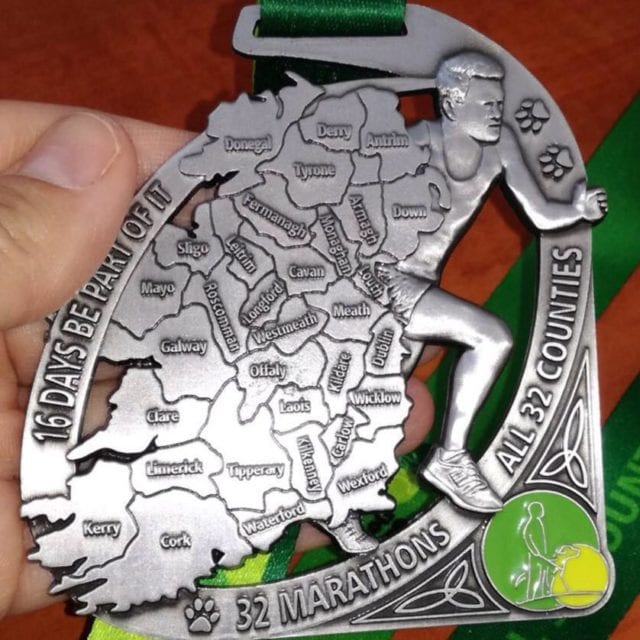 Cork firefighter "The Running Fireman" Alex O'Shea will attempt his 32 Marathon, 32 counties in 16 days Challenge starting in Dingle, Co. Kerry tomorrow Saturday, 1 September with proceeds supporting the work of the Irish Guide Dogs for the Blind.
Alex will be joined on his challenge by Tralee native Garda Ollie O'Sullivan who will not only crew for Alex but will take on his own personal challenge to run 50km of the 84km a day every day of the challenge.
Alex is no stranger to endurance racing and setting tough challenges for himself, the 44-year-old married, father of 4, originally from Carrigaline now living in Ballineen, Co. Cork is a full-time fire fighter with Cork City Fire Brigade, he has also served with the Irish Naval Service for many years prior to his current role with the Fire Service.
In the last few years Alex has developed a love of running and has pursued many personal running challenges and goals completing his first marathon only 4 years ago, he became a Guinness World Record holder in the process: Fastest Marathon in Full Fire Gear in 3hrs 41min 10sec. Since then he has competed for Ireland at the 100km World Championships in Spain 2016 and won silver medals in the 50km and 24-hour national championship events in 2017
Ahead of kickstarting the exciting challenge Alex said: "A big thanks to everyone across the country for supporting us. We are looking forward to taking our amazing challenge nationwide. I would encourage everyone to come along and run even part of the distance."
Patrick Burke, Chairman of Irish Guide Dogs for the Blind commented: "We have huge admiration for the courage Alex is showing to take on this momentous challenge. Everyone here wishes him and Ollie the very best of luck. Support like this makes a real difference to our work changing lives of those who are vision impaired and families of children with autism."
There are numerous ways to get involved including joining Alex by running anything from a mile to a full marathon, making a donation or taking a sponsorship card. Everyone who raises €50 will receive one of the special PAWtastic commemorative medals. Find out more at: http://www.alexoshea.ie/register-to-run/
The Schedule
| | | |
| --- | --- | --- |
| Saturday 1 Sept | Marathon 1 | Dingle, Co, Kerry |
| | Marathon 2 | Limerick |
| Sunday 2 Sept | Marathon 3 | Clare |
| | Marathon 4 | Galway |
| Monday 3 Sept | Marathon 5 | Mayo |
| | Marathon 6 | Roscommon |
| Tuesday 4 Sept | Marathon 7 | Sligo |
| | Marathon 8 | Leitrim |
| Wednesday 5 Sept | Marathon 9 | Fermanagh |
| | Marathon 10 | Donegal |
| Thursday 6 Sept | Marathon 11 | Tyrone |
| | Marathon 12 | Derry |
| Friday 7 Sept | Marathon 13 | Antrim |
| | Marathon 14 | Down |
| Saturday 8 Sept | Marathon 15 | Armagh |
| | Marathon 16 | Monaghan |
| Sunday 9 Sept | Marathon 17 | Louth |
| | Marathon 18 | Dublin |
| Monday 10 Sept | Marathon 19 | Meath |
| | Marathon 20 | Cavan |
| Tuesday 11 Sept | Marathon 21 | Longford |
| | Marathon 22 | Westmeath |
| Wednesday 12 Sept | Marathon 23 | Kildare |
| | Marathon 24 | Offaly |
| Thursday 13 Sept | Marathon 25 | Tipperary |
| | Marathon 26 | Laois |
| Friday 14 Sept | Marathon 27 | Wicklow |
| | Marathon 28 | Wexford |
| Saturday 15 Sept | Marathon 29 | Carlow |
| | Marathon 30 | Kilkenny |
| Sunday 16 Sept | Marathon 31 | Waterford |
| | Marathon 32 | Cork |
Further information including routes & times can be viewed on www.alexoshea.ie