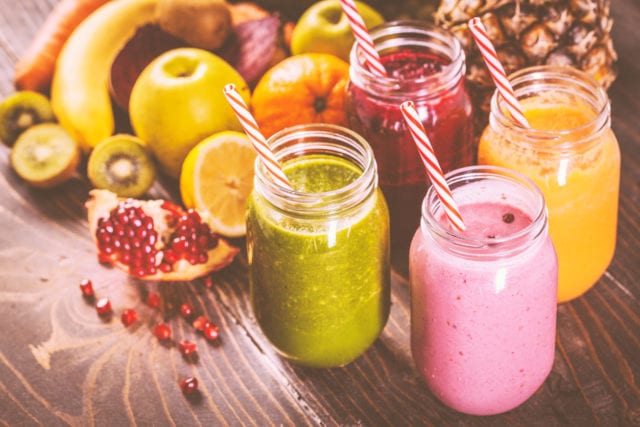 Adaptogens are the latest health discovery, supporting the body to boost immunity and help to fight symptoms of stress and anxiety making them a much sought after group.
But what exactly are adaptogens?
Adaptogens are herbs or plants which help the body to maintain balance within the immune and nervous systems, among others. They have been proven to reduce stress, boost the immune system and stabilise moods, making them the perfect ingredient for anyone trying to combat anxiety.
Research shows that to get the best of these plants, they need to be eaten daily for around three months, to really benefit from the health factors. They can be used indefinitely with no particular side effects so adding them into your daily diet can only be a good thing.
Some of the key adaptogenic herbs and plants which are commonly found include:
Ginseng
Basil
Maca
Liquorice Root
Turmeric
One of the easiest ways to incorporate these into our daily intake is by creating adaptogen smoothies – the perfect tonic when you are feeling stressed or anxious. Here are a couple of recipe ideas you can try out next time you start to experience those feelings:
Adaptogen Smoothie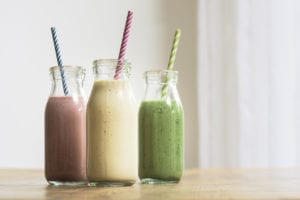 This powerful smoothie combines many of the key adaptogenic herbs all within one powder mix that can be consumed as and when required. If you are suffering from fatigue or struggling to concentrate on a big project, then this smoothie really is a great pick me up.
Ingredients
Three teaspoons Maca powder

Three teaspoons Ginseng powder

Three teaspoons Basil powder

One teaspoon Ashwagandha powder

Half a teaspoon Turmeric powder

A cup of almond milk

Honey to taste
Directions
Mix all of the powder ingredients together and store in a jar in a cool, dark storage area. To make a smoothie, add one teaspoon of the powder to almond milk, with a spoonful of honey and mix together to make sure all the ingredients are thoroughly combined.
Brain focus smoothie
If you need a boost to beat the brain fog and stave off procrastination, then try this combination of green leaves, herbs and fruit for an amazing brain fog clearer. The combination of flavours makes this delicious smoothie irresistible.
Ingredients
One cup of blueberries

One or two frozen bananas

Two to three dates

One celery stalk

Ten coriander stems

Ten to fifteen spinach leaves

One teaspoon of ashwagandha

Five to ten cashew nuts

Ginger

Fifteen mint leaves

Water
Directions
Combine all the ingredients except the water, together and blend until smooth – add water gradually to get the right consistency. Serve over ice to taste.
Mushroom Smoothie
If you don't have too much of a sweet tooth, this coffee-inspired smoothie could be just the ticket with its nutty and mushroom flavours making an interesting combination. It offers just as powerful an anti-stress and anxiety kick as some of the sweeter options and the hot version is delicious.
Ingredients
One cup of cold coffee

Half a cup of almond milk

One tsp. of mushroom powder

One tsp. of ashwagandha

One tbsp. of nut butter

One tsp. of coconut oil

A pinch of vanilla

One tsp. of cacao powder

A frozen banana
Directions:
Blend all the ingredients together until smooth and serve over ice to taste, or if you prefer, don't include the banana and use hot coffee for a different experience.
Spicy Pumpkin Smoothie
This sweet and spicy smoothie is the perfect antidote to a cold evening, as it's served hot with extra spiciness. You can change the flavours and spices to taste but it provides amazing stress and anxiety relief as well as tasting fantastic.
Ingredients
Eleven ounces of almond milk

Two tbsp. of coconut oil

Ginger

Three tbsp. of maple syrup

One tsp. of vanilla extract

One tsp. of turmeric

One tsp of pumpkin spice

Three dates
Directions
Blend all the ingredients together until smooth, then pour into a saucepan and heat up as this is a smoothie to be served hot.
Adaptogens are growing enormously in popularity and have been proven time and again to help reduce stress and anxiety symptoms.
These smoothie recipes offer a really quick and easy way to combine them into your everyday diet giving you the full benefit of these amazing herbs and plants.
If you have been looking for natural treatments for stress and anxiety symptoms then why not give some of these recipes a go?