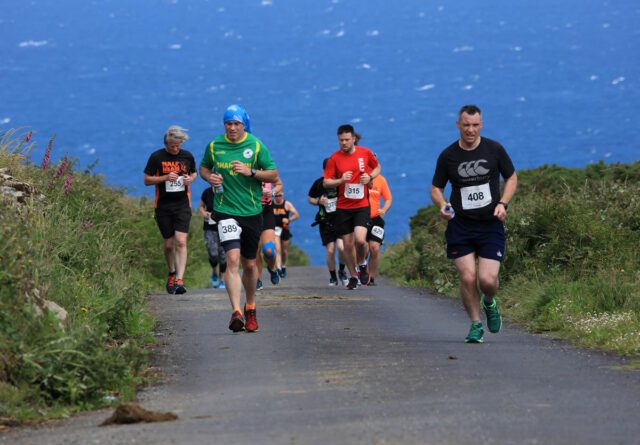 The Views: The Half on the Head is one of Irelands most scenic runs. This Half Marathon begins at Ballyheigue Beach and takes you around the rugged coast of Kerryhead Peninsula, one of the most westerly points in Europe and a hidden gem of the Wild Atlantic Way. The looped route overlooks Tralee Bay with stunning views of Mount Brandon and Banna Strand before finishing at the gates of historic Ballyheigue Castle. There is also a 10k run offering similar spectacular views
The Location: Ideal for groups to come and visit and enjoy the community and social aspects of the town. Ballyheigue is a wonderful self contained Kerry village by the sea with lots of amenities including four great pubs. You are guaranteed a warm welcome and if you stay the night you can enjoy the after race party with entertainment and prize giving in Flahives Beer Garden.
The Runners: The run attracts lots of entries from abroad, in particular the USA, Canada and Australia. as well as Europe which gives it a real international flavour. It's a great way to meet new people and to discover the unspoilt beauty of the North Kerry Area.
The Community: The race is a Non-profit event with proceeds going to community projects and groups. In return the whole community gets involved to help out and volunteer for marshalling and organising and to support and cheer on the runners, If you stand still long enough you will be given a job.
The Goodies: Each Half Marathon runner will receive a custom designed Tech RunningT-Shirt. All runners are presented with a specially created finishers medal along with timing chip and race number and don't forget the free entertainment and after race party. Race photos are also made available to everyone.
The Challenge: Okay, thats 6 reasons but we just couldn't leave it out. As the legend goes, there is only one hill at the start…. but its 8 miles long. Don't worry though, the scenery along the way will provide a distraction and there is the promise of a paddle in the Wild Atlantic Ocean at the finish line which is the ultimate cure for weary limbs.
Registration and more information CLICK HERE