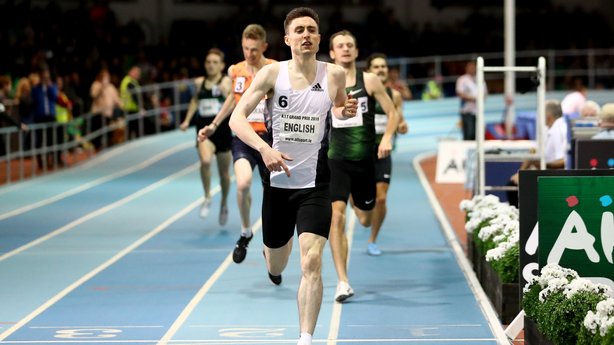 The 6th Annual International Grand Prix took place today in Athlone Institute of Technology, and it was a day filled with excitement and record-breaking speed.
New Record for the 1500m
One of the most exhilarating moments of the day was the 1500m which saw its Irish record and stadium record smashed by Ciara Mageean, in a time of 4:06.78.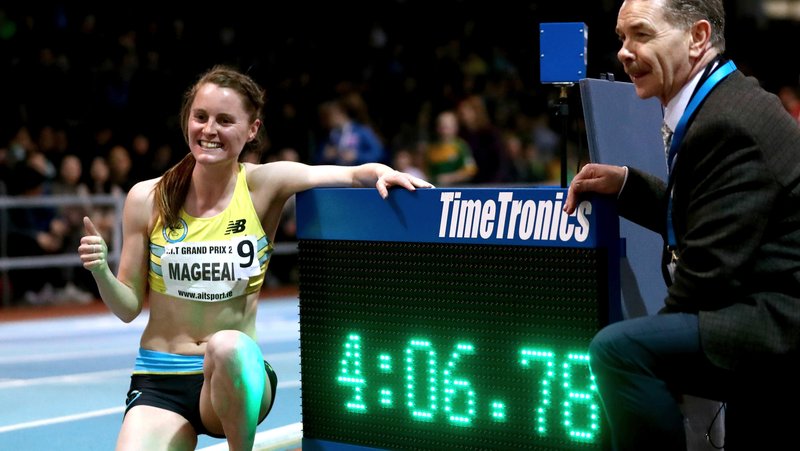 This was a PB for the athlete, who took on Olympian Genevieve LaCaze, Romania's Claudia Bobocea and Irish athlete Sarah Healy among others.
Mageean's performance beat her own Irish record of 4:08.55 by nearly two seconds set in 2016, proving that sometimes your greatest competition is in fact, yourself.
Men's 1500m
First place was taken by Polish Marcin Lewandowski in 3:56.41. He was closely followed by Australia's Stewart McSweyn.
Men's 800m
Bua ag @markenglish_ san 800m anseo in @AthloneIT

Mark English gets another win for @TeamIreland here at #AITGrandPrix19 pic.twitter.com/iM9DPrHUlZ

— Spórt TG4 (@SportTG4) February 13, 2019
Mark English won the 800m, followed by 1:44 athlete Erik Sowinski in second place, fellow Irish man Zak Curran in third. English holds the current Irish record, set in 2014 with a time of 1:46.92
Women's 800m
Claire Mooney came first in the women's 800m, followed by Nadia Power in second and Ellie Hartnett in third.
Claire Mooney comes home in first place in the 800m women's race #AITGrandPrix pic.twitter.com/SBlrD4QyMo

— Athlone IT (@AthloneIT) February 13, 2019
Men's 400m

Thomas Barr finished second following his 2018 sub 47 second victory in the 400m men's race. Dutch Tony Van Diepen took first place with 47.01, while Brazil's Ricardo Dos Santos came third in 47.44.

Women's 60m
Gayan Evans took first place in the women's 60m, closely followed by Corinne Humphries and Carlow's Molly Scott. Scott finished in 7.39.
Molly Scott sa 3ú háit sa 60m anseo in @AthloneIT
Ta sí lán sásta leis an críoch a bhí aici.

Molly Scott finished 3rd in the women's 60m final & spoke to @MaireTNC after the race. pic.twitter.com/ZTyPv4Nk2B

— Spórt TG4 (@SportTG4) February 13, 2019
Men's 60m
Su Bingtian took the 60m title in 6.52, breaking the stadium record. This came as no surprise, as Bingtian was previously the first Asian-born sprinter to break the the sub-10-seconds barrier in the 100 metres, and is a strong contender for the 2020 Olympic Games in Tokyo. 
A track record for the fastest man in China & the fastest man here tonight! He ran the 60m final in 6.53 seconds! #AITGrandPrix19 pic.twitter.com/59Pgol08nz

— Athlone IT (@AthloneIT) February 13, 2019
The Men's Mile
The Men's Mile finished the day, with Polish Marcin Lewandowski taking the title in a time of 3:56.44. Irish athlete John Travers came in fourth place at 3:58.48.
The Full Results
The Full list of results can be found here, on the Athletics Ireland website.
Sin sin ón @AthloneIT Grand Prix anocht ar @TG4TV

That's all from the #AITGrandPrix19 on TG4
Thanks to @daithicam @fogfen @MaireTNC @irishathletics pic.twitter.com/xGqN5L2WEE

— Spórt TG4 (@SportTG4) February 13, 2019
An exciting day, with even more excitement on the way with the European Indoors taking place from March 1st to March 3rd in Glasgow.