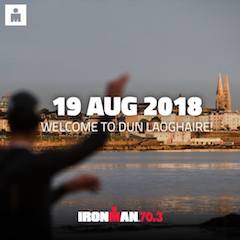 IRONMAN 70.3 Dún Laoghaire to take place on August 19, 2018; General registration to open November 15, 2017
Ireland has a strong history of IRONMAN 70.3 racing – and from 2018 onwards, a new chapter will be ushered in as the coastal town of Dún Laoghaire becomes home to the country's biggest triathlon, IRONMAN 70.3 Dún Laoghaire replacing IRONMAN 70.3 Dublin which took place in 2015 & 2016.
The event, which is expected to attract close to 2,000 athletes from all over the world, will take athletes through and past the most spectacular scenery in and around Dún Laoghaire. The seaside town is popular for its natural attractions, featuring miles of beautiful coastline, numerous outdoor trails and activities, along with a rich maritime and literary history.
The race features a 1.2-mile swim from Sandycove, home to the famous Martello Tower, in the clear waters of the Irish Sea in Dublin Bay, before taking athletes on a spectacular and challenging 56-mile bike course. The course travels through some of the most scenic areas in the region, including County Wicklow, home to the Wicklow Mountains National Park and its glacial lakes, rivers and abundant natural beauty. Athletes will take in stunning coastal views and weave their way through the streets of the charming seaside town for the 13.1-mile run, before finishing with Dún Laoghaire Harbour and Dublin Bay as the backdrop.
"We are extremely delighted to announce Dún Laoghaire as the host city for this new event," said Hans-Peter Zurbruegg, Managing Director IRONMAN Europe, Middle East and Africa. "We are looking forward to welcoming athletes from all over the world to Ireland. With its picture-perfect scenery and a great race course, this event will attract first timers and seasoned athletes alike."
The course will offer an intriguing challenge to athletes, while the single transition area allows friends and family an enjoyable spectator experience.
"Dún Laoghaire has become a favourite amongst triathletes over the past few years for its pristine swim venue, breath-taking views and warm hospitality. We're excited to launch IRONMAN 70.3 Dún Laoghaire and provide athletes with a new and exciting course and a race experience to make Dún Laoghaire a race destination of choice across Europe and further afield," said Declan Byrne, IRONMAN 70.3 Dún Laoghaire Race Director.
An Cathaoirleach (Mayor) of Dún Laoghaire-Rathdown County Council, Cllr Tom Murphy, speaking on behalf of the Council said "Dún Laoghaire-Rathdown has a rich sporting heritage, a stunning location between the mountains and the sea, a high quality public realm and is perfectly suited to host a world class sporting event of the caliber of IRONMAN 70.3. I am delighted that Dún Laoghaire town and the wider county will be the location for the event. All competitors can be sure of a fantastic experience and a very warm welcome."
General registration for IRONMAN 70.3 Dún Laoghaire, Ireland's only IRONMAN 70.3 race, will open at 4 pm CET (3pm local time) on November 15, 2017 at www.ironman.com/dunlaoghaire70.3. Athlete inquiries may be directed to [email protected].
IRONMAN 70.3 Dún Laoghaire will offer 50 age-group qualifying slots for the 2019 IRONMAN 70.3 World Championship being held in Nice, France as well as a professional prize purse of USD $15,000.