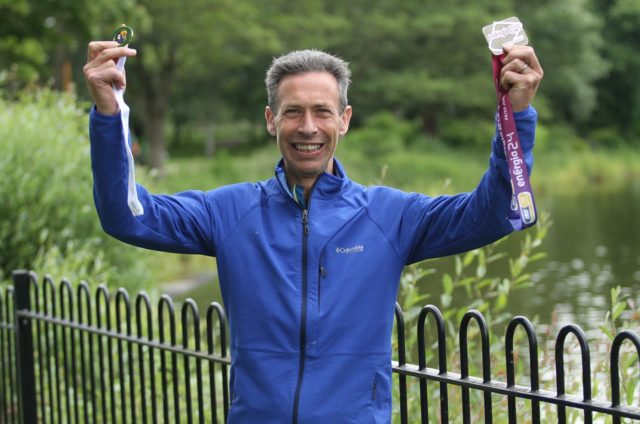 What a weekend for running at Energia24, with two world age-group records, 12 people running beyond 200kms, 78 running over 100 miles, and a relay record.
Energia24 took place last weekend June 22/23 in Victoria Park, Belfast. This is a 24 hour race where Men, Women, Team Relay and Mixed Teams run as far as they can.
The course is lapped, with the first lap 1692 metres and each subsequent lap 1652 metres. It has been awarded a gold label by the International Association of Ultra Runners (IAU).
Current 24 hour Records
The men's world record was set by Greek Yiannis Kouros in Adelaide, Australia at 304km (189 miles) in 1997. Many feel it will never be beaten and is one of the most impressive records across any sport.
The women's world record was set by Poland's Patrycja Bereznowska in Victoria Park, Belfast in 2017 at 260km (162 miles).
And they're off #NeverAgain @EnergiaEnergy pic.twitter.com/5cnEaUc2LG

— energia24 (@belfast24hr) June 22, 2019
Irish Championship Men's Winners
Irish Championship Women's Winners
The National 24-Hour Age Group Winners:
35+ Male: Padraig Mullins (St. Finbarr's), 223.02km
35+ Female: Aoife Mundow (Drogheda District), 188.33km
40+ Male: Ed McGroarty (Lifford/Strabane), 218.06km
40+ Female: Paula Wright (Newport), 218.06km
45+ Male: Aidan Hogan (Rising Sun), 227.98km
45+ Female: Helena Dornan (Springwell Running Club), 166.85
50+ Male: Eoin Keith, currently holds both men's Irish track and the Irish Road records (Sportsworld), 234.58km
50+ Female: Claire Martin (Ballymena Running Club), 180.07km
55+ Male: Eddie Gallen (Finn Valley), 214.76km
55+ Female: Susanna Allen (Ballymena Runners), 188.33km
60+ Norman Mawhinney (Strabo Striders), 173.46km
65+ Colette O'Hagan (North East), 145.38km
100 miles
The Team Relay
Each relay team member did 3 stints of 2 hours in rotation, with the other team members staying in the Park to wait for the changeover.
The men's relay was a record breaker by Willowfield Harries at 335.36km.
The Women's Relay was won by 'Natty's Nutters' at 244.50km.
The Mixed Relay was won by Orangegrove who completed 292.40km.
Well done to all athletes who took part in this huge achievement.