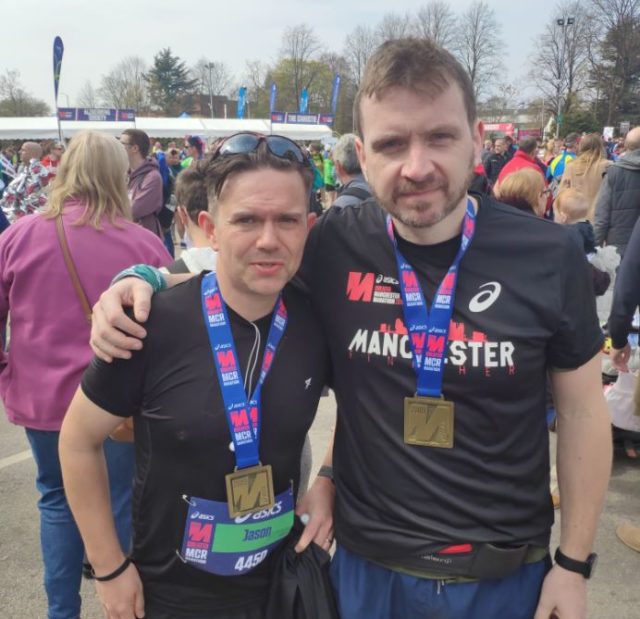 Just back from the Manchester Marathon. Fantastically well ran race, but personally a mixed bag of a run. I had to ask myself, Is there such a thing as the perfect race?
I think you always think, you could have possibly done better? This was definitely a race that turned out better than expected, but was easily my most challenging marathon (it's the 5th one and 4th one in the last 6 months).
Training for Manchester
I had just finished Kinvara marathon on March 2nd. Unfortunately, I haven't been "right" since then running wise. In the week directly after Kinvara I tried a 5k but had to pull up with some left leg IT band type pain. I tried a physio for the Planters I have on my left foot pre Kinvara, worked a treat. I went to same Physio for the calf/knee issues but don't think the issue was fully understood and I actually left a little worse off. Rested and iced and tried to go out again on that Sunday, only managed a broken 10k – same type of pain. Very disappointing as I knew Manchester with Jason (who did Kinvara as his first marathon) was looming now a mere 4 weeks away.
I got a recommendation of a physio located in Burgess (just outside Nenagh), Gold Standard Physio. Chap called Eoghan really took the time to fully understand the issue. What began as IT band type pain, was really a touch of compartmental syndrome in my calf. I had 3 sessions with Eoghan pre-Manchester, and I found excellent relief.
My running per week ended up really low, the second week after Kinvara was about 23km, the third week 37km and the week before nothing. I went with the philosophy that physio and rest may give me a slight chance. Worst case scenario, I could watch from the sidelines and cheer Jason on. The physio itself was a mix of hard deep tissue massage and some dry needling, I found it very painful but effective.
Hand on my heart, due to the injury and the lack of mileage, I didn't think I'd turn out for Manchester let alone finish it.
The Trip To Manchester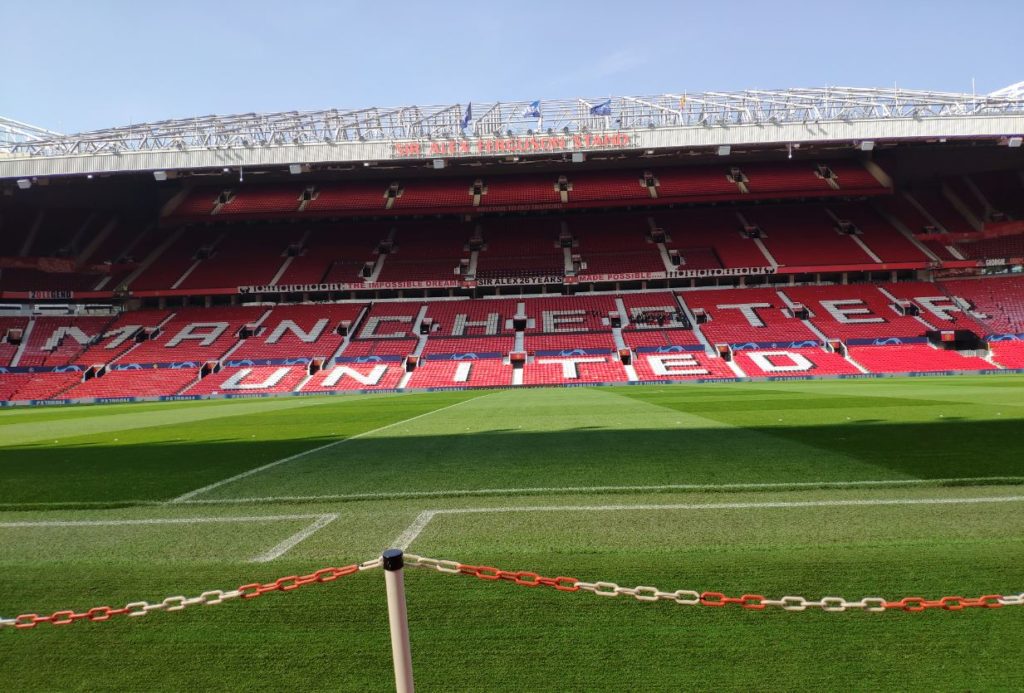 Got the flight from Dublin at 10.30am Saturday, April 6th. It's a ridiculously quick 40-minute flight! It takes me longer to drive to work. You can get a tram near the airport and it costs £4.80 into the centre of Manchester, takes about 45 mins.
Picked up the race bib at a hotel in the centre of Manchester @ 3pm and then back to the hotel for the evening. We stayed in the premier inn near the old Trafford shopping centre. Massive place, must be 4 times the size of the Dundrum shopping centre to appreciate its scale and scope.
Race Day
Race start was on Sunday at 9am. We got up at 6am, breakfast at 6.30am (Fry!) and then got a short taxi toward the start line (about £12 in a taxi). We were in wave C, so made our way up to the pen about 8.30 and waited for the off. Great buzz around the place, weather was cold but you just knew it wouldn't rain and there was no wind.
Started handy enough at about 9.06am. My plan was to see how I got on for the first half and then injury permitting, I could try and give it a lash on the second half, so the original plan was approx. 1.55 first half. For the first time ever, I had to stop around 8km for a whizz, that was a bad start. Felt really heavy in my legs until around 12k, then the IT band/calf pain struck. I stopped for approx. 30 seconds and tried to stretch. Started running again until 15km and had to stop again. I was completely dejected, stretched for about another 30 seconds and tried to start again. It was getting painful. I had taken about 5 Ibuprofen tablets (2000mg total) and a couple of paracetamol since 8am and I think they may have kicked in slightly around 15km.
I tried to take my mind off it and keep going. I tried to focus on the crowds and interacted by calling out "do ya call that clapping" and the like, everyone was up for a bit of a laugh and started clapping louder. While still painful, it reduced slightly. Jason had some knee issues also and had to pack it in around 28km but he still finished it in around 4.40 mins – a more determined man you will not meet!
The support on the course was absolutely first class. It has the reputation of being the "friendly marathon", and it's not an exaggeration. Most areas along the urban parts of the course were full of people. Hundreds of people in the estates made the effort to hand out oranges/sweets ect. The constant support and cheering and calling you by name when you needed it was a genuine lift.
I kept on track for approx. the 3.50 predicted time, until at km 38km I got a wicked stitch in my right hand side. I mean, there was no sense to it. I had a quick thought that maybe my Kidneys were failing due to the amount of ibuprofen in my system, but it was just a stitch. It stayed with me until km 41. Absolute pain in the arse to get this on top of knee/calf pain.
Turned the corner after km 41 and there is a long straight into the finish line. Fantastic support. Crossed the line at just over 3.50 mins.
Overall Thoughts on Manchester Marathon
Considering the lack of training and injuries, I was delighted. Could not believe that the pain I experienced at kms 12&15 would allow me to complete my 5th Marathon.
Manchester is a fantastic marathon, very flat, very fast, very friendly. Couple of short loops and generally quite wide and runner congestion was low (Dublin would be tight enough for the first few kms). If you were Injury free, you could easily smash out a PB there. Weather in April should always be ok. It actually got a bit sunny at times.
It's definitely a marathon to try and would be an ideal first marathon. Very well organised, tones of water and gel stops. Even small things like when you were 300/400 metres from a water stop, there was a sign telling you so you knew and could go to either side of the road to plan grabbing a bottle etc. I will definitely do Manchester again. Route profile is below.
Post Manchester Marathon
The day after was pretty sore. I aggravated the issue I had prior to the race. I am signed up for Limerick full the start of May, but not sure if I will make it.
Plan is to rest for a week and then try a run to see where I am at. I went to the old Trafford stadium tour the day after. I 'm not a United fan, but it was an excellent tour, impressive facilities and steeped in football history.