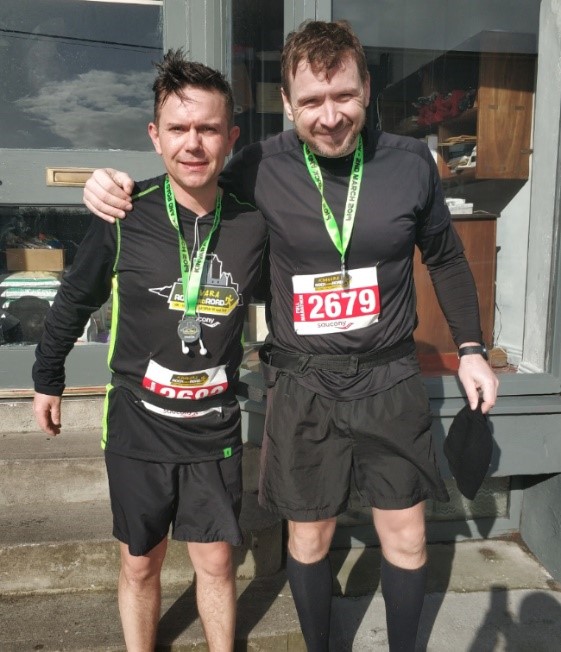 Andy Nolan shares his experiences at the Kinvara Marathon 2019. 
The Lead Up to the Kinvara Marathon
The week that started Monday, February 25th looked promising from a weather perspective. My phone's search history searching the term "Kinvara 7 day forecast" over and over again.
Why was I focusing so much on the weather, you may ask? Kinvara Marathon was on Sat March 2nd and I was willing the weather to be "ok".
The projection all week was poor, my expectations were low, but you can always hope for that little gap in bad weather – even a couple of hours would help. It was a really odd week weather wise – mid-week the sun was out, 14-17 degrees and I actually saw a few people with shorts on out walking.
Good weather for March 2nd? It wasn't to be!
Training
I have been struggling with some heel/foot pain in my left leg for the last 3 weeks. Since Jan 1st, I've upped my mileage slightly (in that I've approx 490k done this year pre-Kinvara) and it has taken its toll.
I entrusted the advice of Dr. Google and have diagnosed myself with Plantar Fasciitis, apparently a very common injury for runners. I will be going to actual physio this week to make sure.
So I began a bit of icing and stretching for the 2 weeks pre, also messed about with that kinesiology tape (again Dr. Google, looked at about 40 different techniques before settling on what I thought the most common one to be. Easy to apply, hard to know if it helps or not but I will continue to use it for a couple of weeks more I reckon until I use up all the roll of it).
The heel pain is worse first thing in the morning as the foot relaxes overnight and needs to stretch the plantar post. Pain wears off over the first 10/15 mins of walking. Wearing shoe support instead of walking on your flat feet does help.
Pre-Race Hesitations
A friend of mine, Jason O Neill, was also completing Kinvara and it was his first Marathon (my 4th), so I was very tentative as to whether I'd even start because of the injury.
My rationale was, worst-case scenario, that I would watch from the sidelines and support him if I didn't start or if I had to drop out. Your first one is special and in fairness, he smashed it considering the conditions.
Kinvara – Race Day
Kinvara is in south County Galway, it's a seaport village. I was here 2 years ago for the half marathon and had positive memories of the race (think I managed a 1.49 min half).
We took the short spin from Limerick and arrived pretty early (about 8.30am) with the race starting at 10am. Registration and collection point was at the local community centre and it was hassle free, just dropped in and collected t-shirt, water bottle and race bib. Guys handing out the gear were friendly and helpful.
We parked on the main street about 4/5 mins from the start line. There was a local supermarket open, so we went in to grab a cup of coffee to kill a bit of time. It was cold in addition to the rain, so we got into the car and turned on the heater to keep warm. Windscreen wipers were on the second setting which reflected the velocity of the rain that had been begun to mill down. The weather had started to turn, got a bit windier and starting to lash rain.
We left the car approx. 9.45am and made our way to the start line. It could only be described as miserable. Cold, wet, cranky, I genuinely thought about getting back in the car and going home.
Race Start
Pouring Rain, fingers shaking with the cold, the race began. Strong headwind for the first 6k (until you took a right turn toward the Burren) was pretty bad. In fact, I would estimate it rained for 80% of the race and we were affected with a strong headwind for about 70% of it.
Water
There was a water stop just after 2km which I thought was a bit early for a race, but took a small bit of water on board, thinking there would be another one in a few miles. Approx. 7/8k there was a pallet of water on the left-hand side of the road as we ran by, but it was still wrapped in plastic and there was no table or support staff there so naturally assumed this was for one of the other races (there were a half and 10k also due to start at different times). The next water stop wasn't until 14km! 12km without a water stop.
I can only surmise the stop I passed was a scheduled stop but there was no one there to manage it. I recall getting angry about this, as, between 2km and 14km, some water would have been nice. I took a drink on board at 14km and motored on. My recollection of the rest of the stops was they were more frequent than the distance 2km and 14km.  The race route is like a figure of 8 and you pass the middle bit twice.
Battling the Elements
The middle crossing point is the most exposed section of the race, and it takes you through a bit of the Burren. It was tough, exposed, with a strong headwind. I had more energy the first time passing through so I just knuckled down and got on with it, absolutely saturated. Fair play to the photographers who were on this stretch for braving the conditions, they interacted well with the runners and I tried my best to shoot a pose that was anything other than the pure misery I was feeling  – thumbs up here!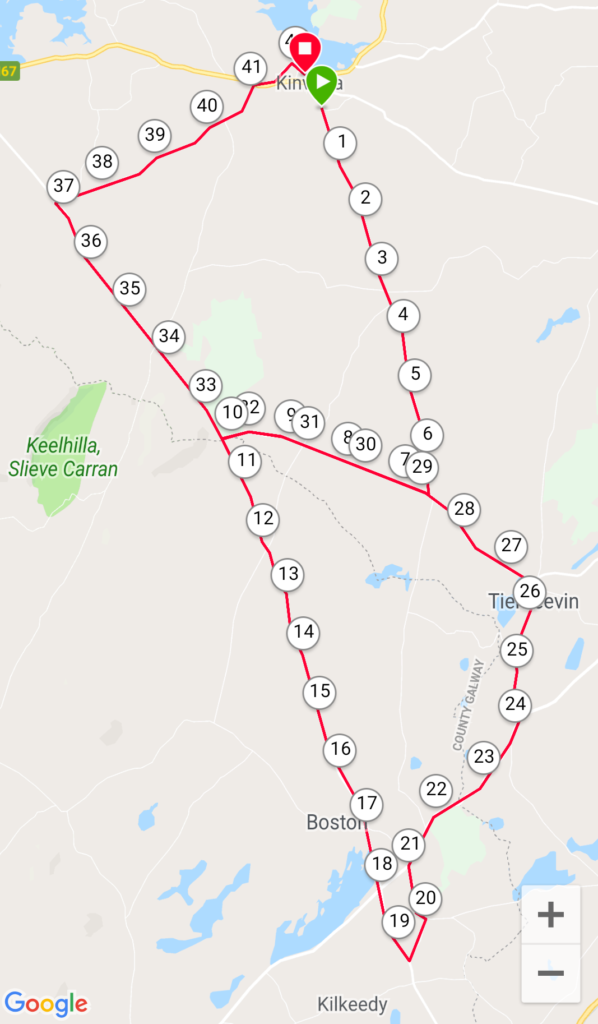 The course, in general, can be described as a constant state of undulation, some hills, then some slight downhills, some flats, and repeat. If the wind and rain weren't so prevalent, I don't think I would have found it as tough.
The second pass through the middle bit of the figure of 8 was what I can only describe as pure torture. The headwind had shifted slightly such that it was hitting you down more from the left-hand side, open and exposed, the rain hurt as it blew into your face. This was my "hitting the wall". Conditions were as bad as I've ever encountered. I started verbally cursing out loud to myself and I must admit, retrospectively that I found it helped. Some chap passed me and joined it for a couple of minutes which I found funny.
The rain was also starting to pool on the roads and there was one specific section about 5/6km from home which had several inches of light brown muddy water off shooting from the fields around it. The only way was to belt through it. That dank, saturated feeling when your runner and sneakers get loaded with water is brutal. I took 4 gels over the course of the race, and my fingers were so cold, I had difficulty mechanically opening the zip in my shorts to open/close it to get the gels.
Water stations just had bottles of water and plastic cups of isotonic drink. I remember thinking "who do I have to kill to get a jaffa cake or a Jelly Bean!" This is my 4th marathon and I was expecting a banana segment/sweet/biscuit/gel. I've never experienced one where there was only water and isotonic drink at later stops on a marathon race.
The Last Stretch
With about 3 km to go, the wind subsided, the sun actually came out a bit. About mile 24, I felt a slight pull on my right hamstring so while I would have tried to put the foot down, I took it handy. A PB was achievable here, I was less than a minute off it for a finish, but it wasn't to be.
The planters flared up intermittently every few km also but in general, it was ok. I did dose up with 800mg Ibuprofen 2 hours before the race and I took 1 during also, not sure if it helped but even as a placebo effect, helped physiologically.
I rounded the corner 500 metres out and made my way to the finish line, crossed it, gobbled down 2 bananas. All in all, was very happy just to finish considering the conditions. Managed to come in at just under 3.38 which, all things considered, wasn't too bad (22nd /102 lunatics that began the marathon).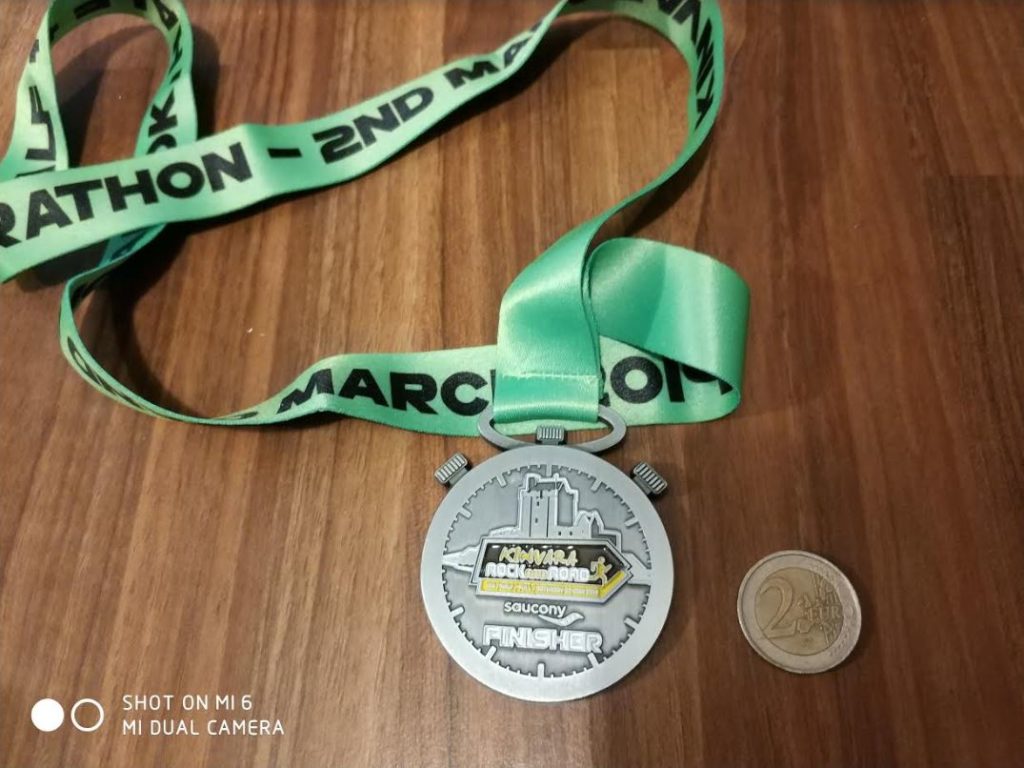 Manchester marathon is next for me in April, injuries permitting. Fingers crossed weather will be ok and no hills 😊