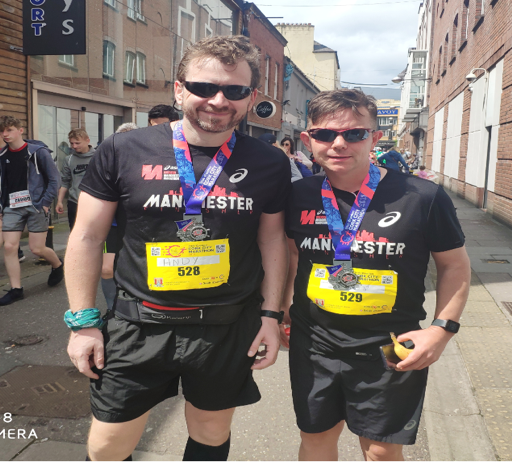 Just back from the Rebel county last weekend – the real capital. I'm from Charleville originally and consider myself a Cork man (geographically Charleville is on the border with Limerick but I'm still a proud Cork man devoid of the classic Cork accent), so I'm used to a lot of the Cork phrases and colloquialisms. I'll look to use a few of them in this review of Cork City Marathon, so "chalk it down" and take a "sconce" at this review. (Very funny repository here of lots of Cork sayings if you're interested)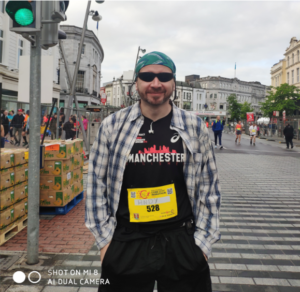 This was my 4thmarathon in a 12-week period. If you had a read of the last piece on running consecutive marathons in a relatively short period, I had some injury issues the week before the run, with physio on the Wednesday and my back kind of locked up/spasms on the Thursday. I had to go to the doc to get an anti-inflammatory injection and some tablets, so wasn't really in great shape for the run.
Registration
Registration for the marathon is on in the Civic offices in Cork on Anglesea street. Went down on the Saturday before (no postal option), crowds were low enough about 3pm, walked in and walked out. Race numbers allocated on consecutive basis. T-shirt was decent quality and the purple colour was different and I have to say I like it!
The Irish examiner was the title sponsor and unusually the T-shirt didn't really have any other advertising on it, so a nice fresh look to it. Nothing else was in the goodie bag – no other freebies. Didn't spent too long at the expo, It small enough in general. Went to get a bit of "scran" (food) in Crawford's just down the street from the Expo. They also were giving away vouchers for free BBQ for after the marathon, so got a few vouchers.
I went to Cork with Jason (also on his 4thrun in 12 weeks), he has been chasing down a sub 4 marathon since March and was hopeful of getting the monkey off his back in Cork. Another friend of mine Kevin was also running it and we met him at the start line on the Sunday. We had a few pints with food the Saturday eve, you can't "bate" a good pint of Murphy's! The Murphy's was "massive like" (meaning pure decent in Corkonian). I heard the phrase "well boi/lad" at least 1000000 times in the next 24 hours (that's a pure exaggeration like).
Race Day
Race on the Sunday is a little earlier than usual in that it was 8.30am start. We made our way to the start line in Patricks street. The half marathon started on Albert road at 10.15am and you had the options of running relay also. There was a good buzz at the start line, everyone very casual until about 10 mins to go when we were asked to join the start line and wait for the off. Estimates are 8000 people ran between the race distances with Gary O Hanlon winning the marathon in a time of 02:21 (second year in a row winning it). Angela McCann won the ladies marathon winner (she also won it in 2011 and 2012).
Bang on 8.30am and we were off. I had no particular strategy for this race, off the back of a poor week injury wise and jut wanted to finish it to be honest.
The Route
Before I booked Cork, you would think that it would be quite hilly, but to be fair its not that bad. I would consider Limerick marathon as more difficult. There are a couple of pulls but there are loads of downs and flats.
The route starts at St Patricks street and heads out towards the Opera house at approx. just over the mile mark, nice and flat. Then heads out towards Blackpool and on to Terence MacSwiney quays. Next benchmark is Tivoli and past the excellent Clayton Silver Springs hotel (we stayed there the Sunday and night and would have to recommend). At just over 6 miles, you come to the Jack Lynch tunnel, it was the part I was really looking forward to. It came and went and was pretty cool experiencing running through it. You could hear the river overhead and the thunderous procession of runners through it, some yodelling to hear their voices reverberating down the tunnel was odd.
Mile 8 takes you towards Mahon point (large shopping centre) and then it's on to Blackrock castle around mile 11. The scenery between 11 and 14 is excellent, taking you along the Lee estuary and down the old cork passage railway line.
Mile 15 heralds the spectacular Pairc Ui Chaoimh, and you are quickly on to centre park road and the Jewish quarter. Miles 18 to 21 take you to Irish Independent park/the Lough and then Farranlea road, some nice downhills here. Miles 22 onwards to finish are largely flat so it's a great way to finish strong. Mile 24 takes out past the county hall and the final stretch you'll again round back and finish where you started back at Patricks street.
Overall Thoughts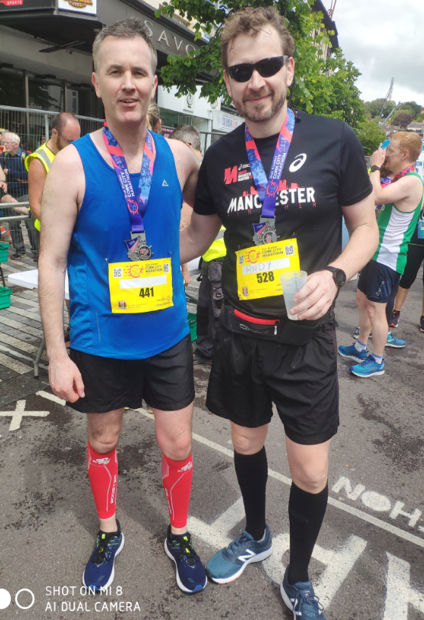 All in all, a fair course, flat. Drink stops were plentiful, and it was well organised in general. It was also very well supported, and the supporters were "mint" (great) in fairness, which gives you a lift when you need it.
I found this marathon tough, was not the route which was fast in general. It definitely tested my endurance and stamina. It was unquestionably down to plain and simple fatigue. Like a bit of a "Langer" (fool)  did 70k the week in training runs before the race and while I did nothing the week of the race, I was just very tired. I managed to finish in 03:48 which could have been worse I suppose. Jason came in with 32 seconds to spare to beat 4 hours, so he was delighted.  I was running a portion of the race with Kevin and had pushed ahead for the last quarter of the run or so. My pace slowed down a fair bit for the last 10k, so much so that Kevin came up alongside me at about 40.5k with a "How're ya". I said to myself, that being as stubborn as I normally am, was not going this lad pass me. I literally drew on every ounce of energy I had to try and run faster and managed to come in ahead of him by about 50 seconds. Feeling totally "haunted" (lucky) by the finish, didn't look behind me once managed to stay ahead of him.  I've known Kevin for over 30 years and this was healthy rivalry.
We went for some "Gat" (pints) in Crawford's after to chat about the race. Place was "Jointed" (packed).
Four Marathons in 12 weeks
So there It was, I actually managed 4 marathons in 12 weeks. Medals and times below:
Kinvara– 3.38
Manchester – 3.49
Limerick– 3.35
Cork City– 3.48
I am feeling the effects a couple of days post. Thighs are definitely the sorest they have ever been and general walking has been difficult. Its good pain though, accomplishment pain. The bling for Cork is first class, and to be fair stands well alongside Limerick and Manchester ones. Pic below:
Would I Do it Again?
In summary, Cork city marathon is a well ran race. Well organised, plenty of water and Lucozade stops. I would definitely do it again. I'd love to be injury free and give a PB a decent old craic of the wip, so maybe next year. Crowd support was top notch and very vocal. Cork people are just dead sound! simple as! General crown atmosphere is a good bit better than Limerick and less than Manchester. Dublin marathon to date is still the best supported marathon I've completed.
The weather while it got hot in places was perfect (I have heard other years that it has been very hot and therefore more difficult). This is PB territory marathon and would definitely recommend to anyone for a first marathon or any marathon. Book it early to avail of a cheaper rate as I booked late and it was 85e which I though was a bit steep but all in all, I'd have to recommend it.
I don't have another run until Dingle and Dublin, just have the small matter of Elbrus in July as the next stop in my mid life crisis, so kind of have to get my s*&t together for that now, so running will take a back seat for a while.