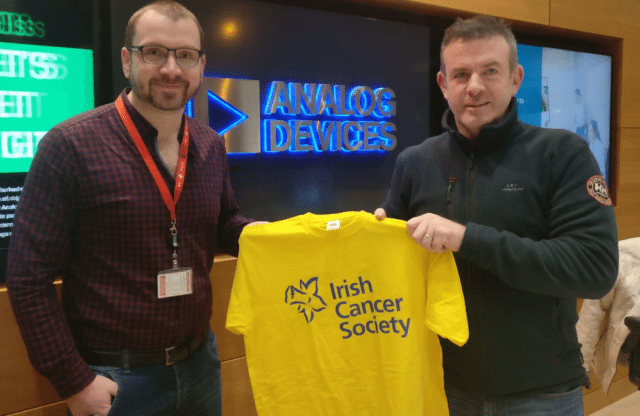 My name is Andy Nolan. I am 38 years old and weigh 17 stone ("pure muscle" as the wife says, but I'm not so sure). I and a colleague from work are climbing Kilimanjaro in October 2018.
How Did This Come About?
The inception point was about 4-pints into an 8-pint session last December 30th, 2017 in my Local pub "The Bonan Bui" in Ballinahinch, County Tipperary.  Seemed like a great idea at the time. Myself (already fully convinced) mused, that I needed someone else to share this lucid plan. A simple to follow and well detailed and documented 3 step plan was required to ensure the target is met! (Keep it to 3 steps, "be grand"!)
Step 1: Get Someone as Saft as Me to Participate
I managed to convince my colleague of over a decade Mr Eoin Boyce (48 yrs.), that we should do it together, I think the key factor in the convincing was "be grand….shur what's the worst that can happen?" Best Irish phrase ever! It can be applied to all events and potential scenario, a uniquely Irish colloquialism – it seems to drown out all logic with those few words – convinces even the most ardent detractor.

Our conversation went a little bit like:
AN: You know that head shaving thing last year – raised around a grand, just for shaving a bit of hair?
EB: Ya
AN: Think we should do something bigger to raise more money?
EB: I'm not shaving my head, I don't have much hair left!
AN: No, let's do something BIGGER – how about climbing a mountain?
EB: F**K that, I hate heights and nearly S**t myself going up a ladder to change a light bulb last week
AN: I hate heights too, but will "be grand"
EB: Ok? Where?
AN: Kilimanjaro in Africa
EB: Are you high?
AN: No – seriously, let's do it.
EB: Ok, F**k it, let's do it – "Be Grand"
AN: Agreed, "Shur what's the worst that could happen"?"
Step 1: Team sorted.
Step 2: Use the Event to Raise Awareness and to Collect for a Good Cause
Here was my train of thought: Late, last year, I did a dye and shave (Pink hair for a week and then shaved it off) and raised close to a grand for the Irish Cancer Society. A grand! Just for shaving my hair – surely we can raise more money for the ICS with a trek to the arse lands of Africa.
Step 2: Partnering with the ICS which is an absolutely fantastic Organisation.  Sorted.
Step 3: Everything else!
Ahh, everything else. There is quite a bit. I'll get to the different elements of these bits in due course. I was asked by the wonderful Joanne in RunIreland.com, would we be interested in writing a blog which would document details of the pre/during and post-event. The process, the training (or lack of) etc.
The Carly Simon inspired "probably thinks this song is about you" part of my ego, said hell yes (rather modestly I might add). We plan to add an entry every few weeks and then provide a detailed blow by blow account for the duration of the event in October. Simples.
And so it begins…
January 1st to January 31st
Let's start January 1st to January 31st. First I feel compelled to mention the month that was December '17 because it was a blur. Collectively our kidneys and bodies were hammered by the effects of excessive socialising and gout inducing diets (I think this is a very common Irish complaint about the Xmas period).
We needed a plan, a training plan. We need to get fit, and we need to eat right. Ok, so that's too much too soon. I did attempt partial dry January (seriously, it's a thing!), whereby it's more difficult to do 21 days instead of 31 – I thoroughly recommend it. We think a loose plan for first couple of months will be ok and then get serious in the 4/5 months prior to October '18. I will be using some running and hiking primarily, with some light weights to get fit and Eoin will be using a gym based routine coupled with some hiking. We will outline this in more detail in the next blog addition.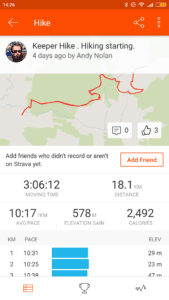 January consisted of general training both of us. We did an initial trek, we climbed Keeper hill (https://www.discoverireland.ie/Activities-Adventure/keeper-hill-trek/90670 ) on January 27th – 18.1k up and down, approx. rise of ~600 metres. It pissed rain from start to finish. Great to complete but utter misery. It took us 3 hours and 7 mins in total – not a bad start we reckoned. Note to anyone hiking in wet weather, wear the right gear. While Eoin had waterproof pants, I opted for an O'Neill's tracksuit bottom and regretted it by the time we got back to the car. Ended up soaked through and walking like John Wayne with Ire for the last 12 km's, which I may tell you, it not as sexy as I make it out to be! 

February's blog addition should be a more structured affair. We will look to formalize the gear we require, identify some ideas to collect donations for the ICS, climb a couple of hills and detail some decent efforts with regard our training plans. I have a 10 mile in the John Treacy run on Feb 4th, so this should be a good indication of general fitness as well as the Adare 10km the end of February. Eoin will be hitting his gym routine with gusto and will provide more details on this also.
Until next time,
All the Best,
Andy/Eoin
(F.Y.I – here is the link to the online donation platform, if anyone wants to donate to the ICS: https://www.gofundme.com/eoin-andy-kilimanjaro-trek-icc)