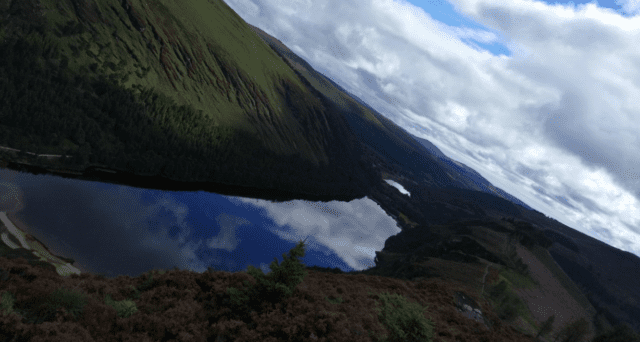 Time is flying. For the most part of the year, it seemed like October was ages away, but literally, only a few weeks left now until October and I can almost feel the mosquitos eating me alive.
In summary, throughout the last two months, I did a few half marathons, lots of running, a bit of walking, a couple of Keeper Hill Hikes and I bought some more gear.
I attended the prerequisite 2-day hiking training weekend in the Wicklow mountains, which is a requirement for the Kilimanjaro trip. It's where you meet the other members of the expedition and meet the leader and doctor etc.
I also experimented with gels as a source of "quick release" energy – but ultimately decided I won't be taking any up Kilimanjaro.
July Activites
Overall 257km covered in training-with the bulk of it running (230km). Found a handy route to walk from my front door to the top of Keeper Hill in 12km – decent hike – Snapshots below for July overall and Keeper Hike: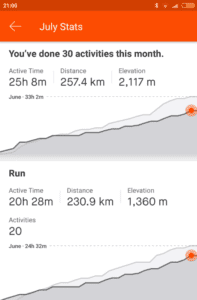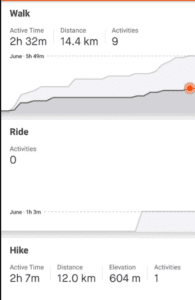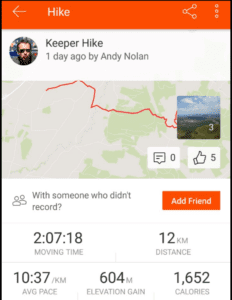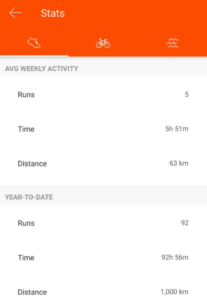 On July 4th I broke the 1000km barrier for kilometres ran this year. At the start of the year, I didn't plan on doing much running, especially when I had the back issues and getting the disc placed back in my back, so I'm surprised to have 1000km completed – It took me just over 92 hours to complete.
Hiking Gear
I still had quite a few items to get since the last entry.
I managed to get some of the cheaper stuff online @ Sports Direct which I will outline below. The merino gear, in particular, is an expensive ticket item for some of the better-known brands. I checked reviews on the Karrimor stuff (which is cheaper) and while they're not mind-blowing, should be fit for purpose. The equivalent Ice Breaker branded merino t-shirt would be approx. 65 Euro (for one t-shirt), so a decent delta.
I've included the prices for the gear I got so far in the last blog and this one, so people can get an idea of costings.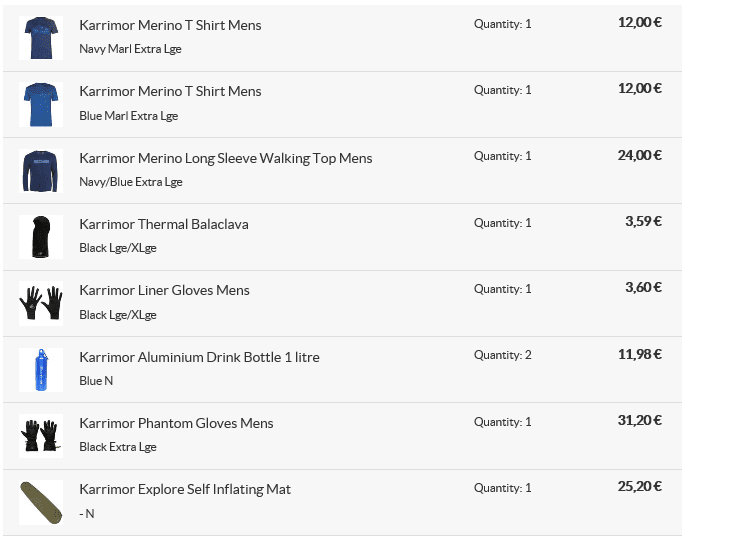 Also had to buy some additional gear:
Berghaus Deluge Waterproof pants
Important you can open the pair of over trousers up the sides, makes for easy on and off based on weather conditions – these particular ones are excellent – Paid 65 euro – details here
IOWA Renegade Hiking Boots
190Euro @ 51 degrees North – a nice light boot, waterproof, gortex etc – feel comfy and light to wear. Details here
I had fierce trouble getting boots in general. I take a size 13 boot. I tried literally every hiking/outdoor store in Limerick and none had size 13's. I rang 3 stores in Galway to enquire before I took a spin and no size 13's. I rang 2 outlet stores in Kildare village and several places in Tipp and again no 13's. Eventually, I had to drive to Blanchardstown shopping store in Dublin and to a place called 51 Degrees North, I rang before I left and they had 2 pairs of size 13's left in stock – 1 pair didn't feel great so I bought the Renegade's.
A Down type jacket for evening use and summit day for extra heat
Went off half-cocked and decided to go with a different filler with the Craighopper Compress Lite jacket – warm and compact – half price @ Regatta store in Arthurs Quay in Limerick, normal RRP @ 85euro and got for 42.50 Euro – details here
Turns out this was incorrect and wasted 42 bucks essentially – should have got a thicker down filled jacket – the recommend from one of the trek advisors in Wicklow was to get the Columbia Pike Lake Jacket with wide baffles. Link here – bought on Amazon for 90 bucks (important to get the version with a hood).
Best bit of advice I can give in general if you are taking a trip like this is to be clear in your head exactly what you need – there have been several examples of impulse buying when I was shopping for this trip – there was so much to get, I definitely rushed some items (this jacket is a prime example).
Light weight waterproof Jacket
87 Euro – details here.
Life Systems Chlorine Dioxide Tablets
14 euro for 30 tablets @ 51 Degrees North Store – 1 tablet does approx. 1 litre. As the water we will be drinking is from streams, these tablets kill bacteria, viruses and cysts in the water (apparently?)
People online suggest that you take a small bottle of that concentrated Miwadi type drink to throw a few drops into it, apparently, it helps with the taste. Details here
Dry bags
You need these for 90L and 30L day back – waterproof bags within your main bag. They can be got in any outdoor shop – again, sports direct are about 14 bucks for a 40 Litre one and a few quid cheaper for the smaller sized ones. Dry bags are useful for segregating material in the bag for ease of access i.e. have your thermals and gloves and hat in the same bag, pants socks etc in another one.
Testing Energy Gels
Ahhh Gels… some people like them, some don't agree with using them.
I'd have to say I think they work, even if the effect is purely placebo. I know if I take one around 7km and then 14km, I think (at least) I will have enough energy to complete a half distance or a long slow run. I have tried several types/brands. High 5/ISOGEL seems to suit me the best.
For more watery type gels that suit more sensitive stomachs, see here and here.
I have thought about taking some up Kilimanjaro for energy but based on a very negative experience a few weeks ago, I don't think I will. I reckon Altitude Sickness in general will be enough to battle let alone having to contend with being afraid to fart in case it's something more (which is an effect Gels can have).
Always take a trial run with gels, don't just turn up for a long run and take one you haven't tried before. Then there are some gels that genuinely do not suit. Everyone I've spoken to who does a bit of running has a different take on gels, they really do affect different people differently.
For myself, anything with a higher sodium content does not agree with my stomach. I also don't like thicker "gloopier" gels and prefer more "liquidy" ones. I tried these new ones a few weeks ago and they definitely don't agree with me. I went for a long slow run @ 25km in July and felt a dodgy tummy about 12 km in. Usually, this is not an issue – I've always made it home… but there was always going to be a first time. Around 24km I couldn't wait any longer. I was about 4km from home and had to stop up, with pretty sore cramps in the stomach. There was a farmer exiting a field right ahead of me – he was probably looking at me wondering why I had a face like a man chewing a wasp and why both my legs were crossed. I pretended to be on my phone, and said, "how're you" and he saluted back, stared a little longer, then got in his jeep and left.
As soon as he had turned the corner, I entered the field he just came out of, shut the gate behind me, assumed the position behind the ditch and let rip. This field had a rise in centre and I did not see over the hump there were about 2 dozen cows (bulls? not sure what they were – I'm only a "towney" living in the country), coming towards me gingerly, yet gathering moderate pace as their confidence grew. I obviously had no loo paper, so whipped off my sweat bandana as fast as I could, 0.5 millisecond double fold over wipe and had to jump over the gate before they came across to me. From an initial crouched position, I must admit they looked more menacing as they were making their way towards me.
All I could think was F*&k it! – that was my favourite bandana!
Kilkee Half Marathon – July 14th
Inaugural event in Kilkee for the half marathon. Myself and Jason (from last entry, he ran his first half marathon last May with me in Limerick) signed up.
Accommodation was hard to come by in Kilkee that weekend, so the only place we could get was a hostel in Kilrush (about 12 km away) for 150 bucks for two nights. We booked a twin room for the night before and the night of the race. It was clean and basic, but I just couldn't get comfortable with sharing the bathroom facilities in general.
I got up Sat morning like an absolute bear but after a couple of coffees, I started feeling a bit better.
Now to the run itself… map of the route is below: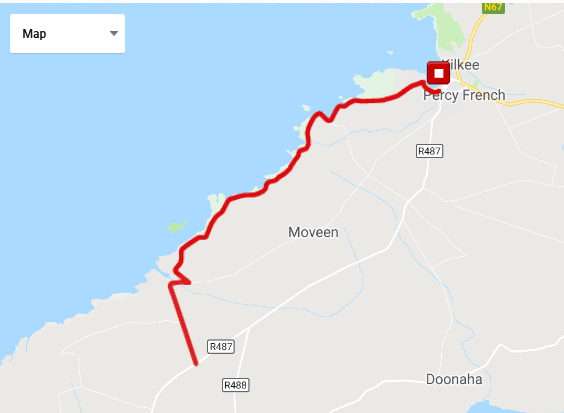 The scenery was the highlight of the event. The race cost 50 quid plus booking fee and just under 400 people did the half. The route was very difficult, and I actually got a PB, breaking the 1.45 barrier and came in at 1 hour 43:45.
It was definitely the toughest course I've ever done – the first 5km is literally uphill and the first half out had a strong enough wind against you. My strategy was follow the 1.45 pacer for the first 4 km and then tipped along myself.
It was really surprising to get a PB on such a tough course. Generally, when you get a PB running, you always want to come back again the year after, but in all honesty, I wouldn't do this race again. I wasn't impressed with the water at the stations. The race T-shirt was ok, but the Medals were a bit tacky and the goodie bag was less than what I would expect for the cost of the entry, which was 50 quid for the half distance.
All that was at the finish line was more cups of water and no food, which was disappointing. Yes, the scenery was nice, but all in all, this is definitely not worth it. Half marathons like Tullamore Harriers half/Clonmel half/Gingerbread run/Charleville are all cheaper, bling is better, and the grub spread after is always spot on. I would recommend booking one of these instead.
Snapshots below, showing course elevation and per mile splits: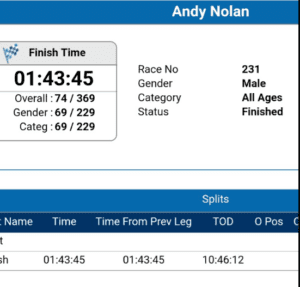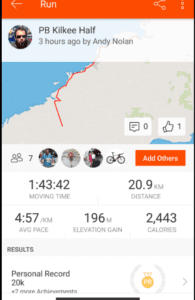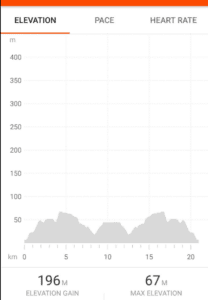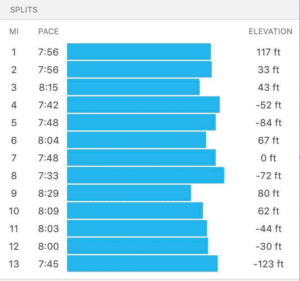 August Activities
Consisted of 263 KM overall, of which 224km running, 13km walking and 26km hiking.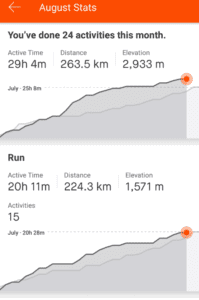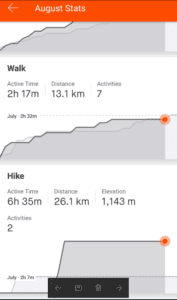 August Wicklow Training
Anyone traveling with Earths Edge for a trip has to complete a 2-day hiking familiarization trip in Wicklow prior to departure. Location is the Brockagh Resource Center in Glendalough Wicklow
Itinerary was as follows:
First day – 2 hour expedition brief followed by 6 hours hiking.
Second day – 7 hours hiking.
Total of 26km hiking completed over the 2 days.
You get to meet the trek leader and doctor and get an opportunity to ask any questions you may have. You can also bring gear and let the leader have a look to make sure its suitable.
The weekend was free but you obviously have to source accommodation and pay for your own meals and lunches etc. Absolutely poured rain for the Saturday, but was good to test out the waterproofs and the new boots. All went fine.
The second day was nice a warm for the most part, did a decent trail around Glendalough – great scenery – some shots below: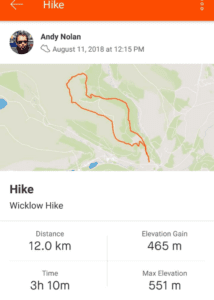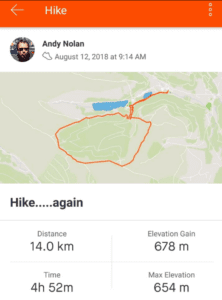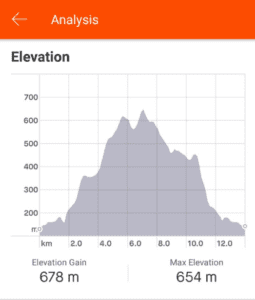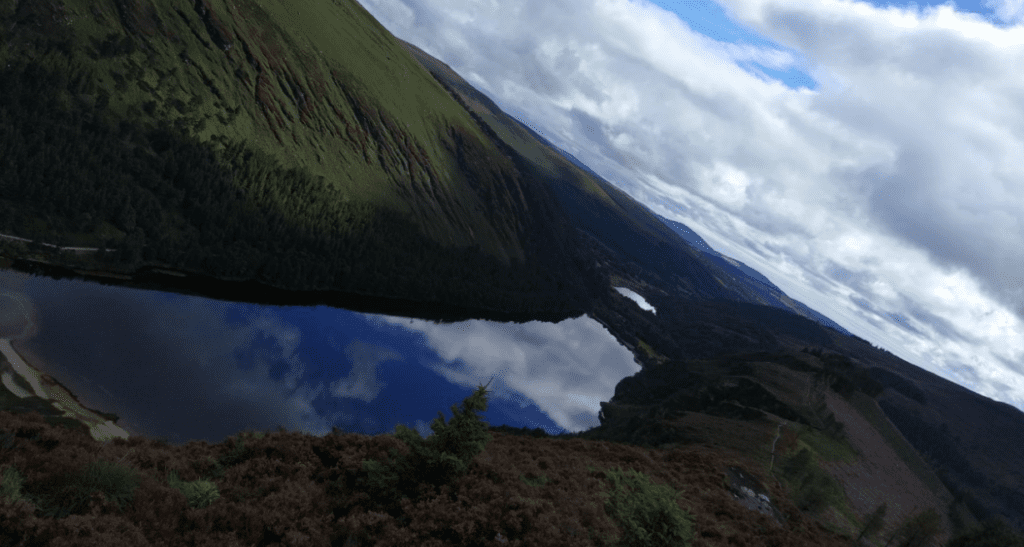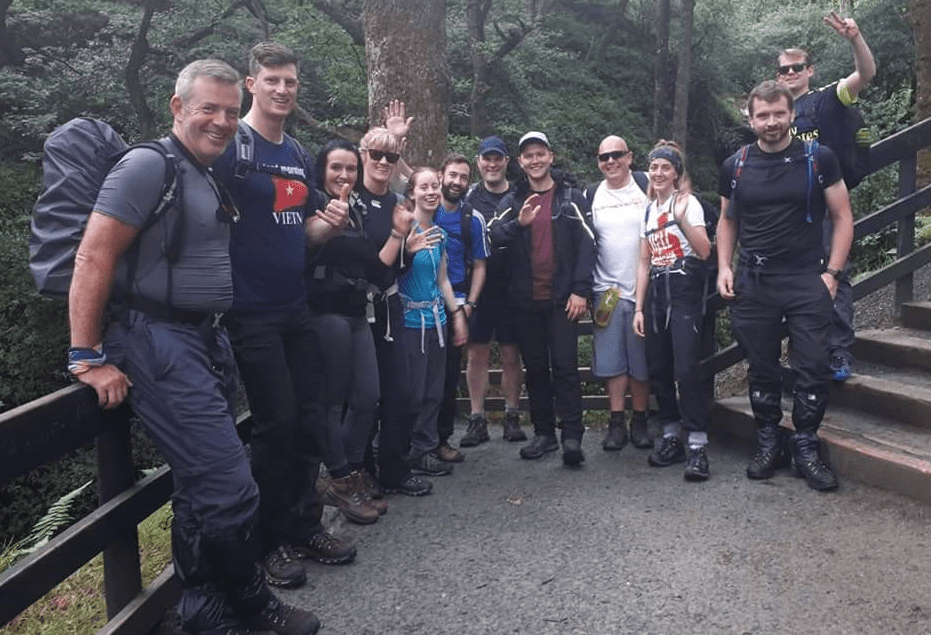 Above is the obligatory group shot, I'm second from the right and Eoin is first on the left-hand side.
Tullamore Harriers Half Marathon – August 25th
I did this half 2 years ago – great value. Fantastic spread after. Fair course overall, mainly flat. Actually managed a [email protected] 1.40.24 overall with a couple of other PB's en route to finishing it. Splits below.
Ok that's it for this entry,
All the best
Andy
If anyone wants to donate to the Irish Cancer Society (now that I've added doing the Dublin Marathon about 8 days after Kilimanjaro) the link is here.