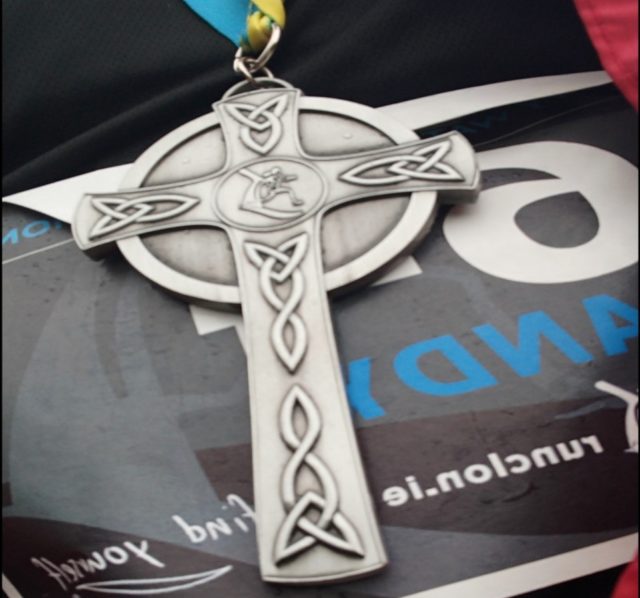 Do Clonakilty they said, #findyourself they said, gentle hills they said, a must do scenic race they said, a must do!
Ha ha ha, as I begin typing these notes less than 24 hrs after completing it – this was easily the toughest race I've ever done, with some of the worst headwinds experienced running ever in the history of running (mild exaggeration), but "What a fantastic challenging marathon"!
Catching the Marathon bug
I finished Dublin marathon a few weeks ago. It was my second marathon and a considerable improvement timewise on my first marathon (first being [email protected] 4.29 and Dublin being 3.39). Didn't do a whole pile of running since Dublin, did the half distance 3 times (2 in training and 1 race) and mainly 8-11k distances in handy paced training runs during the weeks after Dublin. I'm also fairly new to the marathon distance, but it's kind of funny how the mind works when you plan to do more so soon after finishing one.
Before the first or second marathon (Berlin as I didn't train for it and Dublin which I did train for), I was tentative, not really believing I could do the distance. But when you do a good time (relatively speaking, I know I'm hardly a speed demon!), it's like, you need to verify you can do it again. Then I think it's all about confidence – you know you can do it, so you want some more! It's like an itch that won't piss off until you sign up for your next challenge. I think at 39 years old, this is my mid-life crisis – to complete tall mountains and run marathons – I could have worse vices I suppose!
There is the expected initial pain in the legs and body in the days after the race, the shuffling around like Keyser Soze, you take a sort of pride in the pain. It's like a badge of honour. It's temporary-the memory of the race and the bling and top, you'll have forever (well will feel like forever). Then there is the difficulty in coming down stairs which must look quite hilarious to the non-runner (going up them is fine!). The hunger then starts to boil, the willingness to do another one, to test yourself to see if the last one (if your time was ok) was a fluke and can you replicate or improve the times/performance.
Why do Clonakilty, you might ask?
I came across Clonakilty marathon details online, I mulled over the thoughts of doing it for a few days and took the plunge Nov 16th and signed up for it. I reasoned with myself "you'll be dead long enough, do it, see if you can complete it 6 weeks post-Dublin, the training for Dublin is still in your system and that coupled with the Gingerbread half marathon will stand to you – be grand"!
The last half marathon I completed was in November, the Gingerbread Run. It was my 25th half marathon in the near 3 years since I started running. I've really pushed my times down for myself this year (relatively speaking), breaking 1.45 X 3 times and breaking 1.40 twice (1.37 and 1.38 respectively). I don't think I will run half distances anymore, the last couple I have found that I'm pushing myself at near 10km best pace for the 21km distance and it feels nearly sickening in that I'm completely 'F'ed by the end of the 21km. I think it's stressing my body too much, I think the moderate pace of the full marathon might be the way forward, relatively slower pace, more mental and physical endurance, which is appealing to me at present.
So I think I will concentrate on fulls for a while now, so much so that I've already signed up for Manchester, Limerick, Dingle and Dublin for next year! I know – F**king nuts right!
Race Report
So let's get back to Clonakilty. As I booked late enough, there was little to no accommodation to be had in Clonakilty as I wanted to go down the night before (too long a spin on the morning of). So not being familiar with the area, selected Bandon about 20 mins out and booked a BnB for the Friday night. An excellent place called Laurel House, for 50 bucks. Left from work on Friday eve, stopped in Bandon for some pasta and then made it to the BnB by 8pm, was in bed by 8.30pm but usual pre-race performance, in that it felt like I didn't get a wink of sleep.
Got up early on the Sat morning (6am) – the sound of the rain pissing down outside didn't fill me with any confidence weather wise. I had been looking at the forecast all week and it looked bleak to dismal any time I checked it, rain and wind.
Got breakfast at 7am (brown bread, sausage, egg, bacon and fresh coffee), left BnB approx. 7.30 am and drove to Clonakilty. Start and end of the race is at the Clonakilty Park hotel. There is a showgrounds area directly alongside it and had ample parking. Parked up, went to the hotel to have a look around and then got ready to race @ 9am start. Catriona McKiernan has given a talk the night before at the hotel and at approx. 8.55am she was at the start line, kitted out and decided to do the 10km part of the event (which she won incidentally at a time of 37 odd minutes).
Atmosphere at the start was excellent, tunes were belting out over the PA system, the compere's bellowing well-spoken words echoed throughout the area, willing people on to run and asking people to refrain from dumping bottles and rubbish on the route and to carry it to the next stop, which I think most people did from what I could see. Wind was picking up and there were faint hints of the rain starting to come down. While the wind was wicked throughout, we got away pretty lucky with the rain, bar the start drizzle, it didn't rain again. 9am came and we started the race on the button. The 10k/half and full all start at the same time. I think total attendance was approx. 2000 with just under 400 doing the full, the majority doing the 10k and then the half distance.
We were off, and the first 5-6km was actually pretty flat. I remember thinking to myself, "I don't know what all the fuss is about, this is handy out!" Then it became apparent why this is considering a ball-breaker of a marathon. See below gradient profile from Strava from Dec 8th. I am going to call them the 7 peaks of marathon HELL! I finished just over 3.45 which considering the route wasn't too bad at all!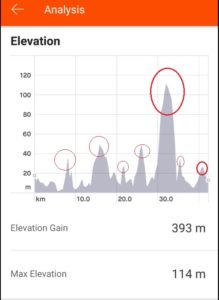 Between Km 7 and 8 was the first taste of elevation, legs were still pretty fresh, but the headwind was so strong, it would have knocked the spots off a Dalmatian. The winds were so strong in places, that it was physically blowing you across the road. Elevation then recovers for a couple of KM's post, but headwind was still very strong in places. Next, there is a step up was around KM 14 through to KM 16 inclusive. This is followed by a couple of K's of flat enough running to recover, with the next notable challenge not coming until KM 21/22. Flat and windy again until KM's 25 and 26, fatigue was setting in now and these were fairly tough. Then KM's 30 to 32 were absolute hell. Just look at the gradient profile above, without a doubt the toughest hill I've ever encountered. Who puts a hill like this 75% of the way into a Marathon?? Once you get to the top of it, it took just over a KM to get going again, it really took the wind out of my sails. There was also a section of road for about 20-30 feet that had about 3 or 4 inches of water all the way across it, there was nothing for it but just run straight through it. Socks and runners were soaked through. I actually thought about stopping and ringing out my socks (they felt so heavy from the water) but decided against it, it took a couple of KM's and they seemed to wring themselves out.
It was then flat enough with some minor undulations again until KM's 40 and 41, where there is a definite pull – horrible to have so many pulls and rises at the second half of a marathon, but in honesty after the one around KM 30, it was like "bring it on" – "I'm game for anything else this route wants to throw at me"!. Last KM then is moderately flat and a fast sprint of sorts to the finish line, I had the chance of sub 3.45 and really pushed but didn't make it.
This leads me to a question, most routes that are jones counter verified are on the ball, but typically people run under/over depending on the lines they take during the race. Do you take the cross the line time as your PB/overall time or do you take the distance your running watch or phone tells you when you have covered the technical distance of the marathon? For example, I covered the distance of the marathon in just over 3.44 by my Garmin but the finish line above marathon distance was over a minute later as I ran over the actual distance. The same was true of Dublin marathon, garmin time for the distance was 3.37 but cross the line time was 3.39.
I suppose it doesn't matter in the greater scheme of things, it's just I noticed different people on Strava using both times, some with the distance counter and others with the absolute "cross the line" finish time.
A pic of the splits and the Medal below.
Overall Report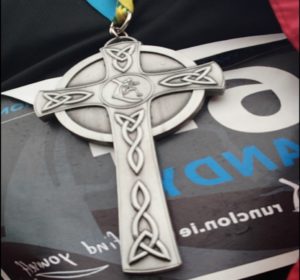 Clonakilty is a lonely marathon in general as the vast majority of it is out in the open, yet the support at the start and end was above average. Water stops were approx. every 3 miles and there were multiple "energy" stations where there were sweets, jaffa cakes, and coca cola. The finish line had hot Clonakilty white pudding, water, granola type bars, and cola again. The complimentary use of the facilities of the pool, sauna ect were free in the hotel which was a nice touch and the staff were sound and helpful.
My recovery seems to be better after this race compared to Dublin, the only difference I made was using Magnesium oil spray on my legs and thighs directly after the race and again the day after, do a quick google, some people recommend it. I genuinely think it's helping my recovery. Magnesium in some shape or form seems to be a runner's must-have supplement!
All in all, I'd have to recommend this race. Well organised, medal and running top were first class. Complimentary use of hotel facilities after was excellent and there was ample parking for all. The atmosphere was really good at the start and end of the race.
It is not a marathon to try as your first one. It is very difficult, but if you want a challenge, just do it!